You are probably familiar with virtual phone numbers, which enable businesses to reach global markets thanks to the latest developments in cloud computing and its related technologies.
However, there is a catch: if you're calling a foreign phone number with your virtual phone number without any add-ons, a series of indecipherable digits will appear on the recipient's caller ID instead of the phone number. There is a solution from United World Telecom that circumvents this problem: outbound calling.
In this article, we'll explore what virtual phone numbers with outbound calling are, the benefits of virtual phone numbers with outbound calling, and how to get them from United World Telecom.
What are Virtual Phone Numbers with Outbound Calling?
When you make a call with a virtual phone number, the recipient of the call will receive a series of digits on their caller ID. In the case of a call that is made with a virtual phone number without outbound calling, a "V" followed by a long string of numbers will follow. Considering that a large number of people have a cell phone or home answering system that's equipped with a caller ID display, there's a high likelihood that recipients will mistake calls like these as spam calls or from a scammer.
When a call is made by virtual phone numbers with outbound calling, the virtual phone number's digits appear on the caller ID instead. This significantly increases the likelihood that callers will answer an unknown number appearing on their caller ID versus incomprehensible digits. And because United World Telecom offers a wide variety of virtual phone numbers encompassing over 140 countries and countless cities/geographic areas around the world, you can choose a local access phone number that customers are more familiar with. Similarly, using toll free virtual phone numbers with outbound calling displays a familiar toll free number (ex. 800 numbers within the United States and Canada) which are typically associated with professional organizations and businesses.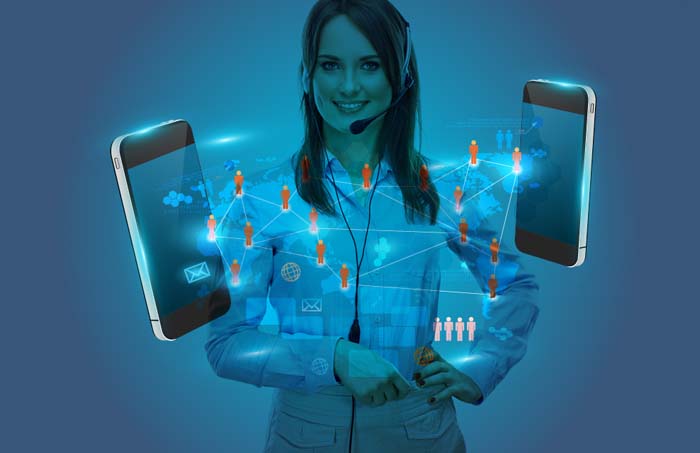 What are the Benefits?
As mentioned previously, using virtual numbers with outbound calling enables your business to have your number appear on a recipient's caller ID. This increases the likelihood of a recipient picking up the phone call from your company, which broadens your audience and increases your customer base.
Another key benefit of virtual phone numbers with outbound calling is that your business can gain a virtual presence in any country that your business desires. Often, new businesses (such as startups) have to take a great risk to invest significant resources to reach new target markets. With outbound calling, your business gains the ability to provide goods and services without paying for costs of leasing property, hiring and training new staff, following international regulations, and more. In other words, virtual numbers with outbound calling are part of your organization's due diligence before making the leap to expanding to new markets. Or, in the case of a growing number of businesses, using virtual means (such as virtual offices and virtual locations), your business can avoid spending on a physical presence in another country altogether.
>Add-ons and functionalities can also be paired with virtual phone numbers with outbound calling, which can augment how your business functions. Consider how call recording, a popular add-on, enables your business to capture conversations made to your business from inbound calls. Then, when data is gathered, your business can use those same details to contact those individuals and ensure a genuine rapport is formed. There's also whitelisting capabilities, which can enable your business to contact only those customers that have contacted your businesses beforehand. This ensures that your marketing budget for customer-only promotions are extended to your customer base, rewarding them for their customer loyalty.
How to Get Virtual Phone Numbers with Outbound Calling
Now that you're aware of what virtual numbers with outbound calling are and what they can do for your business, let's take a look at the easy process of subscribing with United World Telecom. First, you'll visit United World Telecom's homepage atwww.unitedworldtelecom.com. Once there, you'll fill out the information at the top of the screen for your desired virtual phone number, including country code, number type, and the particular number that you'll be using (some numbers are provided upon activation). Then, you'll input the phone number where calls will be routed to under the heading "Enter Your Destination Number." Click on "View Rates & Try for Free" to bring up a number of payment plans to choose from. Once you've selected your payment plan, you'll notice a series of add-ons. Select the "Outbound Calling" checkbox to equip virtual phone numbers with outbound calling. From this point onward, the process involves submitting your contact information, billing and payment details, and agreeing to terms and conditions. Once you've completed the process, a customer service agent from United World Telecom will contact you within 24 hours to help ease the setup process and you can begin using your virtual phone numbers immediately.