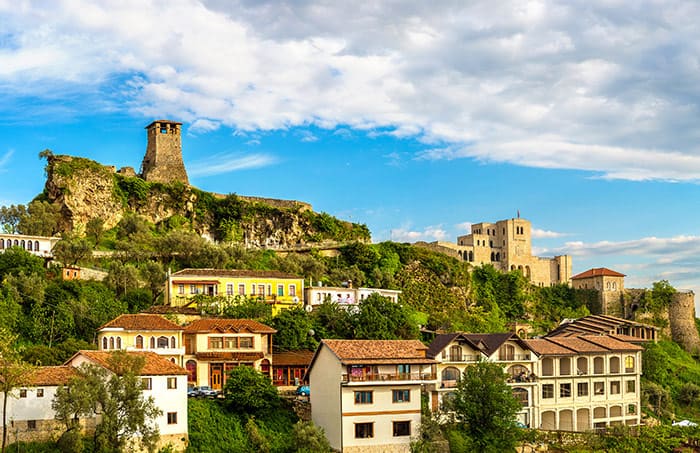 Albania, a country in Southeast Europe, boasts a capitalist mixed economy that has been largely successful. Major industries in Albania include agriculture, mining, banking, telecom, tourism, and transport. To expand your business into this growing economy, get an Albania virtual phone number.
Get a Virtual Phone Number for the Albanian Market
We offer a variety of virtual Albania phone numbers for businesses looking to expand to this part of Europe. Businesses can use these numbers to make and receive calls from Albania, no matter the business' location. To do business in Albania, get a virtual number online from Albania today.
Here are the different types of virtual Albania numbers available:
Local Albania Virtual Numbers are available from nearly any city. These numbers have specific area codes designated for different parts of the region.
Albania Toll Free Numbers are also available and are accessible from different parts of the country, including mobile phones. These numbers are not reachable from other countries.
How Much Does an Albania Phone Number Cost?
We offer five different virtual phone number plans with straightforward prices and no hidden fees. Additionally, you do not need to enter a long-term contract to use our service. Our Albania virtual phone numbers start at $18.95 per month. Our plans come with included minutes and an additional per-minute rate.
Telephone Numbers in Albania
Virtual phone numbers enable foreign businesses to enter new markets and create reliable communication channels. By using Albania phone numbers, you encourage customers to call your business for free or at inexpensive local calling rates. This works even if your business is headquartered outside the country. Simply forward calls internationally to your headquarters wherever it is located, to ensure you can always stay in communication.
Albania Phone Number Format
The Albania dialing code is (+355). Albania phone numbers include the dialing code, followed by a toll free or area code, and a 6-digit subscriber number:
+355 + (0800xxxx).
Albania local numbers: 04 xxx-xxxx / 0xxxxxxx
Albania Telecom Operators
Albania telephone numbers are regulated by the Electronic and Postal Communications Authority (AKEP). The Albanian telecom scene boasts fixed-line telephony, mobile (including 5G), and internet services. Major operators include One Telecommunications, Albania Broadband Communications (ABCom), and Albtelecom.