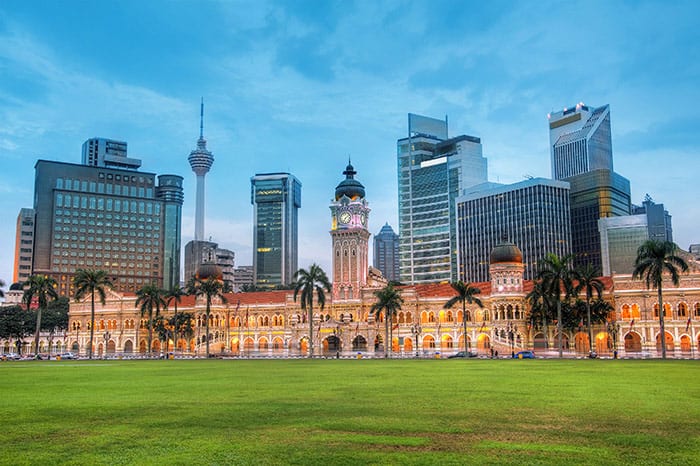 Malaysia Virtual Phone Numbers for Business
Malaysia is a country in Southeast Asia with a newly industrialized market economy. The country calling code used to dial a Malaysia phone number is +60.
Get a Virtual Phone Number in Malaysia
Our selection of Malaysia virtual phone numbers is among the largest and most inclusive. These numbers are able to dial as well as receive international calls with a +60 Malaysia caller ID. Get a virtual number online for the following cities in Malaysia:
• Local Malaysia Numbers
Kuala Lumpur virtual numbers have a local KL area code. They start with +60 (0) 3 followed by eight digits.
• Malaysia VoIP Numbers are reachable from the entire country. They start with +60 (0) 15 followed by eight digits.
• Toll Free Malaysia Numbers are free to call from within Malaysia. They start with 1800 followed by six digits. These are generally not accessible from other countries.
Our Malaysia phone numbers start at $27.95 per month. Our pricing on plans is always straightforward; there are no hidden fees or long term contracts to contend with. You can sign up for a free trial online by filling out the form above.
Any business can get a phone number in Malaysia to establish their virtual presence there. There is, however, KYC documentation required to activate the service. We generally require a business registration and proof of address in order to get started.
Telephone Numbers in Malaysia
Telephone phone numbers in Malaysia are regulated by the Malaysian Communications and Multimedia Commission (MCMC). The MCMC was established in 1998 to implement and promote the Malaysia Government's national policy objectives for the communications and multimedia sectors.
How are Malaysian Phone Numbers Written?
Malaysia phone numbers start with +60, which is the country calling code, followed by eight to ten digits. In order to dial a local number from within the country, you must first dial the standard prefix 0 followed by the number.
Malaysia numbers are typically written as (0) N XXXX XXXX, with N being the geographic area code.
Geographic Area Codes
Geographic area codes are usually one digit in Peninsular Malaysia. These are the area codes of some of the major states and cities in Malaysia:
Kuala Lumpur (3)
Selangor (3)
Georgetown (4)
Penang (4)
Perak (5)
Mobile phone numbers in Malaysia and IP telephony codes are in the area code 1. These numbers are usually one or two digits, excluding the standard prefix.
Telecom Operators in Malaysia
The telecommunications industry of Malaysia has a vibrant history and big plans for future development. The country has been investing heavily in telecom infrastructure and it already has a few "smart cities." Over the last ten years, there have been a number of significant changes and industry mergers.
The mobile phone network in Malaysia is dominated by the Axiata Group and Maxis. Our partnerships with local carriers enable us to provide Malaysia virtual phone numbers to anywhere in the world.