Time of day routing – also known as time-based routing – allows users to route calls from one location to the other during specific times of the day. With this advanced routing, your business can provide 24-hour customer support, expand its international presence, and manage customer calls more effectively.
What is Time of Day Routing?
Time of day routing is a free feature included with any call forwarding service plan from United World Telecom. This feature allows you to redirect incoming calls from your toll-free or local numbers to one or more alternate telephone numbers (or SIP addresses) during specific times of the day. By doing this, you can ensure that your teams never miss an important call.
You can also use this service to provide after-hours service by routing calls after work hours to remote teams or service centers in different time zones.
This is a high-performance feature and can help you leverage your business or personal brand greatly.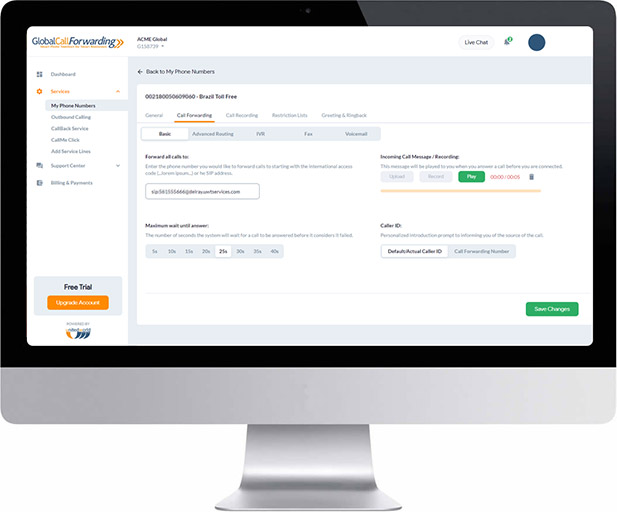 What Can You Do With Time-Based Routing?
Here's what time of day routing can do for your business:
Provide 24-Hour Customer Support
This feature can help you deliver excellent customer service by being available 24x7x365. Users can configure settings and redirect calls to different numbers during different time slots on any selected day. This way, you can forward calls locally and internationally with our call forwarding service. Route calls by day and time with ease and answer every incoming call, anywhere.
Manage Incoming Calls More Effectively
A business's call volume and staff availability can vary throughout the day and week. Advanced call routing like time-based routing helps your teams better manage incoming calls, leading to improved customer satisfaction and optimized internal resources.
You can therefore plan to provide excellent customer support across different time zones and countries without missing important customer calls.
Expand Your International Presence
Perhaps the biggest benefit of such a feature is the ability to support international growth. Whether you've expanded to new regions or plan to, use this feature to route calls to different hours and locations.
For example: Say you have sales associates across both China and the US that come under different time zones. Then you can easily transfer the incoming customer calls after business hours in the US to your associate in China during business hours there. This way, this feature allows you to strengthen your business presence worldwide.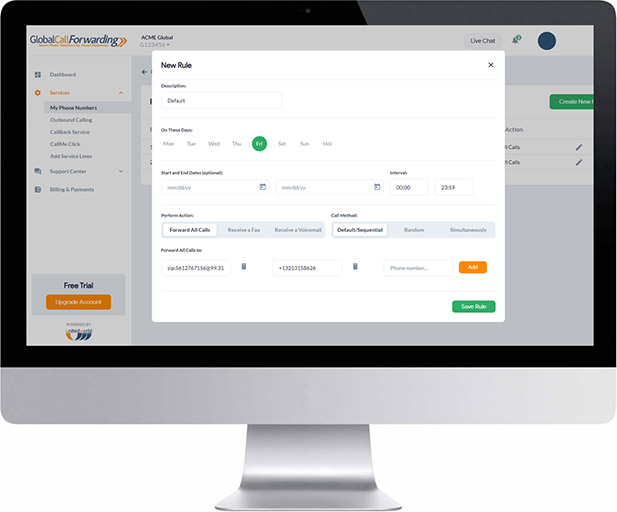 Benefits of Time of Day Routing
Time of day routing offers great benefits for both businesses and individuals. These benefits include:
• Offer responsive customer service – With this advanced routing feature, you can offer your customers excellent service and set your business apart from others. Use time of day routing with our automated IVR system to offer the best support imaginable.
• Remains open 365 days a year – Use advanced routing rules to ensure customers can access your business anytime from anywhere. The more calls you receive, the more customers you will be able to assist.
• Provide unmatched connectivity and accessibility – Businesses, regardless of their size, can expand their market outreach, increase their customer base, and conquer both local and global markets in no time.
• Improve call management – Experience full control over where your calls are forwarded during specified times of the day and days of the week. Plus, with direct inward dialing options, you can enable callers to reach agents and reps through a dedicated telephone number.
How to Set up Time of Day Routing
Log in to your control panel.
Click My Phone Numbers on the left-hand side of the dashboard.
Click on the Settings Icon on the line that you would like to modify.
Underneath Call Forwarding, click Advanced Routing.
Adjust the Forwarding Rules according to your preferences. Changes will take effect based on the Activity Time Zone that you chose (under the General tab). By default, it is set to the US Eastern time zone.
Click Save Changes.
If a call is received at a day or time combination that is not covered by any rule, the call will automatically go to voicemail, if voicemail is enabled, or rejected otherwise.