Want to review past calls to better understand customer interactions and improve agent performance? Use our Call Recording feature to replay past customer calls in the control panel.
H2: Record Calls on Business Phone Lines
The United World Telecom Hosted Call Recording feature lets you record inbound and outbound business calls through the Control Panel. By recording business calls, your business can not only improve quality assurance and customer experience but also:
Reduce business and personal liability
Record transactions and maintain compliance
Integrate recording with any operating systemsImprove your customer service
What is Hosted Call Recording?
Call recording is a cloud telephone feature that enables you to record your incoming and outgoing calls automatically. You can activate this feature for any of your business phone number lines. Once activated, you can record all calls made to your selected number and save the file to revisit at a later time.
The feature can record up to 100% of the call traffic received on the selected number by default. However, you can change the settings and record a smaller percentage of calls. For example, You can record 10% of inbound calls, where 1 in every 10 calls received will be recorded. Then, you can download the recordings to hear at another time.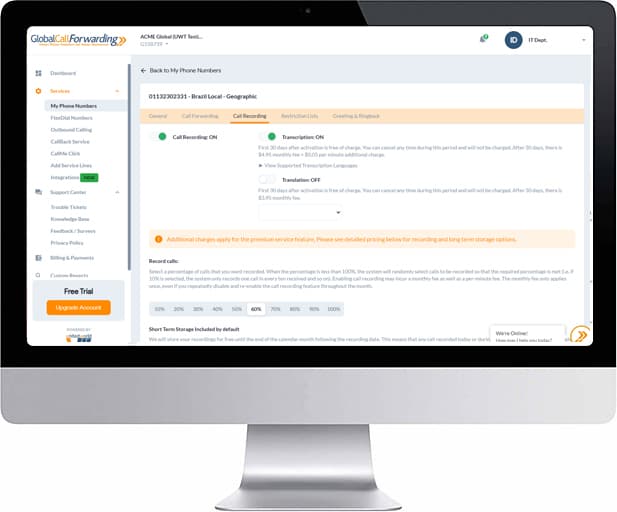 Advantages of Call Recording
So, how can your business benefit from recording calls?
Improve staff performance reviews and monitoring
Record transactions
Reduce business and personal liability
Monitor and evaluate campaign ROI
Collect valuable sales training material
Improve customer service training
Maintain compliance
Reduce errors and improve quality
Increase sales, find and recover missed opportunities
How Much Does it Cost to Record Business Calls?
United World Telecom offers call recording at very affordable and competitive rates. The monthly fee and cost per minute vary with the service plan you are enrolled in. When comparing the benefits of this feature to the cost, the service essentially pays for itself. To learn more, speak with our telecom experts.
Record Calls with No Limitations
With United World Telecom, customers can enjoy unlimited hosted call recording. There is no limit to the number or length of the calls you would like to record. Furthermore, you can store recorded calls for up to six years. Additional storage charges depend on the total number of call minutes stored per month multiplied by the corresponding per-minute rate.
How to Set Up Call Recording
To use our Call Recording software, you must first add the feature to your phone number plan.
For new customers:
Select your new phone number on our Plans page.
Choose a plan and fill in your contact information.
Then, choose Call Recording from the Optional Features offered.
Fill the rest of the form and select Add to Cart to complete your order.
Once your service is activated, you can log in to your Control Panel to turn the feature on.
For current customers:
Log in to your online Control Panel.
Click My Phone Numbers from the left-hand side of the dashboard.
Then, click on the Recording icon for the service line that you would like to record calls.
Toggle the menu option to the right from Status Off to Status On. On this page, you can also decide frequency and service preferences.
Click Save Changes to confirm your request.
How to Access Recorded Calls
You may play or download your recorded calls at any time.
Log into your online Control Panel and find the selected phone service line with call recording.
Click on the Service Plan on the service line you wish to view.
Click on the Activity tab on the top, center navigation, to view details. From here, you can download individual call recordings in the Action column.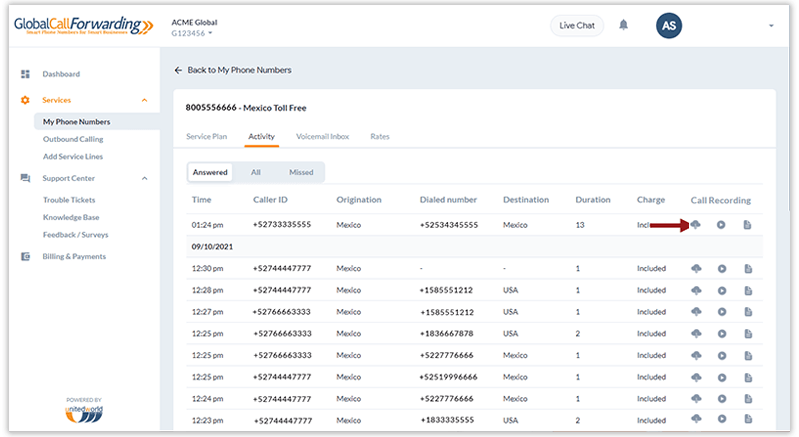 Ways to Use Call Recording
Businesses can use call recording software for a variety of reasons. Here are the common use cases:
Employee training and performance analysis:
Use recordings to review the dos and don'ts related to customer service. Managers can also closely analyze their customers' needs and devise ways to improve current strategies. They can also use these recorded calls to gather great customer satisfaction stories when they point out features of a product or service they are pleased with.
Market and audience research:
Call recordings can help the marketing team improve its understanding of its target market. By listening to various customer calls, your teams can pay closer attention to the performance of their marketing efforts. This can have a huge impact on marketing efforts, making the team more efficient and their efforts more impactful.
Compliance and liability protection:
Depending on your business and industry, you may need to record calls to meet regulatory and compliance guidelines. Recording calls can aid in resolving a dispute or defending against litigation. Considering the high cost of litigation, the cost of a recording feature is minimal in comparison.
Get Call Recording from United World Telecom
United World Telecom focuses on providing advanced communication methods to aid businesses in achieving success and connecting with their customers effectively. With this at the core of our efforts, our customer service specialists are well-positioned to go over a business' needs with the owners and managers and advise upon what service and features are best suited for the company.
No matter how big or small the company may be, United World Telecom is dedicated to helping each company reach its telecommunication goals with excellent customer service, advanced service options, and an extended list of convenient features to choose from. Contact us today to learn more about our many dynamic services.