Part of successfully establishing an international business is making it easy for customers to connect with your business. Whether to inquire about products, offer feedback, or get the assistance they need, communication is essential. But managing customers from all over the world can be hard, especially if your business does not have the right communication infrastructure.
For this reason, universal international freephone numbers (UIFN) are an invaluable tool for staying in touch internationally. And yet, many businesses are unaware of this service or how it can benefit their international communications.
Here's an in-depth guide to UIFNs, their advantages and disadvantages, and how businesses can use an international phone number.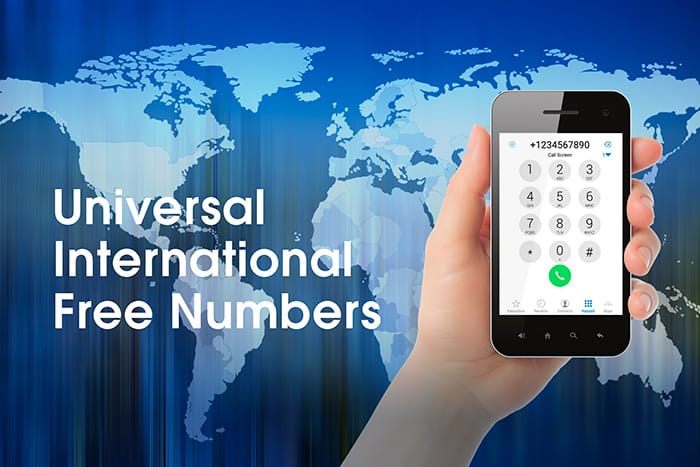 Everything You Need to Know About UIFN
Universal International Free Numbers, also referred to as UIFN or Universal Toll Free Numbers, work almost exactly like virtual phone numbers with the exception of a few variations and requirements, particularly the fact that the numbers can work across multiple countries. Slight variations include differences related to dialing prefixes depending on the different countries from which the company's business contacts will be making the calls.
What is a UIFN?
A universal international freephone number — also known as a universal toll free number or UIFN — is a single toll free number that can be accessed from multiple countries. In other words, customers located in multiple countries can call your business through one phone number (a toll free number) free of cost. A select number of countries (62, currently) participate in the UIFN program; more on that later.
Usually, when individuals call an international number, they pay international or long-distance calling rates. However, an international toll free number (ITFN) such as a UIFN lets customers call a business for free, even if the business is located in a different country. Companies with a large international client base find ITFNs and UIFNs useful as these business numbers positively impact customer calls and engagement.
How to Use a UIFN Number?
The main purpose of universal toll free numbers and international phone numbers is to improve how businesses connect and communicate with their international customers. And so, your company can use a UIFN number to:
Provide global customer support.
Promote on your website and other digital marketing platforms.
Expand to new target countries and audiences.
Make it easier for customers worldwide to call your business for free.
Increase your company's presence in different markets around the world.
UIFN Number Format
Universal international freephone numbers have a fixed format. UIFNs are formatted with a 3-digit code such as 800 — assigned by the ITU — followed by an 8-digit global subscriber number (GSN).
While this is pretty straightforward, callers need to enter a dial-out prefix or an international access code. For example, some countries need callers to dial 0, 00, or 01 before dialing the UIFN. Confirm with your UIFN provider what customers need to dial to connect with your business efficiently.
The format for a UIFN number is:
International access code (IAC) + 800 + 8-digit UIFN
Note that customers around the world are not generally familiar with a UIFN number format. Because of this, they may not know that they are calling a toll free number and won't be charged for their call. You will need to inform or educate callers about this number being toll free and what exactly they need to dial to connect with your business.
Universal International Freephone Numbers Regulations
UIFNs are not the most popular international toll free number option because of the many regulations and restrictions involved. Yes, UIFNs can streamline your international communication system. However, they can be expensive and not always easy to use. Here are the regulations and restrictions to keep in mind:
A UIFN number must be registered in a minimum of two nations.
A UIFN number must be in service for communication with contacts in two or more countries within 180 days from the day the number is first reserved.
UIFN numbers require a one-time registration fee.
UIFN Countries
As we've mentioned before, not all countries are involved in the UIFN program. That doesn't mean that new countries won't be added in the future. However, before applying for a universal international freephone number, make sure you review the below list of countries. Look for current countries you work with and new countries you plan to target in the future. Then decide if a UIFN can help your business.
Argentina
Australia
Austria
Belarus
Belgium
Brazil
Bulgaria
Canada
China
Colombia
Costa Rica
Cyprus
Czech Rep
Denmark
Estonia
Finland
France
French Guiana
Germany
Greece
Guadeloupe
Hong Kong
Hungary
Iceland
Israel
Italy
Japan
Kazakhstan
Kyrgyzstan
Latvia
Luxembourg
Macau
Malaysia
Malta
Martinique
Mayotte
Netherlands
New Zealand
Peru
Philippines
Poland
Portugal
Romania
Reunion
Saint Pierre and Miquelon
Singapore
Slovakia
Slovenia
South Africa
South Korea
Spain
Sweden
Switzerland
Taiwan
Thailand
United Kingdom
United States
Uruguay
Uzbekistan
Pros and Cons of Universal Toll Free Numbers
So, how do you decide if a universal international freephone number is right for your business communication needs? This depends on the type of business you run, your budget, and how you want to streamline customer outreach. Here are the pros and cons to help you make a more informed decision:
Advantages
Businesses can utilize one toll free number for multiple major target countries (refer to the above list).
Better call management for international customer bases.
Promote and display only one business phone number instead of multiple numbers.
Disadvantages
Not all countries participate in the UIFN program.
Not all countries included are mobile-accessible; meaning, not all countries can call via mobile phones.
Subscribers (businesses using UIFNs) should be aware that dial-out codes vary across countries. These prefixes vary from country to country and can be confusing.
UIFNs are relatively more expensive than other international phone number options.
UIFN vs ITFN: Choosing the Right Toll Free Number
While UIFNs make it easy to communicate with global clients, these numbers are not the most cost-effective option. International toll free numbers (ITFNs) are often recommended as an alternative to UIFNs. So, which toll free number is right for your business UIFN or ITFN?
Universal International Freephone Numbers (UIFNs)
International Toll Free Numbers
(ITFNs)
A single toll free number for multiple countries
Single toll free number for each country
Free for customers to call; within the UIFN program
Free for customers to call; from within the country associated with the number
Better call management for global support
Better call management for global support
Coverage limited to 62 countries participating in the UIFN program
Better coverage; can get ITFNs for more than 160 countries worldwide
One-time set-up fee
No set-up fees
Application must be submitted and approved
No application required
Multiple restrictions and regulations
No significant restrictions included
Phone number format not easily recognizable
Phone number format is recognized as a local/ national toll free number
Knowledge about dial-out codes and dialing conventions is required
Customers do not need to worry about dial-out codes or international calling conventions
So choosing between a UIFN and ITFN depends on your business' specific needs. If you are a large enterprise with multiple offices globally, then a UIFN may be worth the expense. It will help streamline and organize your incoming customer calls and ensure your business is accessible to customers at all times.
On the other hand, if you cater to only a handful of countries, then getting individual ITFNs may prove more cost-effective and manageable. Customers calling from these areas will be more familiar with your international toll free number than a UIFN.
UIFN Numbers From United World Telecom
Facilitating better communication systems for businesses across the globe is at the core of United World Telecom's business model. And so, we offer an array of global communication solutions for businesses. You can quickly purchase and activate international toll free numbers, local numbers, and UIFN by signing up on our website.
UIFN numbers can be more challenging to obtain than a standard international toll free phone number. However, United World Telecom streamlines the process for its customers through guidance, excellent customer service, and features to make the lives of business leaders easier.
How Can Your Business Benefit from a UIFN Number?
Instead of having to manage numbers for each and every individual nation in which your business operates, you can use a UIFN number that will work for customers calling from multiple countries. The 11-digit number is fundamentally the same as an original toll free number that your company may already be using. Providing UIFN numbers allows for customers and other business contacts to have easier access to your company globally. This, in turn, expands your business' availability and reach.
By letting global consumers call your business through UIFN numbers, you establish a global presence for a company. Another advantage of using UIFN numbers related to marketing and advertising efforts is that the use of this one number allows a business to create advertising materials with one phone number for multiple countries versus different materials with different phone numbers for each country the business is operating in.
Expand Globally with UIFN Numbers
For an organization aiming to expand in the future, additional countries can be later added to an existing UIFN number already in use. This helps to further facilitate engagement internationally for a business, giving consumers a way to reach the business at no charge to them.
United World Telecom offers many different features as a bonus to make global communications easy and cost-effective for businesses. These features include advanced call forwarding to landlines or mobile phone numbers of the company's choice, voicemail customization, conference calling, and much more.
We offer customized communication products and services for businesses of all sizes. In some situations, international business owners are able to eliminate the use of physical call centers, substituting them with the use of virtual phone numbers, a UIFN number, and advanced call forwarding features. These options help businesses to save significantly, removing the need for a physical office in each place they operate.
Get Universal Toll Free Numbers from United World Telecom
United World Telecom offers various options for international communication, especially for businesses expanding to new countries. Need a better solution for your business phone system? Speak with our experts via live chat or call us at 1 (877) 898 8646!