How Does International Toll Free Service Work?
Our international toll free service (ITFS) is really easy to use. The toll free numbers that we provide are cloud-based, which means that the end users can receive calls internationally. Our service functions using our own proprietary facilities-based network to seamlessly forward calls. All service features can be managed online from an easy to use control panel.
ITFS Features
Our service comes loaded with a suite of advanced communications features for businesses. Some of the most valuable features that we can provide are time-of-day routing, interactive voice response, and call recording. Other key features include customized greetings and call detail records available. Our team is available 24/7 to assist with any features that you want to use with your toll free number service.
Toll Free Numbers From More Than 160 Countries
We offer the largest selection of international toll free numbers from many of the world's 195 countries. While the format of a US toll free number is 8XX-XXX-XXXX, toll free numbers for international countries are often formatted very differently. Toll free numbers usually start with 1800 or 0800.
No matter the location of your business, we can provide international toll free numbers for other countries. Please use the drop-down form above or contact us to see a list of available countries.
Benefits of an International Toll Free Number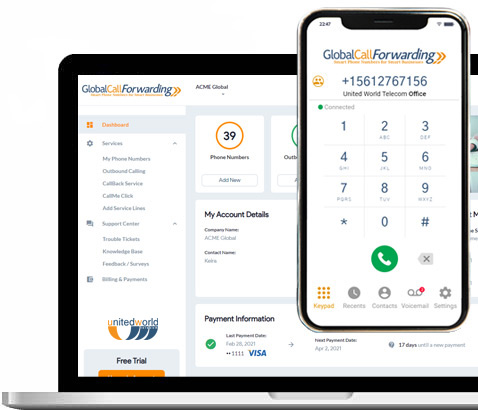 Your business can greatly benefit from having international toll free numbers. Here are some of the most important reasons to use one for your business:
Expand internationally to more than 160 countries.
They are ideal when used as dedicated business numbers.
Provide a toll free customer support hotline.
Analyze marketing campaigns with call tracking.
Communicate that your company is large and well-established.
These are real benefits that our customers have reported to us over the years. United World Telecom has been a trusted provider of international telecommunications solutions since 1996.
How to Buy a Toll Free Number
It is very easy to buy a toll free number online from our website. Simply navigate to the top of this page and fill out the form above.
How Much Does a Toll Free Number Cost?
We have international toll free numbers available from a wide range of countries. It is important to note, however, that some origination countries are more expensive than others.
The cost of a number typically starts at $12.95 per month. For all of our toll free numbers, we offer five plans with included minutes to receive incoming calls and an additional per-minute rate. Rates will depend on where your calls are being forwarded.
Our service is month-to-month without any commitment. Customers are free to cancel their toll free service at any time.
How Long Does It Take to Get a Toll Free Number?
Most of the toll free numbers in our inventory are available for fast activation. After your toll free number has been activated, you can start receiving calls right away. Even better, it only takes a few minutes to fully configure advanced service features!
Some of our international toll free numbers, however, can take more than two business days to get. There is also some KYC documentation required to get toll free numbers for some international countries.
We offer a free trial period so that you can test the quality of our services risk-free! If you have any questions about our toll free numbers, please talk to an expert.
For more information about toll free numbers, please refer to the FCC Consumer Guide.