Brazil Virtual Phone Numbers for Business
Buy Brazil virtual phone numbers from any major city.
Mobile virtual numbers and toll-free numbers available.
Use your Brazil phone number anywhere.
Make and receive international phone calls from your Brazil virtual number.
Try free without any commitment!
Brazil is known as the gateway for doing business with its neighboring nations. It has the fourth largest democracy and borders with more countries than any other nation in South America. For businesses that decide to take the leap, there are many different opportunities for investors and entrepreneurs to generate significant returns. Get Brazil virtual phone numbers to tap into this diverse economy.
Get a Virtual Phone Number in Brazil
Brazil virtual phone numbers can help you establish a local presence in the country without opening a field office there. Use these numbers to make it easier for local customers to do business with your company.
Types of Numbers Available
Brazil Local Virtual Numbers are available for almost any city/region in the country. Major cities include:

Colombo 
Rio de Janeiro
Salvador

Brazil Mobile Numbers with code (11) and (21) are also available and can receive SMS.

Brazil Toll Free Numbers (800) are free to call from individuals in the country.
How Much Does A Brazil Virtual Number Cost?
Brazil local or geographic and mobile number plans begin at $17.95 per month. However, you can upgrade your plan to include more monthly calling minutes if your business has a larger call volume.
How Much Long Does it Take to Get a Brazil Virtual Phone Number?
We have a large inventory of Brazil geographic and mobile numbers. Available numbers can be activated instantly upon receiving valid documentation. Numbers that will be provided on activation may take up to 2 business days or more.
Telephone Numbers in Brazil
Brazil phone numbers are regulated by ANATEL, the Brazilian federal telecommunications regulatory agency.
Brazil Phone Number Format
Brazil phone numbers include a 2-digit area code, followed by an 8-digit number for landlines and 9-digit number for mobile. The calling code is +55. This makes the Brazil phone number format: +51 (0) (area code) (subscriber number)
Therefore, a Rio de Janeiro number format would be (21) xxxx-xxxx.
Geographic Area Codes
Buy Brazil virtual phone numbers for almost every city or region within the country. You can get a number for whichever area you choose to target. Major cities include: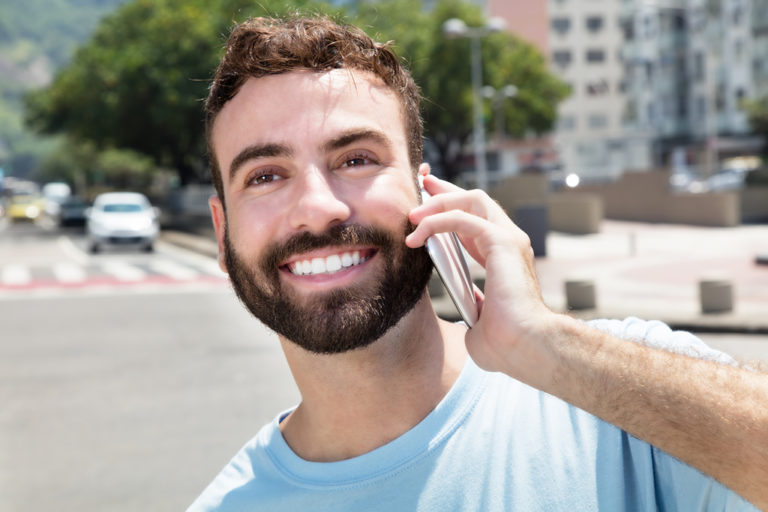 Brasilia (61)

Colombo (41)

Montenegro (51)

Rio de Janeiro (21)

Salvador (71)

Trinidade (62)

Vitoria (27)
Brazil Mobile Virtual Numbers
You can also get Brazil mobile virtual numbers starting with codes (11) and (21). Since Brazil mobile numbers have a 9-digit subscriber number, the format is +55 (11) xxxxx-xxxx.
Telecom Operators in Brazil
Brazil's top telecom operators include América Móvil, Oi, and GVT. However, the telecom market and landline sector is open to competition.
Doing Business in Brazil with Brazil Virtual Phone Numbers
One of the most promising methods of entering the Brazilian market is through using Brazil virtual phone numbers. If your company is interested in tapping into the many opportunities presented in Brazil, virtual numbers are an excellent way to do so without a great investment.
Brazil is known as the gateway for doing business with its neighboring nations. It has the fourth largest democracy and borders with more countries than any other nation in South America. The coastline extends across 7,491 kilometers, with the largest port being located in Sao Paulo, which is the primary access point for most imports from Europe. Other ports, such as Vitoria and Paranagua are also important and offer tax incentives for businesses.
Brazil's population is largely middle class and located in urban environments, which then creates a steady demand for new services and goods. For businesses that decide to take the leap, taking hold of a piece of this large consumer base is an undeniable prize for anyone doing business within Latin America. There are many different opportunities for investors and entrepreneurs to generate significant returns.
Some of the advantages to doing business in Brazil are:
The nation is friendly to outside businesses
There is an ever-growing and young population
Brazil boasts an abundance of natural resources
Opportunities lie in many sectors. Throughout the 20th century, Brazil has done well with coffee, rubber, gold, and soybean production. Brazil has also done well with commodities like cotton, beef, sugarcane, iron ore, corn, wood pulp, and steel. These are just some of the primary economic drivers for the nation today.
Brazil is one of the largest agricultural producers in the world, as well as a primary exporter. Despite the instances of corruption, the many scandals, and the continued economic uncertainties of Brazil, there is a general optimism about the nation that exists.
There are many virtually untapped opportunities when it comes to doing business in Brazil as well. There are a number of investor-friendly initiatives for foreign investors. The Brazilian Investor Visa Program, for example, allows anyone in a partnership with a Brazilian company, as well as anyone else who is interested in investing in an Internet-based organization, real estate, and/or purchasing a government bond, the chance to acquire permanent residence. Once the visa has been approved, which is said to be a very simple process, investors can easily travel through South America and eventually gain Brazilian citizenship after having four years of established residency.
Brazil Virtual Phone Numbers are an Excellent Option for Those with Online Businesses
For business owners interested in e-commerce, Brazilians are reported to spend quite a bit of time online, which then offers many exciting opportunities for businesses in this consistently developing and growing market. Brazilians are reported to spend approximately 32-38 hours per month online.
Brazilians are also reported to spend more time on social media than anyone else in the world. Close to 40 percent of the online consumers in Brazil are over the age of 35 and Brazilians are increasingly accessing the internet with their smartphones, opening the door of possibility even further for mobile-friendly shopping and online payment options.
All in all, Brazil can be complicated with regard to economic and political challenges, but for anyone who is up for the challenge, the nation is resilient, and it's important to keep in mind that it will continue to prosper. Overall, Brazil presents exciting business opportunities in many different sectors. For those aiming to set up a business in Brazil, purchasing Brazil virtual phone numbers is a first step in establishing communication with business-related contacts. The use of Brazil virtual phone numbers offers a method of communication that is comparably low cost and gives ease of access.
Brazil virtual phone numbers can be local or toll free, and they offer business contacts in Brazil a method of contacting you (as the business owner) without incurring costs. This is a great way to enter the market slowly and test the waters without initially traveling to Brazil or instantly setting up an office in Brazil.
United World Telecom offers Brazil virtual phone numbers for both personal and business use. Brazil virtual phone numbers can also be set up so that calls made to these phone numbers can be forwarded to a business owners landline or mobile phone line anywhere in the world.