Try the New GCF Softphone from United World Telecom
United World Telecom's customers can now use our new inbound/outbound softphone to call local and long-distance numbers from their computers. It is now easy to convert any computer into a web phone. Current customers with a User ID and password can easily receive incoming calls and make outbound calls directly from any compatible devices including all PCs using macOS, Windows, Linux, ChromeOS and phones using Android operating systems. There is no set-up needed or extra fees.
The GCF Softphone enables you to:
Make outbound calls anywhere in the world
Choose the Caller ID to display on outbound calls
View and listen to your voicemails directly from the dialer
Make assisted call transfers from inbound and outbound calls to any other active users
Receive voice messages
Fully integrated contacts
Search or filter calls by contacts
Search all recent calls (inbound, outbound, missed or rejected)
Ability to see all other active web dialer users
Make FREE in-network calls to other users
With the GCF Softphone, making and receiving calls is done easily on your computer. All you need is a virtual phone number plan with United World Telecom. There are no set-up fees or long-term contracts, which makes it affordable and efficient to use.
Click the button below to start dialing customers.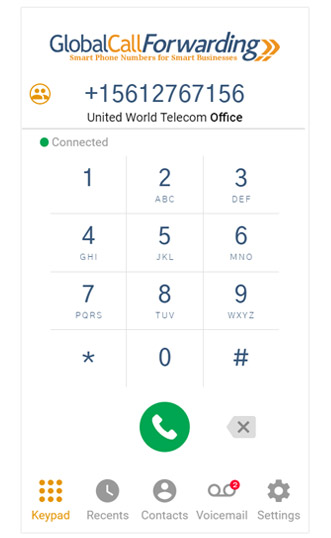 (Not compatible with iPhone or Safari)
(Recent Calls)
(Individual Contact)
(User Settings)
(Voicemail)
(Contact List)
(Add Contact)
(Search Calls)
(Recent Calls)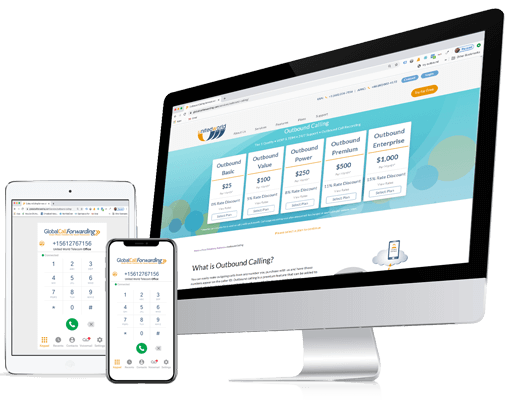 Sign up to use the GCF Softphone today
Choose from one of the five virtual phone number plans United World Telecom offers and sign up to start using the new UWT Web Dialer.
Don't forget to add premium features such as Call Recording, Rollover Minutes, Outbound Calling, etc., to your plan to ensure you are getting the most from the service.
Connect Internationally with Outbound Calling
United World Telecom's outbound calling service enables you to call and connect with valued customers near and far. Use our new Web Dialer to call local and international customers and customize your caller ID to display a local or toll free number of the area you are calling.
For example, consider you are connecting with clients in New York but your business is located in Dubai. You can purchase a New York local number or a United States toll free number and display one of these numbers as your caller ID. This way, the receiver will not be charged for a long-distance call and your business will appear as closer in proximity.
Virtual Numbers and Cloud Communications
Virtual business phone numbers have revolutionized the way companies can connect with their customers and clients. These numbers use VoIP technology to route calls through an internet connection. This enables you to make and answer calls from your desktop computer.
United World Telecom offers a variety of virtual phone numbers to choose from. Among the options are:
Local/geographic numbers with area codes
National numbers
Toll free numbers
International toll free service numbers (ITFS)
Universal international freephone numbers (UIFN)
Vanity numbers