Have you been wondering what a cloud phone number is and how they can work in your business? We'll take a look at this topic in this article, including answering the questions:
What is a cloud phone number?
How do cloud phone numbers work?
What types of cloud phone numbers are available for business?
How do I get a cloud phone number for my business?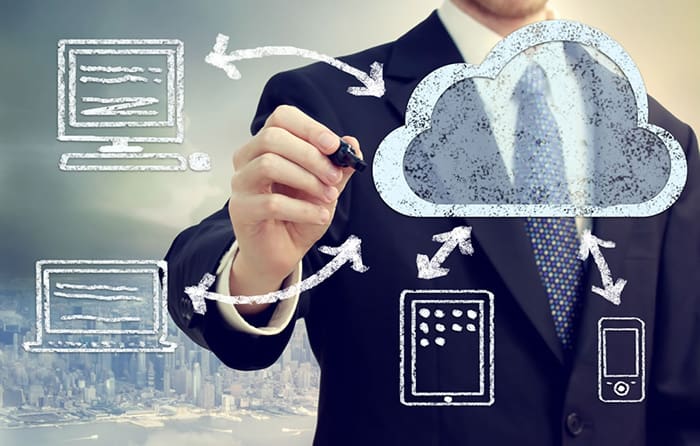 What is a Cloud Phone Number?
Simply put, a cloud phone number is a phone number that works over the Internet.
Unlike a "regular" phone number, these numbers don't require any hardware or on-site technology — just the ability to reach an Internet connection, which then gives the user the access to reach another party. This is made possible through Internet-based technology, like VoIP (Voice over Internet Protocol), which means that you only need a reliable internet connection to use hosted phone numbers around the world (United World Telecom offers phone numbers in over 160+ countries around the world). Another name you have heard, "virtual phone numbers," refers to the same concept which makes phone calls able to be routed over the Internet.
How Do Cloud Phone Numbers Work?
Using a device that has audio capabilities and an Internet connection, you can reach anyone with a phone or landline. In essence, cloud phone numbers work in two parts:
First, an audio signal is encoded into digital audio packets by software known as a "web phone," with the packets automatically sent to the recipient's phone number. Then, these audio packets are encoded into an audio signal on the recipient's phone. This process works in reverse, so a cloud phone number is indistinguishable from any number being used to make traditional phone calls.
The second part of a cloud phone number is that a call is routed through the Internet from a "destination phone number," which is where calls are originally placed from. For instance, if you have an Italian cloud phone number, you can use the cloud to route calls to and from your headquarters in New York City. The recipient will receive an Italian phone number on their caller ID, which builds authenticity, circumvents restrictions from service providers (i.e. long-distance fees or by rejecting calls outright), and allows your business to expand its presence by interacting with customers as if you were located in the same city or country.

What Types of Cloud Phone Numbers are Available?
Ok, now that you're up to speed on what a cloud phone number is and how they work, you should know that cloud phone numbers are available in a variety of types, each with a different function.
Some of the most common types of cloud telephone numbers are:
Local Access Numbers: These phone numbers are available in the country of your choosing, with a matching country code and area/ region code.
Toll Free Numbers: As the name implies, these phone numbers don't charge callers to reach your business. Instead, the subscriber (your business) is charged the fee to facilitate calls between clients and your business.
ITFS Numbers: Short for "International Toll Free Service numbers," these cloud phone numbers are toll free numbers that allow you to reach customers across the borders of countries (and their respective service providers).
Vanity Phone Numbers: Because the particular cloud phone number that you choose can have a visual component on your advertising and marketing materials (i.e. billboards, website, radio), you can select a phone number that enhances your brand awareness.
Cloud phone numbers can be enhanced with a number of add-ons, which are available thanks to the evolving technology of cloud-based telecommunications. Here are a few of the add-ons that your business can choose from:
Call recording: records inbound and outbound calls for future reference and compliance with international regulatory organizations (in industries like finance, banking, and investing).
Time of day routing: calls can be routed to a particular destination of your choosing based on the timeframe that you specify.
Simultaneous ringing: inbound calls will ring on several devices/ workstations that are associated with a particular cloud phone number.
How to Get a Cloud Phone Number for My Business?
By now, you're probably wondering how to get a cloud phone number for your business with United World Telecom.
To begin, visit United World Telecom's home page at https://www.unitedworldtelecom.com. On that page, you'll find a number of cloud phone number types to choose from. Choose one to be redirected to the next page, where you'll have the option to specify the country, the type of phone number, and the particular phone number you want to use (note: some phone numbers are assigned upon activation). You'll also have to provide your destination phone number.
Once that information has been entered, you will be given a list of plans to choose from (free trials are available for new users), as well as add-ons to augment your cloud phone number. Then, you'll be prompted to enter in your personal contact information and agree to the terms & conditions. On the next page, you'll review your order, enter in your billing information, and finalize your order. Once completed, you'll be contacted by a United World Telecom representative to help you set up your new cloud phone number.