We write a lot about SIP. That's because we have been a leading SIP trunk provider for over twenty years. Read on to learn more about SIP servers and how they work.
What is a SIP Server?
A SIP server or SIP proxy processes session initiation protocol (SIP) requests. This server is the main element of an IP private branch exchange. SIP is an internet protocol used to initiate and receive voice and video communication by transmitting data packets across an internet connection. This enables the quick and easy transmission of SIP calling between 2 or more parties.
How Does a SIP Server Work?
A SIP server works alongside a voice over IP or VoIP phone system. Both systems together make cloud communications possible. A SIP proxy can:
Set up a session between 2 or more endpoints; such as audio or video conferencing between 2 or more parties
Replace one endpoint for another; during call transfer or routing
Negotiate and adjust media parameters and specs during a session; such as putting a call on hold
Terminating a session
It is important to note that the SIP server does not actually transmit media. Media transmission is performed by a media server using the RTP protocol. Within an IP-PBX, the SIP server and media server are present on the same machine. However, a high-volume SIP server like a VoIP provider may separate the two servers on different machines and balance the load.
Additionally, there is no fee or charge to get a SIP address for your server. These addresses connect to unique phone numbers. This enables each user on a SIP network to have a direct inward dialing number to place calls. Furthermore, companies can use these systems in a package such as a hosted PBX.
SIP Proxies: Modes of Operation
A SIP server generally operates in one of two modes: Stateless or Stateful.
1. Stateless SIP Proxy: This type of SIP proxy receives and transmits messages but does not keep any record of the transmission. A stateless SIP proxy works this way: Send > Receive > Delete. This server works at a faster speed because of its limited functionality. Additionally, this simplicity in functioning makes it desirable to small businesses as they can easily scale and upgrade their SIP system.
2. Stateful SIP Proxy: This type of SIP server transmits as well as stores messages and information to access later. Because of this functionality, it can pick up a request message and try again. Or, it can reroute the message through another aspect of the network. A stateful SIP proxy works this way: Send > Receive > Save. An example of this is Time of Day Routing that routes incoming calls based on the time of day and predetermined rules. For example, calls made to a business after hours can be forwarded to a different office location or remote agent.
What Does SIP Trunking Do?
SIP trunking is a service that enables your PBX system to send VoIP and SIP calls over the internet. This service works with virtual telephone lines and sends and receives messages through bandwidth data. You can get multiple SIP trunks and cover various geographic areas. SIP trunking makes it possible for your business to expand operations beyond your immediate location.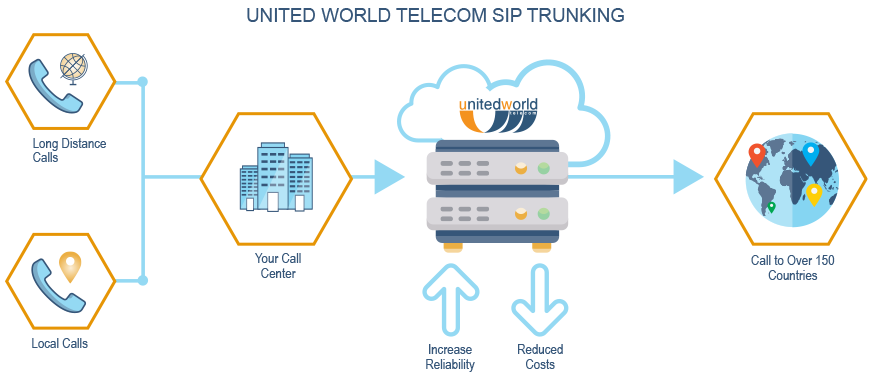 Benefits of a SIP Proxy and SIP Trunking
SIP servers and SIP trunking have become increasingly popular with businesses of every size. Here are the top benefits of switching to SIP:
1) Enable Unified Communications
SIP trunking enables voice, video, and text messaging from one platform. There's no need to invest in different services to keep your communications stable. You can make and receive high-quality calls, audio and video conferencing, and texting from SIP trunking.
2) Forward Calls
With a SIP server, you can quickly and easily forward or direct incoming calls to several SIP and VoIP devices. This is helpful for any office with a busy call volume. Plus, with a stateful SIP proxy, you can save and access calls or messages that didn't go through the first time and try again later.
3) Cut Communication Costs
VoIP and SIP are in demand because it not only offers high-quality communication but also a comfortable price. Sending and receiving voice, video, and text over a SIP server costs almost nothing to users.
4) Network Security
Secure VoIP is a necessity within any business. A SIP server protects your communication system from hackers by disconnecting calls and users without credit or authorization.
5) Access to VoIP Features
With SIP trunking, you can gain access to useful voice over IP features that can help organize calls and provide a professional image to your business. Features include, but are not limited to;
Call forwarding and routing options
Automated greetings
Analytics and reports
Unlimited extension, and so many more
Where Can I Get SIP Trunking?
United World Telecom can help! You can buy SIP trunks directly from our website or contact one of our experts to learn more.