Don't know which communication platform or software to use for your business communication needs? Here's an in-depth guide to UCaaS or Unified Communications as a Service with everything you need to know about unified communications and how UC can improve internal and external business communication.
Everything You Need to Know About UCaaS
Even though it has been around for a while, the term 'UCaaS' is still not entirely familiar to everyone. And so, in this UCaaS guide, we are going to go through what UCaaS and unified communications are, how businesses can use this service to improve business communications, and how to choose a UCaaS provider that's a perfect fit for your needs.
What is UCaaS and How Does it Work?
Unified Communications as a Service — also known as UCaaS or UC — consolidates significant and relevant communication tools in one cloud-based platform. In short, UC as a service combines features of an office phone system with relevant, real-time apps to create a unified business communication system.
By bringing together phone, chat, video, and messaging services in one platform, UCaaS encourages communication, collaboration, and productivity. This service can be used through any device connected to the internet such as a computer, laptop, deskphone, or smartphone. This way, Unified Communications as a Service supports businesses that work remotely or spread across different locations.
UCaaS Features
UCaaS providers offer various call center services and features that can include telephony, video conferencing, messaging, and VoIP integrations. Here are some of the top features offered:
Advanced call routing
Hosted PBX
APIs and CRMs
Automatic call distribution (ACD)
Auto-attendant
Interactive voice response (cloud IVR)
Local and international call forwarding
Local phone numbers
International toll free numbers
Softphones and web dialers
Outbound calling (caller ID)
Fax and voicemail
SMS forwarding
Voice and video conferencing
Call recording
Chat and SMS
Encryption
Call analytics and metrics
Inbound call display
Call transfer
Extensions and DID numbers
Call detail records
Types of UCaaS Architecture
Businesses looking into UC as a software for their business communication needs must first understand the two UCaaS architecture options offered: single-tenancy and multi-tenancy. Choose the UCaaS model right for your company depending on your communication needs and budget.
1. Single-Tenancy UCaaS
The single-tenancy model is a UCaaS architecture where the organization is the only user (tenant) of the software. This type is highly customizable and can be tailored to meet the customer's specific needs. Additionally, this type of UCaaS model keeps customer data separate and private. The single-tenancy model can prove expensive as the user pays for the service including updates and maintenance.
2. Multi-Tenancy UCaaS
In multi-tenancy UCaaS, more than one user is using the same software. This type of UCaaS architecture offers limited customization options. However, it is more cost-effective than a single-tenancy model as updates and maintenance are shared by all users.
On-Premise vs Cloud UCaaS
There are two ways to set up UC as a service for business communication: on-premise and cloud (hosted). The difference between these two types of systems is who is in charge of them: the business or the UCaaS provider. And deciding which type of UCaaS architecture and service your business needs depends on:
What is the communication budget?
Does the business have an in-house IT team or plans to hire one?
What is the stage of business growth — starting out or established?
Does the business have an existing PBX system or plans to replace it?
Does the business need to purchase a new communication system?
With on-premise UC, the servers are located in the business' office and involve acquiring the necessary hardware. This means that the business will need an internal IT team to install, update, and maintain the system. And the upfront costs plus the cost of hiring an IT team can prove expensive.
Hosted UC or UCaaS, on the other hand, relieves businesses of software maintenance and management — all of this is taken care of by your UCaaS provider. You can even eliminate upfront hardware and equipment costs. With UC as a service, your business can scale up and down as needed.
UCaaS vs CCaaS: How They Work Better Together
UC as a software used to compete with contact center as a software (CCaaS) as the better communication platform alternative. However, lately, users and providers are realizing that UCaaS and CCaaS combined leads to better results.
CCaaS is basically cloud call center software designed to enhance customer service. It offers various cloud communication tools in one platform. By integrating it with UC as a service, you have a business communication system equipped for effective internal and external communication. A UCaaS-CCaaS solution, therefore, encourages and optimizes in-house collaboration as well as customer interactions.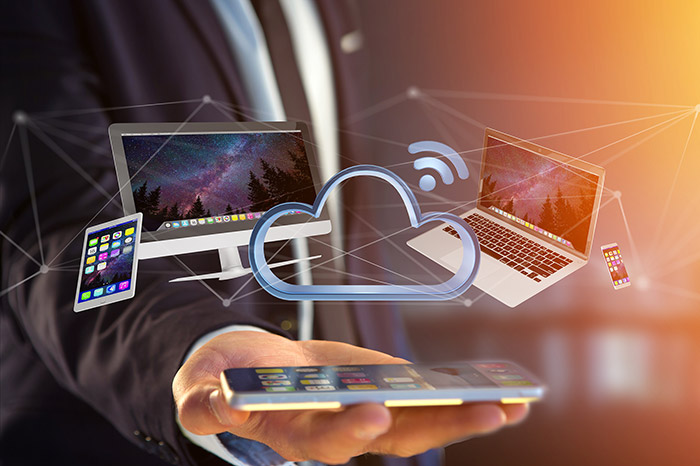 UC Trends and Benefits
More and more businesses are adopting UCaaS as part of their communication setup. Before we delve into why businesses are choosing UCaaS and how your business might benefit from this service, let's look at UCaaS trends for 2022:
More cloud solutions
Adoption of AI
Higher adoption for remote teams and digital workspaces
More focus on customer experience
Growing focus on improving employee experience
Rise of additional service extensions
Improve data management and analytics
Rise of global SIP trunking
So, how are companies using and benefiting from UCaaS solutions?
1. More Internal Collaboration and Communication
UCaaS solutions allow various departments and teams to communicate smoothly. This way, marketing, sales, and services teams can work together to develop better products and advertising strategies. However, interruptions in communication can disrupt and discourage an easy workflow. UC solutions work to eliminate this issue letting teams share information and knowledge seamlessly.
2. Better for Business Continuity
With this platform, your business can secure business communications and reduce downtime by engaging its disaster recovery settings. What this means is, if your communications fail, calls and emails can be routed elsewhere for business continuity.
3. Low Communication-Related Costs
Furthermore, you can expect lower communication and IT-related costs. Since your provider handles updates and maintenance, your business does not need to pay for those costs. And you don't need to worry about purchasing additional software, hardware, or equipment. Furthermore, hiring an experienced IT team becomes unnecessary as well.
4. Improve Customer Experience
By using the various communication features that come with your UCaaS software, you can practice effective call management and improve caller experience. This means reducing call wait times, routing calls to the right departments, increasing first call resolution rates (FCR), and more.
In fact, with a well-designed IVR, callers may even be able to resolve their call without needing to speak with an agent. This is because interactive voice response can provide certain self-service options that customers can complete. For example, providing business hours, processing a payment, or renewing a service, etc.
5. UC for Remote Team Management
Businesses have also been using UCaaS to enable smooth remote working. UC for remote teams allows all users and employees to stay connected and share data and information, irrespective of their location. UCaaS has, therefore, given rise to remote or virtual call centers and work-from-home call centers.
6. Access to a Unified Platform
In one cloud-based platform, UCaaS offers multiple features to support business messaging, collaboration, telephone (voice and video calling), email, and more. This reduces time wasted on moving between different services and platforms.
How to Choose a UCaaS Provider: 6 Steps
When looking for a new UCaaS provider for your business communication system, consider the following steps and questions:
Step 1. Check for Reliability
As with any new product you purchase or new service you sign up for, research the business and check for reliability and credibility. How long have they been in business? Have they been discussed by others in the industry? Have they participated in industry events? What are their customers (current and past) saying about the service? And so on.
Step 2: Browse Through Features and Integrations Offered
Look at all the features, services, and integrations they offer — do they match your company's needs? Would it take long for your employees to learn how to use this system? Are these features easy to use and set up? What percent of the software is self-service?
Step 3. Look for Customer Reviews
Browse through customer reviews on Google and software review websites such as G2, Capterra, PCMag, SoftwareWorld, SaaSGenius, etc. Read through customer testimonials and case studies, when available, as they can give you more insight into how specific companies are using these services.
Step 4. Consider Scalability Options
If you're a growing company, then scalability is a prime concern for you — you want to be able to scale up or down without much change or interruption. Can this UCaaS provider help you grow as and when needed without delays and service issues?
Step 5. Consider Security
Since UCaaS solutions manage much of your company's data and communication, you want to find a provider with voice security and encryption protocols in place to protect consumer and company data. What protocols does this provider have? How do they handle data and security breaches? Do you need specific features and services to maintain compliance and does this provider offer these services?
Step 6. Check for Customer Service Accessibility
Lastly, how accessible is the UCaaS provider's customer service team? Are there multiple customer service channels — phone, email, chat, trouble tickets? What is their response time? If it is hard to get in touch with the customer support teams, you may want to look for another provider. This is because when your UCaaS solution fails or starts acting up, you will need a responsive provider to jump on it and resolve the issue quickly.
Learn About United World Telecom's Solutions
Still don't know what type of office phone system will work best for your business communication needs? Speak with our telecom experts. We can guide you through the different features and services we offer and how you can customize your business phone system to match your needs. Call us today at 1 (877) 898 8646 or chat with us online!