In this comprehensive post, we will explain Session Initiation Protocol (SIP) and its important features.
What is Session Initiation Protocol?
Session Initiation Protocol (SIP) is an internet signaling protocol that is used to initiate, maintain, and terminate real-time voice and video communication. An internet protocol is a set of rules for routing packets of data across a network. SIP is often used for mobile phone calling over LTE and in IP telephony systems.
It enables businesses to take their communications to the next level, by enabling not just voice-sharing but video conferencing and text messaging as well. Unified communications are made possible for an organization through SIP.
Important SIP Features
Note that SIP is a signaling protocol. In other words, it doesn't handle the specifics of multimedia sessions. Other protocols such as the Sessions Description Protocol and Real-Time Transport Protocol handle media details and data delivery respectively.
Session Initiation Protocol initiates a call between two or more people where the SIP client establishes specifics of the request. The other party can choose to accept or reject it. This transmission is done securely through Transport Layer Security (TLS).
Additionally, Session Initiation Protocol makes it possible for users with different service providers to interact and communicate. It can boost your IP telephony call with a process called SIP trunking.
Session Initiation Protocol versus Voice over IP
SIP and VoIP are often used interchangeably and therefore, it is important to understand the difference between these two types of technology. See below:
| | |
| --- | --- |
| SIP Trunking | Voice over IP Tech |
| Signaling protocol within VoIP | Family of technologies related to communications |
| Multimedia transmission | Only voice messages transmitted |
| Requires only a modem | VoIP devices need to be connected to a computer |
| Uses a peer-to-peer system to handle large amounts of data | Uses a central network to organize and transmit traffic |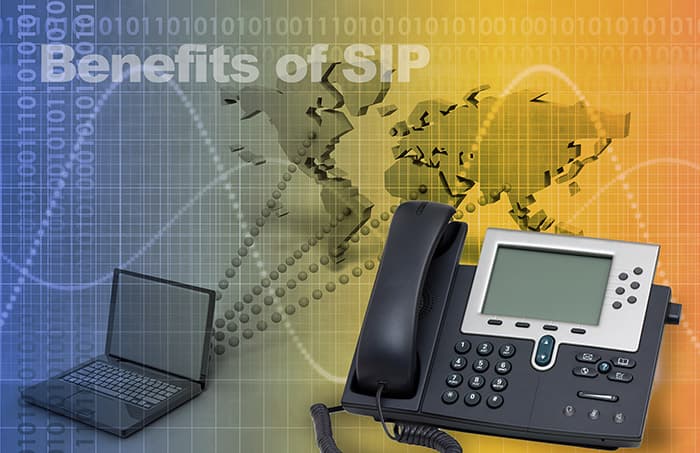 Benefits of Session Initiation Protocol
Why do businesses benefit from SIP trunking and why should you consider this service for your communication system? It's simple: SIP and SIP trunking can boost and enhance communications in a multitude of ways. It is not only cost-effective but provides phone solutions to improve internal and external communication. Here are some of the top benefits of SIP trunking.
A HIghly Cost-Effective Service
SIP calls are routed over the internet and by doing so, this gives you the ability to contact local and long-distance contacts for cheaper calling rates. Pricing for a SIP trunking service is pretty straightforward. You sign up for a monthly subscription and your bill remains predictable. Furthermore, most SIP providers do not require you to sign long-term contracts. Check out our detailed analysis of SIP trunking prices for your information.
Tools to Expand Internationally
Part of growing your business globally involves creating strong communication channels between your company and its customers. SIP trunking paired with virtual phone numbers is a great solution for businesses looking to expand their reach into international markets. You can reduce your calling costs while providing convenient (and even free) ways for customers to connect with you through local numbers and toll free service.
One Platform for All Communications
You can transmit voice, video, text, and more via SIP channels. This technology makes multimedia communication possible from one platform, instead of having it spread across 4-5 different services or software. This can help increase office productivity and reduce costs that can build up from different platforms.
More Session Initiation Protocol Resources
Contact us at 1 (877) 898 8646 if you want to learn more about Session Initiation Protocol and let an expert help you through the process!