As a business owner, you have likely come across the term VoIP many times concerning communications solutions. VoIP protocols and standards work together to convert your regular phone system into a highly efficient and organized one. These protocols enable you to send and receive calls over the internet instead of traditional phone lines. And that's not all. You can also transmit video, text messages, and other files from one system to another. Here, we will have a look at important VoIP protocols and standards, and why companies are increasingly choosing VoIP as their new
business phone system
.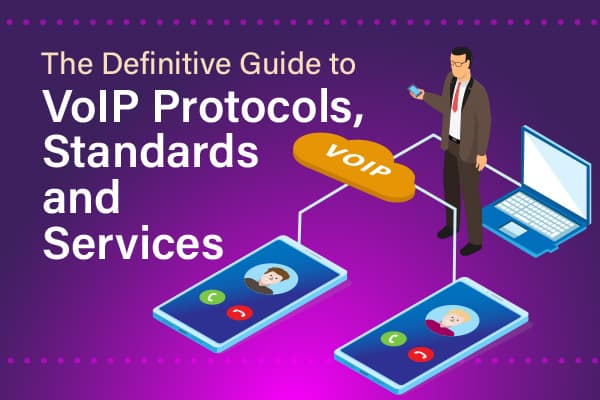 Internet VoIP Protocols
The word 'protocol' is key when discussing voice over internet protocol (VoIP) or IP services. VoIP is a mean of transmitting voice and video over the internet. But, this transmission of data is not as simple as attaching or sharing files. Instead, this is done through specific VoIP protocols.
A protocol is a set of rules computers use to explain how they communicate with each other. It determines how data is routed as it travels across networks in smaller pieces called packets to arrive at the right destination. Once packets reach their destination, they are handled differently. This depends on the type of transport protocol used along with the IP. Common transport protocols are the Transmission Control Protocol (TCP) and User Datagram Protocol (UDP). The most common VoIP protocols used are TCP, SIP, and H.323. VoIP can also utilize other protocols like MGCP, SCCP, etc.
Transmission Control Protocol
For communication to occur, devices or computers need a message to send as well as a consistent and reliable method to send and deliver the message. TCP, one of the important VoIP protocols, breaks the message down into smaller packets while IP deals with the sending and delivery of the packets. This TCP/IP protocol suite is used by almost every computer or device connecting to the internet and is the basis of all communication.
Intelligent Endpoint Protocols
The term 'Intelligent Endpoint Protocols' is used to describe SIP and H.323 VoIP protocols because these protocols utilize "intelligence" to locate and transfer data to the receiving device. Session Initiation Protocol (SIP) originated in 1995 and H.323 was established in 1996. H.323 seems to be more popular out of the two VoIP protocols. However, which protocol is best suited for you depends on what your business requires.
Session Initiation Protocol
SIP has become the Engineering Task Force (IETF) standard for multimedia sessions. IETF is a large international community. It includes almost everyone involved in networking focused on the evolution of the internet. This organization is responsible for the protocols and general functionality of the internet. And, it has determined SIP as the standard for audio, video, and messaging solutions.
SIP is flexible, allowing any SIP phone to operate fully on a SIP network. It has a wider range of features and functions. Additionally, SIP is modular, meaning that it doesn't require a certain type of data to be transferred. And so, it can transfer instant messages and files as it indicates who is and isn't online. Lastly, it provides SIP trunking capabilities that enable SIP to work alongside your private branch exchange (PBX) system.
Related: SIP Trunk Pricing Breakdown [Updated 2021]
The H.323 Protocol
International Telecommunications Union, responsible for building the public switched network (PSTN) used by traditional phone lines, built the H.323 protocol. H.323 is the international standard for multimedia communications over packet-switched networks. Packet-switched network (PSN) is a computer communication network that groups and transfers data between a source and destination in small packets. These networks include local area networks (LAN), wide area networks (WAN), and the internet. The H.323 protocol is an older standard based on the ISDN standards and holds multiple other standards under it: H.225.0, H.245, and H.460.
Designed specifically to operate over IP networks, this protocol covers voice and video communication. Additionally, it also has voice and video conferencing capabilities. However, to use H.323, users need to buy specific phones to ensure they can use all functions and features offered.
Other VoIP Protocols and Standards
SIP and H.323 are the most popular and common VoIP protocols. However, there are a few other options:
Telephone Getaway: Telephony gateways are elements that convert audio signals on the PSTN to data packets which are transferred over the internet or LAN.
MGCP: The Media Gateway Control Protocol is a call control protocol and mirrors the structure of standard PTSN systems.
SCCP: SCCP is also known as SKINNY and refers to a device that has core elements but possesses fewer features and functions. It was developed for IP telephony but has integrated video. For VoIP, SKINNY is a proprietary and Cisco-specific protocol.
H.248 or MEGACO: H.248 was developed by Cisco as an alternative to the H.323. This protocol provides telecommunication functions and services across packet networks like the internet or LAN as well as PSTN systems.
Call Agent: Call agent is an element required to deliver certain specific services to users. It is also used to control signal communications between phones or computers.
VoIP for Business
All this is to say that VoIP has many factors working towards enhancing the way a company or call center conducts its business interactions. And this is why you may consider upgrading your office's phone system to one with VoIP capabilities. With such a system, you won't be paying traditional phone line charges. Instead, you only pay what you sign up for. And you can do this through a virtual phone service provider like United World Telecom.
Additionally, you can convert any device into a small business VoIP system. When you purchase a virtual number, you will have the necessary information required to use the service on your smartphone, computer, MacBook, tablet, etc. This way, you can stay connected no matter where you are and what device you are using. And because VoIP provides good call quality and connection, and lets you conference through voice and video, you can set up business communications anywhere. This is useful for companies with offices or remote employees across different cities, states, and countries.
Easy on the Pocket
The main reason why businesses find VoIP attractive is because of its affordability. Because you are using the internet as opposed to traditional phone lines, this type of phone system can considerably cut down communication-related costs. Your business can connect and maintain relationships with international clientele without having to worry about exorbitant international calling charges. Providers offer a variety of plans based on call volume or business size. You can get a plan best suited for your purposes. Some providers even offer discounts on bigger plans, so the more you use, the more you save.
Flexible and Versatile
VoIP systems are very versatile. They are easy to set up and are user-friendly. And if you need to close up and start new in a different office or location, that can be arranged as well. VoIP service can be mobile, making it easy to manage this system and move it with you wherever you go. And so, companies that have multiple offices or remote employees prefer such a communication system. It is also a good solution for an enterprise, like a travel agency, that has employees traveling for business. VoIP increases productivity and positively impacts internal communications by encouraging teammates and departments to collaborate in an efficient and organized way.
Customize Business Interaction with Useful Features
It is important for every business to create and maintain a professional image within the market and for its customers. And oftentimes, one forgets to consider the power of a business phone number and phone system. Customers interact with companies the most through phone calls. And so, you want to have a phone service that is reliable, flexible, and ensures you have good internal and external communications. A VoIP system can help you achieve all of this within a reasonable budget.
Another important reason why enterprises are switching to VoIP phone systems is because of the range of communication features that come along. Basic features offered by most virtual service providers are:
Call Forwarding – Direct incoming calls to selected numbers
Call Transfer – Transfer calls to different departments, offices
Customized Greetings – Automated response greeting customers and providing information about the company
Call Logs – Tracking call activity
Interactive Voice Response (IVR) – Automated response navigating callers through a series of menus or directing them to the right department
Call Conference – Conference with other departments, offices
Time of Day Routing – Route calls to certain numbers during specific times of the day
SMS to Email, Voicemail to Email – Receive texts and voicemail copies in your inbox.
These aside, providers will also offer additional unique services. For example, United World Telecom has Call Recording that lets you record calls and reference them in the future. You can also get Outbound Calling that allows you to make outbound calls using the Caller ID of the virtual lines that you've purchased.
Upgrade to VoIP With United World Telecom
VoIP helps keep costs down, increases workplace productivity, and encourages collaboration between teams and departments in an organized manner. It also opens a channel of communication for traveling or remote employees. And more importantly, it enhances customer service by offering more reliable and flexible modes of contact.
If you want to upgrade your phone system to improve customer interaction and caller experience, contact us today. United World Telecom is here to provide you with necessary and resourceful cloud communication tools. Sign up for a virtual number today or call us at 1 (888) 908 6171 to learn more.