Many businesses offering local and international services often wonder if there is any way to modernize and enhance communications without receiving overwhelming bills each month. Well, SIP trunking and SIP lines make a fine solution. Let's look at the difference between a SIP trunk and line so you can get the phone system that works best for you.
SIP Line vs SIP Trunk: Understanding the Difference
Oftentimes the terms SIP line and SIP trunk are used interchangeably. However, there are two components that work together and are not the same thing. Here we explain what each term entails so you have a better understanding.
What is a SIP Line?
SIP lines are also called SIP channels or SIP sessions. A SIP line is an element of a SIP trunk through which data can be exchanged between two points. A SIP trunk holds large numbers of SIP lines or channels. During calls, a SIP channel is the unit's capacity to support an incoming or outgoing call. In other words, each call uses one channel.
And so, companies needing SIP lines are more than satisfied by one SIP trunk. However, exactly how many lines your business needs depends on the number of concurrent or simultaneous calls you handle per day. SIP providers offer a variety of plans:
Unlimited channels
Unlimited channels with a fixed number of session minutes
Fixed number of channels with unlimited minutes
Multiple trunks for multiple offices on the same network
What is a SIP Trunk?
SIP trunks connect your business' private branch exchange or PBX system to the internet. In other words, it converts your traditional phone system into a virtual or digital version.
As noted above, a SIP trunk holds SIP channels and makes concurrent SIP calling possible. In VoIP phone systems, a SIP trunk can hold about a hundred SIP channels. These lines can be distributed across different departments, devices, and so on.
SIP trunking enables your business to make and receive calls over the internet instead of a traditional POTS line. This way, this method of communication supports both traditional as well as VoIP phone systems. With SIP trunking, you can transmit voice, video, text, and other unified communications.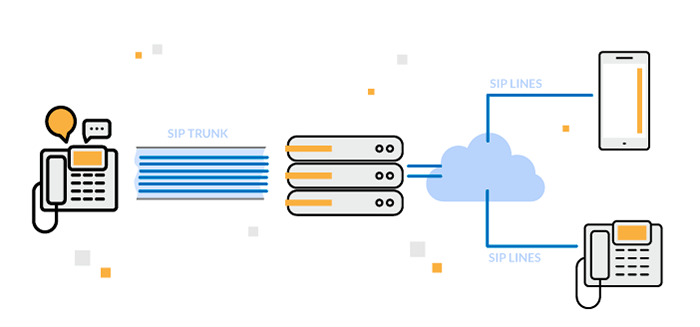 Benefits of SIP Trunking
Why should your business consider SIP trunking as part of your communication system? Here are some ways SIP trunking benefits businesses:
1. Unified Communications: With SIP trunking, you can handle voice, video, and text transmission through one platform. Additional services are not required.
2. Low Cost and Set-up: SIP trunks don't need extensive hardware or software to function. A reliable internet connection is more than enough.
3. International Coverage: With SIP trunking, your local and international business calling bills reduce tremendously.
4. Scalability: You can always add extra SIP lines to your SIP trunk if/ when needed. Again, there is no extensive set-up or installation required.
5. Tools for Better Customer Service: By providing voice, video, and text communication, you can enhance customer support by adding video conferencing, text messaging, and file-sharing.
Does Your Business Need a SIP Line or SIP Trunk?
The decision really isn't one or the other. This is because SIP channels work within a SIP trunk. The real question is, how many channels does your business need?
A SIP trunk can host multiple SIP lines, allowing for multiple concurrent calls to occur simultaneously. In other words, if your business has 250 SIP lines, it can handle 250 calls at the same time. Each call takes up 1 SIP line.
Similarly, SIP trunking prices or monthly fees will depend on how many lines your SIP trunk holds. To determine this, you will need to know how many incoming and outgoing calls occur during a day. Work with your sales, marketing, and customer service teams to get an approximate number.
If your business does not receive or make a large number of calls per day, then you may choose to have a few employees or small teams on each SIP line. Additional SIP lines can be added later.
Connect SIP Trunks to Your Phone System Today!
Think SIP trunking is the way to go? We at United World Telecom can help you buy SIP trunks. Add premium call management features such as call forwarding, call recording, IVR, outbound calling, and more. Call us today to sign up!