When switching to a cloud phone system for your company's communications, owners often have to decide between a hosted PBX and SIP trunking. Here we will discuss what these two types of service are so you can make the right decision based on your needs.
Hosted PBX versus SIP Trunking: Key Differences
In order to decide whether your company can benefit from a hosted PBX  or SIP trunking, it is important to first understand what each of these services is capable of achieving. Other factors to consider are:
Costs
Level of expertise required
Company size and calling (or call management) requirements
Security needs
But first, let's look at these services and their benefits individually.
What is a Hosted PBX?
If you want a system handled and managed offsite, then a hosted PBX service will be more in line with your needs. Other terms for hosted PBX are virtual PBX, cloud PBX, and cloud phone system. A hosted PBX service is a service managed by a third-party provider and connects to a public switched telephone network (PSTN).
Benefits of Hosted PBX
Therefore, subscribing to a hosted PBX service means that your company does not have to buy or maintain any equipment or software to utilize the service. And so, you do not have to worry about high setup or maintenance fees. Additionally, you do not need to hire experienced IT professionals to manage the system.
A hosted PBX service will give you the opportunity to utilize Voice over IP services such as:
Call management tools to manage and route calls
Call transfer
Voicemail
Call recording
Interactive voice response (IVR system)
What is SIP Trunking?
SIP trunking also uses VoIP technology. SIP connects your existing PBX to the internet and enables the sharing of multimedia files such as voice, video, and text. Therefore, to use SIP trunking technology, you need to have an on-premise PBX system and a skilled and experienced in-house IT team to manage it.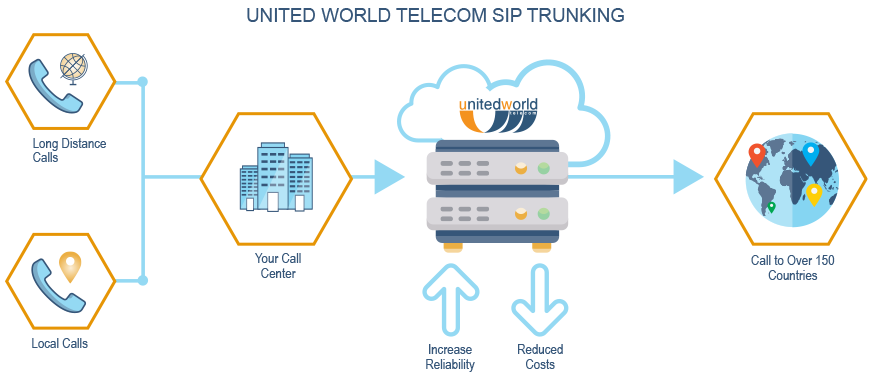 Benefits of Using SIP Trunks
SIP technology is growing more and more popular with businesses because of the many advantages of using such a system. Here are a few benefits of SIP trunking:
SIP trunks replace traditional phone lines by helping you make and answer calls over virtual lines instead. This enables long-distance and international calling at cheaper rates. Therefore, SIP technology is often preferred for its affordability.
Furthermore, you do not need to subscribe to 4-5 different services to handle your office's communications. SIP trunks allow for transmission for various types of data all in one place, making business communications easy to manage. This is also helpful in increasing overall office productivity and efficiency as employees spend less time learning new services and more time providing better customer support.
Key Differences Between Hosted PBX and SIP Trunking
Now that we have a better understanding of what each service means, let's look at the key differences between having a hosted PBX system and SIP trunking as part of your office phone system:
| | | |
| --- | --- | --- |
| | Hosted PBX | SIP Trunking |
| 1) Setup Costs | Low | Low, if you own PBX equipment on-premise |
| 2) Ongoing Costs | $15-$50 per phone line per month | $20-$50 per user per month |
| 3) Maintenance and Expertise | Handled by your provider | Handled by your in-house IT staff |
| 4) Expertise Required | No, handled by the provider | In-house IT staff must be experienced |
| 5) Call quality and volume | Great for low call volume | Great for a large workforce and a high call volume |
| 6) Flexibility | Geographically flexible and self-reliant | Depends on PBX program licensing and support |
| 7) Company size and type | Recommended for companies with <20 employees | Recommended for companies with >20 employees |
| 8) Security | Depends on the provider's standards | More secure infrastructure |
Choosing a Phone System
Deciding on a type of phone system for your business can be overwhelming. To simplify the process, pay attention to what your business needs and what your budget allows. For example, can you afford a skilled in-house IT team or do you want your provider to handle maintenance? Do you need a system that supports a low or high call volume and traffic? And so on. Determining your business' needs will help you make a better choice. To get SIP trunks and PBX, call United World Telecom and speak with an expert.