As "business in the cloud" grows more and more common across industries, users are looking at integrations to increase efficiency and reduce costs. This is where unified communications as a service (UCaaS) and contact center as a service (CCaaS) come in.
Contact Center Versus Unified Communications: What's the Difference?
CCaaS and UCaaS are business communication technologies. And while there are key differences between the two types of technologies, they work best when combined.
The main difference between UCaaS and CCaaS is that UCaaS focuses on internal communication and collaboration while CCaaS focuses on customer interaction. However, by bundling the two technologies into one cloud platform, you can save on communication costs. This means a monthly predictable bill and no need for extra hardware.
What is UCaaS?
UCaaS or unified communications as a service consolidates a business' communication tools and applications into one unified cloud-based platform. Communication tools include voice, video, instant messaging, and conferencing. Additionally, they come with features such as call forwarding and routing, interactive voice response, voicemail-to-email and fax-to-email, and more.
A business's IT team purchases these solutions to improve internal communication. These solutions can help businesses improve their office phone systems and streamline workflow by encouraging collaboration, flexibility, and mobility. UCaaS is similar to platform as a service, PaaS; where UCaaS makes unified communications available to businesses of all sizes.
What is CCaaS?
Contact center as a service or CCaaS also enables multichannel communication through one cloud-based platform. In other words, it is a call center software hosted in the cloud. Your CCaaS provider will create and maintain the software that allows you to enhance customer experiences.
With CCaaS, instead of the IT team, purchasing decisions are led by sales managers and leaders. This is because CCaaS solutions are geared towards sales and customer support. These solutions focus on creating easy methods for agents and employees to connect with clients and leads. Some common features include skill-based routing, customer authentication, outbound calling, etc.
How to Integrate Unified Communications Into Your Contact Center
To integrate unified communications into your contact center, follow the below steps:
1. Find the right provider for a voice and data network:
To get the combined benefits of UCaaS and CCaaS, you need a reliable voice network and/or phone system provider. This is usually a business phone service provider that provides your business with its international toll free service, VoIP numbers, and so on.
2. Choose the best features for your needs:
Browse through different features and services offered by your provider. You may even consider a virtual call center software that gives you access to standard and premium features such as call reports, direct inward dialing, call recording, IVR, and more.
3. Provide excellent customer service:
Use these features to create better customer experiences. Some ways you can do so include:
Offering multichannel support (voice, video, email, live chat, text message)
Using automation to create a faster and more productive workflow
Utilizing features to create a robust business phone system for internal and external communication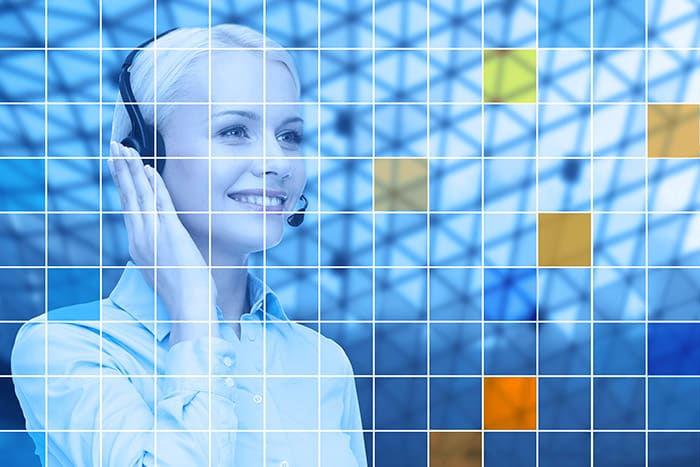 5 Benefits of UCaaS and Contact Center Collaboration
So, why does your business need a UCaaS and CCaaS collaboration? Here are the top 5 benefits of combining or integrating unified communications into your contact center.
1. More internal collaboration
With these technologies combined, different teams or departments within your office can work smoothly with each other. For instance, your marketing and sales teams must work together to determine the right leads and the right way to approach those leads. Being able to communicate easily and share information in a fast and secure manner can boost such collaboration.
2. Enhanced customer experience
With advanced communication features, you can strive to offer better customer service and caller experience. You can quickly forward callers to the right department or agent via your IVR system or through skills-based routing. You can also offer multichannel support for users who do not prefer phone conversations. Furthermore, a well-designed IVR system may even be able to reduce call wait times by providing troubleshooting help via prerecorded messages or sending callers to voicemail. Either way, the goal is to make the experience better for callers so that you retain these customers.
3. Lower communication costs
When bundled, you do not need additional expensive equipment or hardware to support both technologies. You can use your existing devices and phone system. Additionally, having both systems on the same platform ensures you have only one predictable bill per month instead of multiple bills. All of this helps reduce your monthly business communication costs which can result in significant savings for local as well as international businesses.
4. Enable remote working
Since both UCaaS and CCaaS work on cloud technology, you and your teams can work from any location and any device. This gives way to remote contact centers, virtual call centers, as well as distributed teams to work effectively even when working remotely.
5. Low IT maintenance
Finally, since these systems work over the cloud and are usually hosted by your provider, your business won't have to worry about the costs of managing a data center. You merely rely on your provider, saving more in communication-related costs.