Need to upgrade your contact center software but don't know where to start? Here's an in-depth guide to Contact Center as a Service (CCaaS) with everything you need to know about cloud contact center software in 2021.
What is Contact Center as a Service (CCaaS)?
Contact center as a service, commonly known as CCaaS, is a cloud communication software for businesses and contact or call centers. The most attractive feature of CCaaS is that it enables multichannel communication through one platform. And so, CCaaS is generally used by businesses to help them communicate with customers and leads effectively.
How Does CCaaS Work?
In essence, CCaaS is a call center software based in the cloud; that is, it connects users with essential communication tools virtually. This is a good solution for any company that wants to be in control of its business communication and manage teams from different parts of the world.
Your CCaaS provider is in charge of the software. This means that the provider takes care of developing, updating, and maintaining the software. Your business and employees don't have to worry about managing hardware or maintaining updates. The tools and features included in such software are designed for easy usage and setup. Additionally, you won't need a large IT team to make these communications possible.
Since contact center solutions and features benefit sales and customer service teams, sales managers usually make CCaaS purchasing decisions. These leaders look for solutions that make it quick and easy for their teams to connect with clients and leads and move them down the sales funnel.
CCaaS Features
CCaaS solutions were created to help agents and employees quickly and accurately connect with customers. As such, each feature and service involved supports call management, call forwarding and distribution, remote team management, and enhanced caller experience. Some common features include:
Skill-based routing
Time-based routing
Customer authentication
Call distribution via interactive voice response
Softphones and web dialers
Outbound calling, etc.
By including these features and services, contact center solutions help automate and manage call volumes and call flows more efficiently. With these features and self-service options, CCaaS solutions have grown into a trusted and reliable alternative to traditional contact center solutions and phone systems.
CCaaS vs On-Premise Contact Center Solutions
When it comes to contact center software, businesses have two choices: on-premise or cloud contact center solutions. Deciding which of these solutions is most suitable for your business depends on your business communication needs and budget. Let's look at the differences between CCaaS and on-premise contact center solutions:
| CCaaS | On-Premise |
| --- | --- |
| Works virtually; located in the cloud | Located on-site |
| Enables remote team management | May not be effective for remote team management |
| No set-up or installation costs | Includes set-up and/or installation costs |
| Software is hosted, run, and maintained by the provider | Software is run and maintained by the company |
| In-house IT team not required for maintenance and updates | In-house IT team required for maintenance and updates |
| Additional hardware and equipment not required | Additional hardware, equipment, and installation may be required |
| Offers contact center features and services | Offers contact center features and services |
| High scalability, reliability, and flexibility | High reliability; low scalability and flexibility |
| Advanced communication features and services | Basic communication features and services |
| Enables cost-effective international communication | International communication is more expensive |
| Cheaper | Expensive |
Taking note of these differences, you can make a decision for your company based on your company's size, in-house and remote teams, call traffic, and budget. You may also want to consider what your business hopes to achieve with your contact center solution. Do you want to expand internationally in a cost-effective way or do you want to stay local? Is remote team management a key factor? Do you anticipate scaling up or down and need a solution to back you up? And so on. Answering such questions can help you make an informed decision.
CCaaS and UCaaS: A Business Communication Powerhouse
When looking for communication solutions online, you will often come across a number of viable options. UCaaS refers to Unified Communications as a Service and is growing popular as an internal communication tool.
The main differentiating factor between these two solutions is that UCaaS focuses primarily on internal communication while CCaaS aims to improve customer experience. For this reason, IT managers make purchasing decisions for UCaaS while sales managers make decisions for contact center solutions.
While these solutions work on different aspects of business communication, by bundling UCaaS and CCaaS your business gains a full-fledged communication system that manages both internal and external communication. This way, you can encourage internal collaboration as well as improve customer experience.
Maximize CCaaS with SIP Trunking
CCaaS and SIP trunking together can create a powerhouse for your business phone system. Companies can use SIP trunking to boost their business communication system through hosted cloud solutions. To make unified communications work effectively, your business will need a SIP trunking solution that bundles all necessary telephony solutions together. With SIP trunking, a business can access global coverage are various communication features, all in the same platform, inexpensively. SIP lines are cheaper compared to traditional PSTN solutions, considering the many options the solution offers.
Contact centers and businesses using CCaaS solutions will have multiple locations and customers from around the world. As such, using a single or global SIP trunking provider can prove more useful and cost-effective than working with multiple regional providers. Furthermore, CCaaS and SIP trunking providers offer scalability where a business can expand, as and when needed, without your business having to worry about accommodating compliance with various local regulations. Your provider takes care of everything.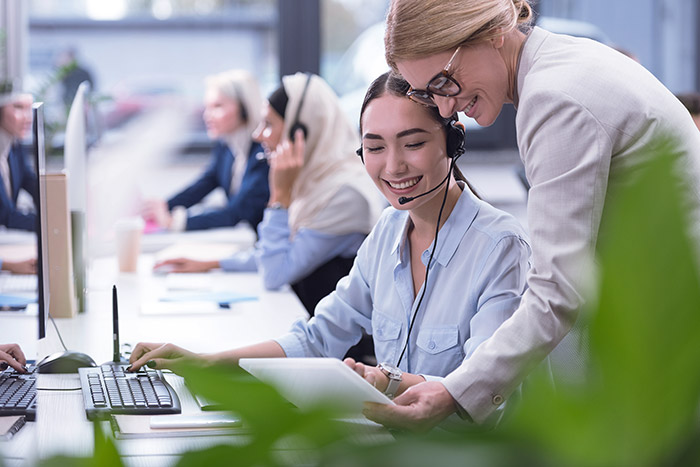 5 Benefits of CCaaS
So, why should your business consider getting CCaaS? If your company is looking to upgrade its phone system while keeping costs low, consider cloud contact center solutions. Here are 5 reasons to get CCaaS for business.
1. Better Internal Collaboration
Cloud contact center solutions offer multichannel communication in one place. This means various departments and teams can communicate smoothly and share information in real-time through the same platform. Increase team collaboration between departments by choosing CCaaS.
2. Low Communication-Related Costs
When all essential features and services are available through one platform or service, you do not need additional service or equipment to support your communication needs. In fact, CCaaS is a cloud-based solution that does not require hardware and additional equipment to make it work. Your employees can use existing devices and phone systems, and can use these devices from anywhere in the world.
Furthermore, your monthly bill is more predictable since you know upfront how much your service is going to cost. Lastly, CCaaS is equipped to help businesses conduct international communication at low rates as well. With all these benefits, you can see significant savings for all communication-related processes.
3. Better Remote Team Management
By going virtual, your business can easily manage remote teams since users can communicate through the business phone system from any location and any device. Cloud contact center solutions support remote contact centers, virtual call centers, BPOs, distributed teams, and more, by providing tools that let users work efficiently.
4. Low IT Costs and Maintenance
Similar to low communication-related costs, your business can also save on employing a full IT team as well as costs related to updating and maintaining the software. This frees up costs that may otherwise be put towards marketing and sales initiatives to boost brand awareness.
5. Improved Customer Experience
Finally, all of the above reasons make way for enhanced customer experience. If customers struggle to reach your business, they won't hesitate to look for similar solutions elsewhere. By utilizing a reliable and high-quality phone system, you make it easy for employees to connect with valuable customers and vice versa. This means that agents and reps are given the tools they need to convert more customers and increase the business' overall sales.
Get Contact Center Solutions for Your Business!
United World Telecom offers various virtual communication solutions for businesses looking to add call center software and features to their existing communication system. We can help you upgrade your business phone system without much work! Call us today to learn more or chat with us online!