In this guide, you will learn everything there is to know about an Interactive Voice Response (IVR system).
What is Interactive Voice Response?
Interactive Voice Response (IVR) is an automated telephony system with call routing capabilities. An IVR system can answer incoming calls, provide callers with a set of menu options, and then based on caller inputs, route the calls to an appropriate recipient.
As soon as calls connect to an interactive voice response system, callers are greeted by a prerecorded voice menu. The callers can interact with the menu in order to be connected with the right department or representative. Interactive voice response is so common, it is highly likely you have interacted with one before.
Any business can benefit from a cloud IVR system. It helps collect caller information and transfers calls to the right departments, enabling outstanding customer service, while reducing operating costs.
How Does IVR work?
An IVR system gathers information from callers and then routes those calls to another phone number or extension. Basic IVR systems work by collecting user input through touch-tone selections. More advanced systems can gather user inputs in the form of spoken responses using voice recognition.
IVR is an automated approach to customer service that reduces customer hold times and boosts worker efficiency. Even the most basic interactive voice response system can save time and resources. Organizations now have a more efficient way to manage incoming calls.
Cloud IVR Systems
A hosted or cloud IVR system works over the cloud. You can get an IVR system from your phone service provider who hosts the service. This means that you do not have to worry about developing the service or maintaining it. Your provider takes care of this. Your business simply needs to create a phone tree to route calls as you need. You can go in and change these routing settings whenever required.
IVR Systems for the End-User
Interactive voice response enables callers to easily navigate a contact center and find the right solution for themselves. The end-user can interact with an IVR system using the touch-tone keypad on a phone, or in more advanced cases, through spoken words.
For example, the end-user will dial a phone number with IVR and be connected to a voice menu. The end-user is then asked to choose from a set of menu options, which he or she can respond to by pressing or saying "1, 2, 3, etc." in order to get connected to the right department.
Basic IVR Versus Advanced IVR
IVR has two primary components that enable callers to interact with the system: DTMF and voice technology. DMTF, which stands for Dual-Tone Multi-Frequency, is a means of signaling to an IVR system using a telephone keypad. A basic IVR system enables callers to interact with a voice menu using DMTF.
More advanced systems use voice technology like natural language processing, to understand callers' requests. Natural language processing is a type of conversational AI that enables computers to answer complex open-ended queries.
A more advanced cloud IVR software with voice technology will certainly impress callers, but even the most basic IVR can drastically improve customer experience by reducing callers' common frustrations with a complex multi-level menu.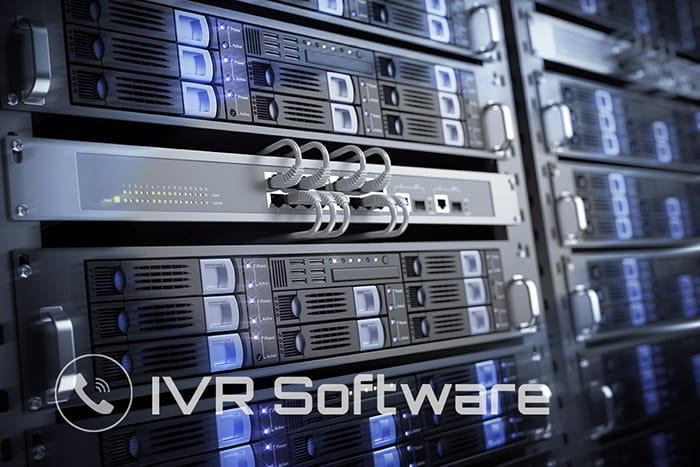 The Technology Behind IVR Software
At a technical level, interactive voice response software uses the following technologies: telephony equipment, a database, and supporting infrastructure. The software needs to be enabled and then configured in order to work. These are the most relevant technologies:
TCP/IP: A set of communications protocols that enables computers to interact over a network.
Databases: IVR software needs access to a database in order to serve relevant information in real-time.
Web/Application Server: The server performs various key functions and is the core of an IVR software.
While the underlying technology is less relevant to end-users, it is still important to have an idea of how interactive voice response technology works.
IVR vs ACD
Oftentimes, the terms IVR and ACD are used interchangeably even though they are essentially different systems. Automatic Call Distribution (ACD)  routes calls to the right department or agent based on rules set by the business. IVR is a part of an ACD system and helps route calls to the right location as determined by the account manager. You can try different routing strategies to ensure calls are answered by the right agent and callers are assisted quickly. More on call routing strategies below.
Common Hosted IVR Applications
With incredible flexibility, interactive voice response systems have many potential applications for businesses of all sizes. These are the most common use cases that we have seen in over twenty years of experience:
Set up a custom voice menu and touch-tone prompts
Greet callers with a pre-recorded message
Collect information about callers
Route callers to the right department or agent
Manage high call volumes
Prioritize calls based on certain criteria
Automate customer support
Cloud IVR Benefits
Over the past two decades, these are the seven most common benefits that IVR users have reported.
1. More Efficient Customer Service
Customers are impatient when they want service. They want timely answers to their questions and they want all their problems to be solved quickly!
IVR can help callers feel like they are being better attended to by increasing first contact resolution. FCR is the percentage of contacts that are resolved on the first interaction and it is a great measure of customer service performance. On average, businesses that use interactive voice response have much higher first contact resolution compared to businesses that do not.
Efficient call routing will lead to better customer service. By automatically routing calls to the right departments, all your customers' requests can be quickly dealt with appropriately.
2. Workforce Automation
For many companies, IVR has already automated key roles in the workforce. An interactive voice response system can greet callers, gather their relevant information, and then route their calls to the right departments, thereby eliminating the need for live phone attendants.
Let's face it – employees at a company are only human and we all make mistakes. Although never intentional, human error has been a major contributing cause of business accidents over the years. Our research shows that a fully automated business communication system can eliminate up to 100% of human error.
IVR also works for you 24/7. Regardless of whether staff is available, incoming calls will always get routed through properly to the right extension. As your business becomes more accessible to potential customers, revenue will also increase.
3. Higher Profits
Businesses of all sizes use IVR to increase profitability. Remember that operating profits are calculated by subtracting operating expenses from gross profits.
A cloud IVR system is able to automate certain key processes at a negligible cost so fewer employees are needed to manage the phone lines.
4. Manage High Call Volumes
Imagine if you could scale your business by leveraging your entire workforce at full productivity. An IVR system can help manage your high call volumes, while also being able to scale rapidly to meet your expected growth. It has the ability to serve multiple customers simultaneously so the rest of your employees can work on more productive activities.
5. Increased Agent Efficiency
By routing calls to the right extensions, agents spend less time transferring calls around and communicating back-and-forth with other agents. Increased agent efficiency has major benefits for all types of businesses.
First off, thanks to IVR, agents no longer need to waste valuable time on the phone collecting redundant information. A cloud IVR system can maximize agents' time that is spent on the phone with customers. When your agents aren't on the phone with customers, their time can be better spent on other revenue-generating activities.
Second, call center agents are able to specialize in various key functions thanks to IVR, and thus become more efficient in each role. It's possible to route calls to different agents based on certain criteria. You can also maximize customer lifetime value by prioritizing callers from high-income regions.
Finally, an interactive voice response system provides call analytics that enables managers to monitor user performance and agent productivity. Unlock the full potential of your workforce with an IVR.
6. Wider Personalization
Studies show that more personalized customer service can boost revenue by 40%. We have determined that some potential customers can get turned off when they call a business only to hear a boring old ringback tone.
Luckily, IVR systems make it easy to personalize and enhance customer experience on the phone. Your callers will appreciate a more personalized experience when their calls get answered by a customized voice greeting followed by a list of highly-tailored menu options.
7. Professional Company Image
In today's day and age, it's especially important to make a good first impression. In fact, Forbes Magazine declared that potential customers will form an opinion of your business based on a variety of factors including phone calls.
Interactive voice response can create instant credibility for your business by promoting a professional image that is well-put-together.
How Does a Contact Center Use IVR?
Most contact centers already benefit from interactive voice response technology because it can streamline a great number of key business functions. Here are the most common ways contact centers use IVR.
Efficient Call Routing
An IVR system for call centers will gather key information from callers at the start of the interaction. After registering a response, the cloud IVR system will then direct callers to the appropriate departments. This helps satisfy customers by reducing the time spent on hold and it also maximizes the efficiency of agents in your contact center. Read our post about top IVR routing strategies to learn more.
Self-Service and AI
Self-service is the foundation of a good contact center experience. In fact, 81% of customers prefer to try self-service before reaching out to a live representative. Modern IVRs may use artificial intelligence to enable self-service.
Over time, artificial intelligence can further develop to fulfill increasingly complex needs and eliminate a large number of mundane tasks. You should also keep in mind that callers can interact with your voice response menu to get self-service at any time of day.
Advanced Speech Recognition
Modern voice response systems use advanced speech recognition to better serve callers. Advanced technologies like natural language processing enable cloud IVR systems to clearly understand callers' requests and determine the reason for their calls. Harvard studies have shown the potential of NLP in contact centers.
CRM Integrations
Callers prefer not to repeat themselves. Luckily, CRM integrations exist that enable your IVR system to fetch relevant information about callers in real-time. This helps agents in your contact center deliver more personalized information to satisfy very specific needs. Call center integrations can also boost caller satisfaction by producing seasoned call center agents.
IVR Best Practices
When used incorrectly, your interactive voice response system could have a negative impact on your business. That's why we recommend that our customers are mindful of their end-users. We recommend following these best practices to deliver a delightful IVR experience.
1. Research Your Audience
You should research your audience and your end-users before setting up IVR. Key research should involve figuring out which customers are most likely to interact with your voice response system. By doing this, you can create a more personalized experience with highly tailored menu options.
2. Survey Caller to Improve Your IVR Experience
Surveys can help determine how satisfied your customers are with the overall phone experience that you provide. It is important to regularly survey customers and elicit feedback and then implement their valuable suggestions. Surveys help businesses build better hosted IVR systems that callers actually enjoy using.
3. Use Natural Speech Recognition for Complex Applications
Natural language speech is more flexible than touch-tone interaction. That shouldn't come as a surprise to anyone. It is not always necessary for quicker transactions, but speech recognition can enhance more complex business applications.
4. Keep Your Menu Simple
It's best to start with a simple IVR menu that is capable of handling your most common requests. Don't try to automate very complex transactions until you get more comfortable using IVR.
We recommend a basic menu that greets callers and asks them to input a single-digit number that corresponds to a particular department. Industry studies show that callers prefer to interact with a phone menu that has four choices or fewer and a maximum of two levels.
5. Regular IVR Testing
Testing should be performed regularly to ensure that your menu is able to handle expected traffic and properly serve customer requests. There are various network testing methods that have been developed over the years which can help ensure that IVR technology does not become a weak link in your business' customer experience.
Mistakes to Avoid
A good hosted IVR system that follows best practices can have unlimited business potential. A bad setup, on the other hand, will undoubtedly frustrate your customers. It's important to set up everything properly. We recommend that you avoid these three common mistakes if you want to maximize the caller experience.
1. Hold Times That Exceed 45 Seconds
Customers are impatient and they don't like to wait on hold. According to industry research, 60% of callers will hang up after just one minute on hold! We recommend that you do not keep your customers on hold for more than 45 seconds at a time.
2. Unreachable Live Agents
Not everyone will want to use your hosted IVR system. In fact, you could have the most user-friendly setup in the world, but there will always be a segment of your customers that prefers to speak with a live agent. That's only logical, as there are certain requests from customers that don't fall under any menu options and a computer could never help with.
That's why we recommend that you avoid the mistake of having unreachable live agents. Your IVR menu should always contain an option to be transferred to a real-live agent. You shouldn't bury this option too deeply in your menu, either, because this will always result in frustrated callers.
3. Complicated Menus
Potential buyers will be turned away by too many menu options or a voice response system that is too complex. We already know customers are impatient, so why list ten menu options that your callers have to sift through? We recommend that you keep your IVR menu simple with two levels at most and a maximum of four choices on each level. The possibilities, however, are nearly unlimited.
Reach out to us if you want to learn more about IVR and how it can help your business.