Want to analyze your call center data to improve agent performance and customer service? There are a few different ways to analyze cloud call center data. In this post, we will outline 6 ways to gather valuable data about the functioning of your contact center so that you can determine ways to improve performance.
Analyze Your Cloud Call Center Data: 6 Methods
Tracking and call center analytics continues to be important as contact centers can use these insights to offer better service, find valuable leads, and increase sales. And once your company has this information, you can identify areas of strength and weakness and then improve your service and increase customer satisfaction. Here are some useful and practical ways to track and collect call center data:
1. Watch Your Call Detail Records
Call detail records list down all incoming and outgoing business calls. This means that you can get insights into how many calls your business makes and receives per day. You can identify patterns such as what days in the week or times of the day your business receives the most calls. This information can help your call center prepare for high call traffic periods by having more agents on call during those times.
Additionally, you can use call tracking to identify where your calls are coming from. For example, you can assign different local numbers for different geographical regions or advertising channels. And as calls come into specific numbers, you will be able to determine which location or marketing channel this customer came through. This information will help improve marketing efforts in areas responding well to your services.
2. Track Call Center KPIs
Track call center KPIs to see how your cloud call center is performing. Tracking these KPIs should be the focus of your business as they can help you maintain desirable performance. Six of the most popular contact center KPIs include:
1. First Call Resolution: Measures how often a caller's query is resolved on the first call itself. This means, no follow-up calls or emails were required.
2. Average Time in Queue: Measures the time callers wait in the queue before being helped. This KPI gives you a good idea of how efficiently your agents respond to customer calls. Track the response time for various channels like live chat, email, or social media.
3. Average Handle Time: Measures the average time spent on handling a call (talk and hold time). A delicate balance must be struck between keeping low handle times and effective customer service. If you cut down on the handling time, you may negatively affect customer service quality.
4. Average Abandonment Rate: Measures how often customers leave or abandon a call. Customers may abandon calls after waiting for too long. Short wait time and easy-to-navigate IVR systems can help reduce the average abandonment rate.
5. Customer Satisfaction or CSAT scores: Tracks how satisfied your customers are with your company. Use surveys, feedback portals, and forums to gather CSAT scores.
6. Response Time: Measures the percentage of calls answered. This helps your team understand the goals and standards set so they can work towards them.
7. Agent Absenteeism: Measures the amount of time agents are not at their desks. Productivity can be impacted by missing agents. Therefore, you must identify this issue and resolve it.
8. Agent Turnover Rate: Measures call center turnover rates so that you can identify reasons why agents leave and how to make them stay.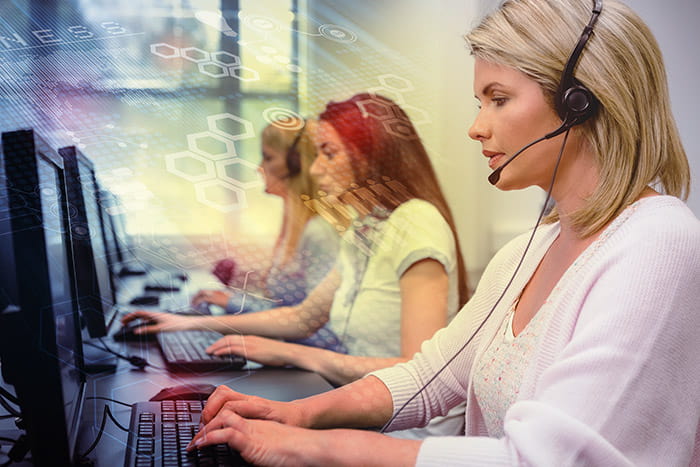 3. Study Customer Preferences
It's no secret: good customer service leads to good sales. In order to offer better customer service, you need to understand your customers and their preferences. This is where it is important to listen to what your customers need, pay attention to and understand their emotions, study their preferences, and so on.
Likewise, adopt and empathetic active listening, ask for their opinion, and offer service that complements their preferences and expectations. For instance, some customers may prefer email or live chat over phone conversations. Having email and live chat as alternative communication methods can help satisfy these customers.
4. Make Quality Assurance a Priority
Quality assurance (QA) is the process of offering good, effective, and high-quality customer service. Cloud call center QA is often achieved by:
Training agents to offer high-quality service
Listening in on calls — also called call monitoring — to offer agents feedback and help as needed
Reviewing recorded calls to train agents on appropriate and inappropriate behaviors
Studying customer preferences
By conducting call center QA, you are not only monitoring agent performance and employee-customer interactions but also improving your overall client relations.
5. Key into EX Metrics
EX refers to employee experience and this is one of the call center analytics that does not get talked about enough. While businesses focus on improving the experience for customers, not many focus efforts on creating a good and healthy work environment for employees. EX metrics are important to measure since low EX rates can lead to more attrition and agent turnover, which in turn will cost your company more.
Some ways to improve EX and reduce turnover rates include:
Training new agents and offering refresher training for current agents on a regular basis
Equipping employees and agents with the right cloud call center tools to do their jobs effectively
Making sure management is approachable
Offering incentives for good and successful results
Helping employees maintain a good work-life balance
Keeping remote working as an option
Asking for feedback from employees
6. Collect Customer Feedback through Surveys
Lastly, another piece of call center data is collecting customer feedback. Feedback can help you identify how customers view your service and what they need from you. And you can use this information to make your service better and improve customer satisfaction.
Use Call Center Analytics to Reach More Customers
Call analytics and virtual call center software can help your business attract new customers across the world as well as increase the retention of current customers. Set high standards and track metrics to ensure your teams maintain those standards, and watch your business grow locally and internationally.