Technology continues to advance over time with new and improved options available to users of all kinds. And for businesses, this is always exciting because there are new ways to improve customer experience (CX) and scale vertically. One of these technologies that impact businesses the most is business VoIP.
Future of Cloud Communications: 2023 VoIP Trends
VoIP, a type of cloud communications, makes it easy for users to communicate through the internet securely and reliably. And VoIP providers are developing new ways to increase their offerings and provide businesses with a well-rounded phone system.
So, what's new in VoIP? Quite a lot: from leveraging AI to UCaaS and CCaaS to 5G networks. If your business is trying to catch up, you may want to consider an upgrade to your phone system to help improve CX and customer satisfaction.
Here are the top 9 business VoIP trends in 2023.
1. Unified Communications as a Service
One of the top business VoIP trends in 2023 includes bringing all communication and collaboration needs into one platform. This becomes crucial for businesses with multiple offices and locations around the world and for those with remote workers. Unified communications (UC) and cloud communication tools improve a business' ability to be flexible and mobile and scale as needed. With collaborative features and real-time updates, your teams can stay organized and productive, no matter the location.
2. Mobile Unified Communications
Besides working within your business phone system, UC services are also being extended to mobile. The rise of mobile UC means you can transform your mobile or smartphone into a business powerhouse. You can use this device then to conduct both personal and business interactions and give your business more mobility. Mobile VoIP systems give you access to smartphone and PC apps, which increase productivity on the go.
Related: UC Trends You Need to Know in 2023
3. Advanced Video Conferencing Services
Since the COVID-19 pandemic led to many businesses switching to work-from-home or remote work capabilities, video conferencing became crucial for the proper functioning of many businesses. Video conferencing tools were in high demand and that competition was troublesome for VoIP service providers. This led to one of the newest VoIP trends: video conferencing. VoIP providers are upping their game and now offering multi-channel communication services, including video conferencing. They do this through integrations and partnerships with video conferencing services. And while this is the current solution, evolving technology will open doors for advanced VoIP software with more conferencing and collaborative capabilities to make doing business over the cloud easier and more user-friendly.
4. Customizable Features
Each business is unique and follows specific processes and guidelines that work best for the business and its employees. The same goes for your business phone system. Cloud communication is known greatly for its customization capabilities. Need to upgrade your system, add new lines without interrupting service, or integrate with other services? Cloud communications and VoIP systems can help you create a business phone system that works best for your business needs. Customize your system for the number and type of users you have, where they are located, different departments, and so on.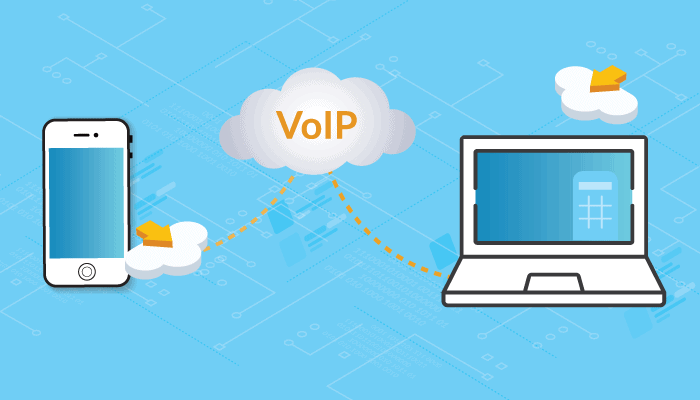 5. Seamless Integrations
VoIP integrations can help you expand your VoIP phone system's capabilities. You can connect your office calendar, CRM, content management systems, lead generation platforms, video conferencing services, chatbot automation, and more. Most popular integrations that work well with cloud communication platforms include:
Salesforce
HubSpot
Azure
OneLogin
Zapier
Clio
6. Leveraging AI
As seen in recent years, the use of AI within business has increased. This goes for the business VoIP world too. From handling customers to automating responses and ticketing systems, AI has been used to improve customer experience and satisfaction. Most companies are using AI to automate their websites and communication platforms to streamline services and improve engagement. This VoIP trend will continue in the coming years as AI has exceptional potential. Common uses of AI for VoIP include:
Smart call routing
Voice transcription
Self-support options
Chatbots
7. Security Issues
For the longest time, users considering VoIP were concerned about internet security and cyberattacks. But VoIP and internet services have come a long way and can provide secure avenues for their services. Business communication involves customer and company data and privacy which needs to be kept safe from intruders and hackers. VoIP security ensures that your business can communicate safely with its customers and employees. Learn more about how VoIP tackles security concerns in our guide to VoIP security.
8. 5G
In our fast-paced world, we expect quick response times and processes. And businesses need to meet these expectations when dealing with customers. 5G networks — one of the most anticipated VoIP trends — are here to solve this very issue and to improve VoIP call quality. With 5G, your business can:
5G networks are built to improve customer satisfaction and CX by making your business more available and responsive.
9. VoIP in More Places
More and more businesses are switching to VoIP to improve their communication and customer outreach. From schools to small businesses to large enterprises, every type of business can benefit from VoIP services. This makes business VoIP more present in more places around the world.
Need a VoIP Upgrade?
Want to learn about United World Telecom's VoIP number solutions and how we can help your business improve internal and external communication? Call us at 1 (877) 898 8646 or chat with our experts today!