Is it possible to change an outgoing caller ID? Yes, with the VoIP feature, dynamic caller ID, your business can display a local or toll free number instead of a long-distance or international number. But how do customizable caller IDs work and how can they benefit your business? Here we discuss dynamic caller IDs and their benefits.
What is a Caller ID?
Voice over IP or VoIP phone systems use the internet to place and receive calls. With a VoIP system, you can make calls from any location and through any device as long as it is connected to a reliable internet source. Such systems are also referred to as cloud phone systems. Because of their flexibility and use of the internet, these systems provide users with virtual communication features such as call forwarding, call recording, video conferencing, and more.
One of these features is a customizable and dynamic caller ID. The caller ID was first introduced in the 1980s. This allowed users to screen calls by being able to see who was calling. It provided an opportunity to miss calls from unknown numbers or numbers that were from different area codes.
However, this became a problem for sales and telemarketing businesses. Customers could now reject calls before answering them. Furthermore, it inhibited the activity of scammers and hackers as well. But in the middle of all of that, it negatively impacted legitimate businesses that were reaching out.
What is a Dynamic Caller ID for VoIP?
As a solution to this problem, the dynamic caller ID was invented. With the old, traditional caller ID systems, users were unable to change their outgoing caller ID. That is, the number that was displayed on the recipient's device.
A dynamic caller ID, however, allows users to customize the number that is displayed. This way, you can show different numbers for different calls based on the purpose of the call. VoIP phone service providers can help you get and use this feature in different ways. Some providers will let you switch between different numbers that you purchase from them. You can purchase toll free, international, and local numbers. While others will give you a list of numbers to use with this feature.
The most common way is to get an outbound calling service with customizable caller ID capabilities from your provider. This way, you can use the outbound web dialer to place calls and display different virtual numbers. For example, even if your business is located in Texas, you can display a Florida area code number or a US toll free number as your outgoing caller ID. You can even get international toll free numbers and display them when calling international customers.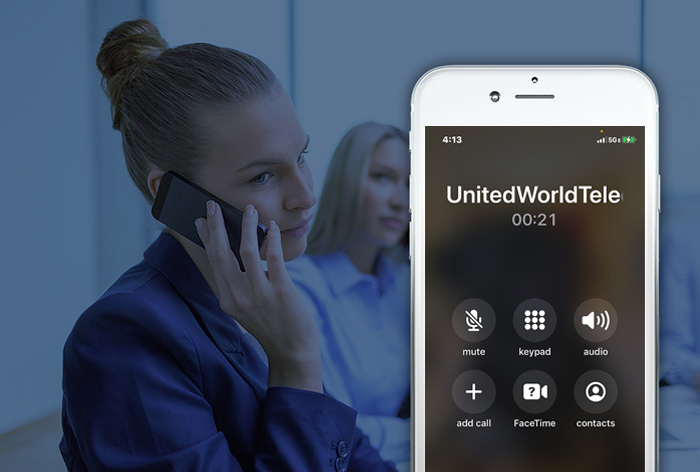 Why Does Your Business Need a Dynamic Caller ID?
The main reason why businesses use or should consider using a dynamic caller ID is so they can increase the chances of calls being answered. Individuals are less likely to answer calls from "unknown" numbers or numbers they do not recognize as toll free or local.
With a customizable caller ID, you can choose which number to display. When calling specific local areas, you can display that area's local number or toll free number. In fact, this even increases the chances of receiving a call back because callers will be dialing a local or toll free number which does not incur high calling rates.
Contact centers, customer service teams, as well as sales and marketing teams can use this feature to reach more customers locally and internationally. The logic here is the customer will assume your business is local and will feel more comfortable doing business with you due to your location.
How to Get a Dynamic Caller ID?
United World Telecom offers a customizable caller ID with our outbound calling service. You can purchase outbound calling by adding it to your virtual phone number plan. Then, choose additional virtual numbers you would like to have. These are numbers for markets and areas where you want to expand your business or customer service. Then, start calling locally and internationally and give your team greater opportunities to make sales!