To get the most out of your VoIP phone system, you need the right VoIP equipment to support your business communication needs.
While most newcomers consider VoIP to be expensive and complicated, the truth is that the technology is fairly simple and inexpensive. There is not a lot of hardware or expensive technology required.
In fact, with VoIP, you can convert existing technology into business powerhouses. How?
Let's have a look at the equipment needed for VoIP.
Must-Have VoIP Equipment in 2023
What equipment is needed for your VoIP system needs depends on the type of VoIP user you are—residential user or business user.
A residential user will need only a PC / laptop, softphone, and a headset. A small business, on the other hand, might need more. Business users will need a web phone or softphone, a computer, a headset, high-speed internet or data, and a business VoIP subscription.
Without the right VoIP equipment, you will struggle with poor VoIP call quality, leading to frustration and miscommunication. To combat this proactively, make sure you get the right equipment and VoIP setup.
Here is a checklist of equipment needed for VoIP to use your service successfully:
1. VoIP Phones: Hard Phones or Softphones
The main VoIP equipment you need is a phone to make and receive calls. Many VoIP and virtual phone service providers offer global call forwarding to route calls internationally to specific locations and numbers. This way, you can divert calls to your VoIP phones or locations as needed.
A VoIP phone uses IP technology (the internet) to transmit calls between two or more parties. There are two types of VoIP phones:
Hard phones — are like traditional phones but come with specialized digital hardware.
Softphones — are web-based applications or software that can be downloaded on different devices.
You can even use a combination of both types of VoIP phones to support in-office and remote users. Since softphones can be used from any location and device, you can
2. Headsets
Next, you will need VoIP headsets for your users. VoIP hard phones come with a microphone and receivers. However, if your users use a softphone, then they will need a headset with a microphone. While the tendency is to purchase inexpensive VoIP headsets, these headsets can lead to VoIP issues such as latency and network jitter.
Take time to find good quality headsets that are hands-free, remain connected, have noise-canceling technology, and, overall, improve call quality.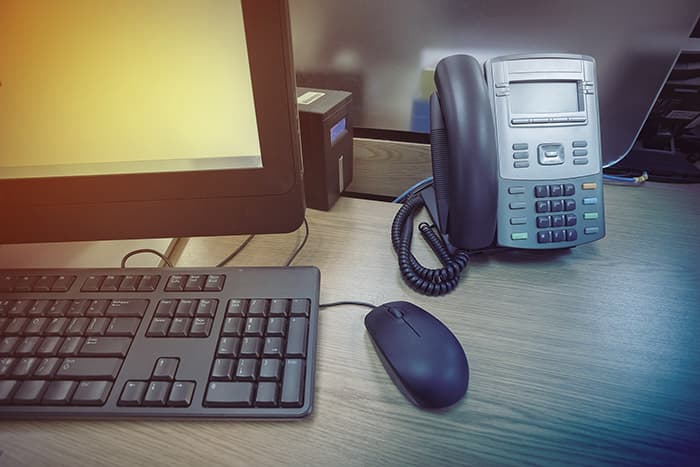 3. Computers or Laptops
Next, you will need personal computers to complement your service. You can use computers and laptops to not only get work done but also make and receive your VoIP calls through a softphone. This way, users can manage calls and update their CRM or task managers as they work without interruption. And, users working remotely can also use their laptops to connect through cloud-based and virtual software and continue working.
4. High-Speed and Reliable Data
Next, if you're using VoIP for business, then you need a robust internet setup. This includes a reliable and stable internet connection with a modem and router. VoIP does not demand much but needs enough bandwidth to handle your call volume.
While setting up your internet, work with your internet service provider and IT team to set up VoIP QoS for your VoIP service. VoIP Quality of Service (QoS) can help troubleshoot voice over IP issues. When QoS is set up, you can prioritize network traffic to make business calls a high priority. This way, even with everyone using the internet for multiple reasons, the quality of your business calls remains untouched.

5. VoIP Phone Service
Finally, you will need a VoIP phone service, and you can get this from any virtual phone service provider. However, you want a provider who offers quality service for a reasonable price and has easy-to-access, responsive customer service. When settling on a VoIP provider, ask about the installation and set-up processes and the different features that come included with the service. Look for customer reviews and case studies to get an idea of how the product works in action. Then, choose a provider that meets your needs and budget.
Get Your VoIP Phone Service with United World Telecom
Now that you know what equipment is needed for VoIP, you can set up VoIP phone service for your business. United World Telecom can get you set up with high-quality VoIP phone service for your business. We have been offering cloud communication solutions to businesses around the world for the past 25 years. Learn more about our VoIP service by speaking with our experts. Call us today at 1 (877) 898 8646 or chat with us online!