Having VoIP problems and don't know how to solve them? Here we go over troubleshooting for the 7 most challenging VoIP issues.
7 Common VoIP Troubleshooting Problems
VoIP phone systems help businesses save about 50%-75% of communication-related costs. This is because such systems offer flexibility, mobility, and scalability which helps users connect from any location and communicate through advanced technology.
However, even VoIP phone systems — with their advanced features, high voice quality, and more — are not devoid of possible quality issues. Thankfully, most VoIP call quality can be improved without IT help so you can continue communicating effectively.

Is your VoIP system not working? Here are the most common VoIP issues and a simple guide to troubleshooting them.
1. Inability to Make Calls from a Device
Struggling to make VoIP calls from your device? An inability to make calls can be due to a failure to connect, inadequate internet support, and more. For some businesses — like a call center — not being able to make outbound calls to customers and leads can essentially shut the business down until you find a solution.
Most likely, the cause of this problem is the SIP ALG feature is turned on, on your router. Session Initiation Protocol Application Layer Gateway (SIP ALG) is a common feature in commercial routers and is turned on by default. The main task of a SIP ALG is to reduce or prevent issues resulting from router firewalls. It does so by constantly inspecting your VoIP call traffic. However, SIP ALG may modify packets (voice signals) in unexpected ways, leading to problems such as incoming and outbound calls failing and phones not registering.
Solution: A simple solution for outbound VoIP calls failing would be to turn off the SIP ALG feature. If you still experience the issue, then try repositioning the VoIP devices onto a VLAN.
2. Dropped Calls
One of the most common VoIP problems is dropped calls. This causes a lot of frustration, especially during business calls. This is when the call suddenly ends mid-conversation without the speakers hanging up. Call centers or large enterprises with large call volumes face this issue the most.
Solution: First, ensure all devices, software, and hardware associated with your VoIP phone system are updated and running on the current version. If you are still experiencing the issue, disconnect all devices and turn them back on one at a time.
This may be time-consuming but it will help you identify exactly which device is the root cause of the problem. Speak with your small business VoIP provider if you notice that calls get dropped after a certain amount of time. They may have an automatic disconnect feature to ensure calls are not left open by mistake.
3. Jitter
Jitter is one of the most common VoIP problems. Network jitter directly affects voice quality and communication, leading to jumbled, muffled, or missing audio. As voice data packets travel from one destination to the next, some packets may arrive before the other. This leads to out-of-order or missing parts. If such voice quality occurs for more than 30 milliseconds then the overall call quality is impacted. As such, when finding a new provider, look for one that can keep the delay under 20 milliseconds.
Solution: Your internet may not have enough bandwidth for VoIP. Upgrade your internet connectivity by contacting your ISP.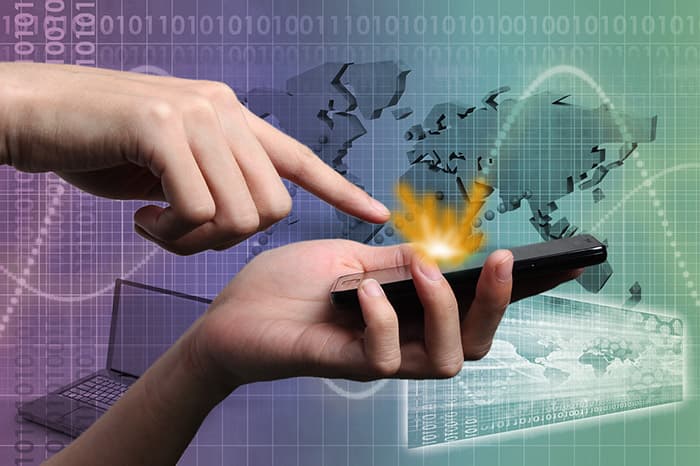 4. Echo
This is a pretty straightforward VoIP concern. Telephone echo leads to voices being repeated at various points, leading to confusion and possible miscommunication. Often the recipient of the call hears the echo while the caller may or may not be aware of this VoIP problem. Echo can be a result of either feedback during the conversation or a VoIP phone system issue. As such, it can be troublesome when conducting important business calls such as conferences, sales, and support calls.
Solution: First, if your phone is using the speaker option, take the call off the speakerphone. When using a speakerphone, the voice has to travel through multiple microphones and speakers leading to disruption in the audio for the recipient. Additionally, you may even need to test the phone headset you use and consider getting a high-quality replacement. Lastly, echo can be a result of a bad internet connection or inadequate bandwidth. Check your speed with an Internet speed test and also reevaluate your wall jacks, Ethernet cords, and other cables to ensure there are no damages.
5. Broken/Muffled Audio
Broken, muffled, or choppy audio refers to words and audio being dropped, interrupting calls when connected. This is one of the most common VoIP issues users face. Thankfully, it has a solution.
Solution: How you solve the problem of broken audio depends on who is experiencing it. If your business is experiencing the issue, it is most likely due to insufficient bandwidth that leads to packet loss as all voice packets are transferred successfully. A common VoIP troubleshooting solution for this problem is to turn off other applications that take up a lot of network space and are not needed for business. This includes streaming services like YouTube or Netflix and so on. Additionally, make sure your router's Quality of Service (QOS) settings have the VoIP service on priority.
6. No Sound
Similar to broken audio, a voice call with no sound after connecting can lead to frustration and interruptions in communication. No sound in a voice call can be a one-way issue (where one party hears but others can't) or a two-way issue (where both parties cannot hear).
Solution: One reason for a lack of sound during calls may be because of firewalls blocking RTP packets. Examining and possibly disabling your SIP ALG can solve this problem.
7. Phone Doesn't Ring on Incoming Call
This VoIP issue is pretty straightforward: missing calls from important customers and clients because the phone doesn't ring. Another version of this issue is if your calls are sent directly to voicemail instead of an employee.
Solution: Thankfully, this common VoIP problem has an easy solution. First, ensure your device is registered within your VoIP phone system and VoIP provider. Also, check to make sure your device is not on the Do Not Disturb setting and has the correct call forwarding settings and configurations.
Choosing a Reliable VoIP Provider
If your VoIP system is not working, you might need a new, high-quality system that comes that comes with easy problem-resolution.
Finding a reliable VoIP provider for your small business can be tough if you do not know what to look for. United World Telecom has been in the business for over 25 years and we offer top-quality communication services.
Try our VoIP phone system solutions! Call us today at 1 (877) 898 8646 or chat with us online!