In this article, you will learn the definition of a web phone, how it works, and the benefits of using one for your business.
What is a Web Phone?
A web phone, also known as a web dialer, is a web application that enables two-way international phone calls from a web browser. It is powered by WebRTC and only requires high-speed internet access, a computer, and a headset or speakerphone to start placing calls.
Enabling all the core functionality of a business phone service, web phones are among the most effective tools for sales and support teams to communicate with contacts internationally.
How Does a Web Phone Work?
Web phones use technology that is built into web browsers to support voice communications. WebRTC is the standard technology for web phones because it is a stable and secure open-source framework with high sound quality.
A web phone works very similarly to a softphone, with a very easy-to-use interface and clickable buttons to dial any phone number worldwide. It is compatible with Windows PC, macOS, Linux, and also Android devices. Users can simply connect a headset to their device to get started.
What is WebRTC?
WebRTC is an open-source HTML framework that enables IP voice communications from a web interface or browser. It is a stable open-source technology that works in nearly all modern browsers. Its widespread availability makes this the underlying technology for most web dialers. 
Web Phone Applications
Approximately 36% of US businesses have already started using IP for voice communications. This percentage is much higher across the world as it is a more affordable alternative to plain old telephone service in most countries.
These are some real-life applications that can benefit your business:
Pre-sales teams make international outbound calls with a localized dynamic caller ID.

Remote support agents use their computers to call customers from a local or toll free phone number that can also receive calls back.

Contact center agents answer incoming calls on their computers.
How to Use a Web Dialer
There is no technical expertise necessary to use a web dialer phone. In fact, users only need to have a basic understanding of how to use a computer and the internet. It doesn't require any extra setup. You would just sign up for the service and then log in from your web browser and start making phone calls. Here are the basic steps:
Log in to the web dialer site 

Connect your headset or microphone

Dial the number for the call you want to place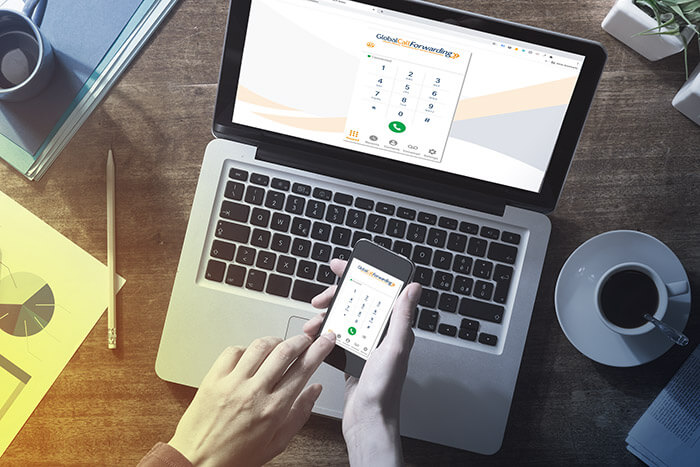 Functionality of a Web Phone
A web phone dialer has all the core functionality of a traditional business phone service.
Outbound Calls
You can use this technology to make international outbound calls from a web browser. There is tremendous flexibility to this as users have the option to choose which caller ID they would like to display. Recipients are more likely to answer calls from a local number they recognize.
Inbound Calls
The service enables two-way voice communication, which means you can answer incoming calls on your web phone. It is loaded with call center features that automate customer interactions and make call routing simpler.
Call Transfer
Transfer calls easily to the right person or department. Everyone in your office becomes available to receive transferred phone calls with the versatile feature.
Free In-Network Calls
The ability to make free in-network calls to other users in the account makes this a highly valuable major tool for organizations with a distributed workforce. It helps remote teams stay connected to your team while working from home.
Voicemails
Like a traditional business phone service, web phones enable users to receive voicemails. You can actually listen to your voicemails directly from the web dialer.
Call History
View and search all your recent calls. It's easy to sort through inbound and outbound calls, rejected calls, and missed phone calls. This will help your sales team follow up with any important leads.
Contacts and API Integrations
You can enter relevant contact information that corresponds to individual phone numbers and will be automatically displayed. Users can also search and filter through interactions with individual contacts.
It can also be used together with other business tools. UWT provides an API that enables users to sync call detail records from a web phone with other software and tools they might be using.
Benefits of Web Phones for Businesses
Managers have reported significant improvements with their teams that use web phones. There are many benefits for teams of all sizes. Below is a list of the top web phone benefits.
Increase Sales
A web phone can increase sales by more than 75%, as it enables salespeople to call leads and convert those leads into paying customers.
Prospective customers are more likely to pick up a phone call from a number they recognize. We enable you to make international phone calls while showing a local caller ID. Your sales calls will have a higher conversion rate and your sales will increase.
Reduce Costs
Web phones provide a simple interface to use IP for voice communications. Voice over IP is the most affordable way to make business phone calls. In fact, organizations frequently report higher than 50% decreases in telecom expenditures upon switching to VoIP. 
Improve Customer Service
Having a phone system in place for customer service will undoubtedly improve customer experience. Agents can call customers from their computers and not worry about the quality of the phone calls. They can also use a local or toll free number from any country to show as caller ID and to receive calls back.
Bring Your Own Device
Bring your own device (BYOD) refers to employees being permitted to use their personally-owned devices, rather than company-provided devices. Research from Vodacom shows that about 95% of employees use at least one personal device at work, and that number is predicted to be even higher in the coming years.
Web phones are accessible from any browser, which means that employees can connect to the service from their own devices. This should emerge as one of the most effective tools in the remote work economy.