With the advent of cleaner and more advanced technology, more and more businesses are looking for high-quality and cost-effective technological solutions to streamline and automate their business processes.
One faction of technological advancement is moving to the cloud — from cloud computing and storage to cloud communication.
The main reason to take your business processes and communications to the cloud is to increase flexibility and reliability while reducing costs. Cloud communication solutions bring all your communication needs to one platform while offering additional benefits.
How Can a Cloud Phone System Support Your Business?
A cloud phone system — also known as a virtual phone system — comes with cloud communication tools to help businesses communicate efficiently and cost-effectively. Cloud phone systems use voice over IP (VoIP) to transmit calls over the internet. Because of this, users can make and receive business calls from any location, using any device. And they will have access to advanced telecom features that promise high call quality, VoIP redundancy, and global coverage.
When to Switch to Cloud Communication?
There are many reasons why a business may consider switching to a cloud phone system from a traditional phone system. You should consider cloud communication solutions if you want to:
Get rid of low voice quality leading to dropped calls and muffled audio.
Prepare for disasters and outages.
Reduce costs spent on hardware and equipment.
Centralize business communications into one unified platform.
Expand your business's global reach cost-effectively.
Manage remote teams.
Offer remote working and telecommuting abilities.
Get out of long-term contracts.
Create a customizable business communication platform that works well for your business's needs.
Why Should Businesses Use Cloud Communication to Grow?
Cloud communication solutions can give your business an opportunity to expand and extend its services to neighboring and global markets. And you can do this without exponentially increasing your business expenses. Here are 7 main reasons why your business needs cloud communication solutions:
1. Rapid Growth and Scalability
As your business grows, add new users and direct inward dialing phone lines without needing to purchase extra equipment or physical phone lines. You simply add new employees to the control panel and give them access. Additionally, if your business plans to test or enter new markets, you can expand globally without opening field offices or even traveling to these regions. With international call forwarding, you can forward calls from those areas to your main office, wherever it is located. This way, you can grow your business at your own pace without your budget taking a hit.
2. Global Coverage
As mentioned above, you can get cloud phone numbers from multiple countries around the world and forward calls to your main headquarters, satellite offices, or remote agents. This allows your business to offer global customer support and make your business reachable to customers wherever they are.
3. Lower Costs
All you need to make a cloud phone system work is a computer or laptop and internet service. By reducing the need for desk phones and other extra equipment or hardware, you can save tremendously on communication-related costs. Plus, if you offer employees telecommuting options, you may even be able to save on space and office equipment.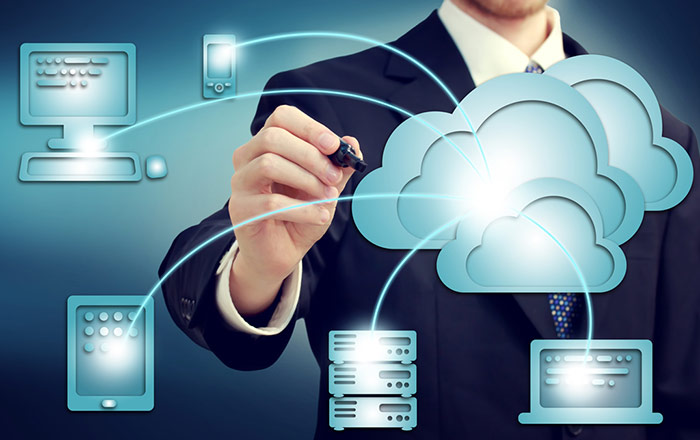 4. Unified Communications (UC)
Having all business communications on one platform can reduce time spent chasing information and messages on different programs and apps. Streamline your business's communications by bringing and accessing important communication channels in one place, and improve productivity and efficiency.
Related: 5 Unified Communications Trends You Need to Know in 2022
5. Advanced Call Management
Use call management and routing tools to keep your calls and employees organized. Route calls based on different predetermined rules to ensure customers are assisted efficiently. This can also help reduce the number of abandoned calls. You can ensure calls are handled at all times of the day by routing calls to different locations during off-hours or high-traffic periods — such as satellite or remote agents in other time zones.
6. Remote Team Management
Use these call management tools within a UC platform to manage remote and distributed teams. Forward calls globally across different offices, employees, and regions with advanced routing options. Check call records to see details of incoming and outgoing calls. Record calls and review them for quality assurance and performance management. Keep tabs on your teams and measure productivity.
7. Environment-Friendly Solutions
Finally, switching to a cloud phone system is another way to make your business eco-friendly. This is because, with cloud communications, you can:
Reduce the use of excessive hardware or equipment.
Reduce the use of paper by going paperless.
Lower commuting needs by offering telecommuting and remote working options.
Expand to new markets without opening up physical offices, and more.
Convinced Yet?
If you're still on the fence, connect with our experts to get an idea of what a cloud phone system solution will look like for your business. We can get you set up with a phone system that complements your business and communication needs. Call us today at 1 (877) 898 8646 or chat with us online to learn more!