A system outage or any type of downtime can significantly impact your company's ability to close sales or deliver customer support. This may result in a loss of business continuity and revenue. So, maintaining a cloud phone system with a high VoIP uptime and network redundancy is essential to your business' ability to function.
Are VoIP Systems Reliable? Why VoIP Uptime is Important
Since a redundant architecture is critical to business operations, how reliable are cloud-based communications?
You may be surprised to hear that VoIP networks are more consistent than the wired setups of the PSTN. Landlines are susceptible to power outages, severe weather disruptions, and phone line damage – causing lengthy downtimes. This is because landlines have a single point of failure, meaning your entire system stops working when it fails.
IP telephony eliminates wired setups. Instead, all you need to get started is a stable internet connection. And even if your internet goes out, you can simply forward calls to another destination. So, cloud-based systems continue working during power outages, inclement weather, and more – making them more reliable than traditional phones.
While hosted solutions are certainly more trustworthy than landlines, it's still critical to consider a provider's VoIP uptime. Without a high uptime guarantee from your provider, you're at risk of serious downtime. And downtime means tough consequences such as losing customers, profits, productivity, and more.
What Exactly is VoIP Uptime?
VoIP uptime is the amount of time that a provider's service is properly functioning and available to users.
In other words, it's a metric used to determine the provider's quality of service, performance, and reliability. In contrast, "downtime" indicates the time a service spends offline, out of operation, or "down."
You can usually find uptimes listed on your provider's website, in their Service Level Agreement (SLA), or by contacting them directly. To determine VoIP uptime, most providers either use a monitoring service or measure it themselves using simple math.
It's essential to confirm that your provider includes both scheduled (maintenance, upgrades, etc.) and unplanned (disasters, power outages, etc.) downtimes in their assessments. This way, you know their uptime is accurate.
What Does 99.99% Mean?
Many cloud providers use percentages to communicate their VoIP uptime to customers. These percentages typically start at 99% and go up from there. However, providers can't guarantee true 100% uptime. This is because networks are susceptible to damage from natural disasters, cyberattacks, and other unforeseen technical issues that cause service interruptions.
Now, you're probably thinking – If I can't have 100% uptime, 99% is exceptional. However, while 99% is undoubtedly better than 75% uptime, it can still yield substantial downtime for your business.
In fact, every "9" in an uptime guarantee is significant. It lets you know how much downtime to expect during a given year. For example, 99% uptime is equivalent to 3.65 days of downtime per year. Whereas 99.99% (also known as "four nines") is only 52.60 minutes of annual downtime.
Here's a table listing the range of VoIP uptime percentages and how much downtime you should expect with each: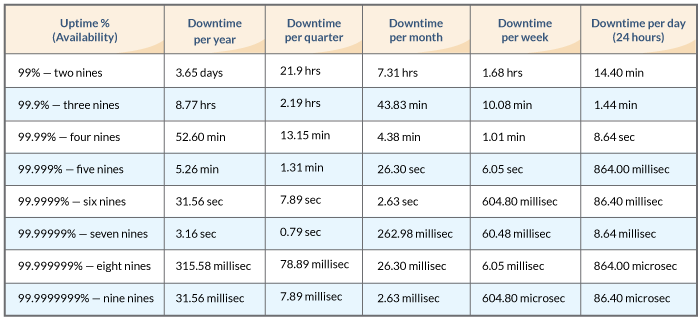 How Do Providers Ensure 99.99% VoIP Uptime?
It's important to understand how providers ensure reliability and guarantee 99.99% availability. This way, you know exactly what to look for when choosing a provider.
• Global Points of Presence (POPs)
Having several global points of presence allows providers to establish a high availability service. If one server fails, providers can redirect traffic or fall back on a different POP. So, you never experience downtime if your provider experiences an outage.
For example, if your provider's Seattle-based POP failed, they could instantly route call traffic from the Seattle server location to another US-based POP.
• VoIP Security
While VoIP is fairly secure as is, your provider might face security risks like Denial of Service (DOS) that compromise their system and lead to downtime. So, it's necessary to look for a trustworthy provider that meets the minimum security requirements for your specific communication and industry needs.
Search for providers with voice encryption security like Transport Layer Security (TLS) and Secure Real-Time Transport Protocol (SRTP) and those with regular system security checks and firewalls. Providers with these security practices are more likely to deliver a consistent and secure business phone system with a high VoIP uptime.
• Networks of International Carriers
Selecting a provider that partners with multiple international carriers yields similar benefits, as discussed in the POP section. Working with numerous global carriers allows providers to reroute calls seamlessly to alternate destinations if one carrier fails. So, your provider (and your business) never experience prolonged outages or downtime. This helps providers build a more reliable and redundant service with high availability.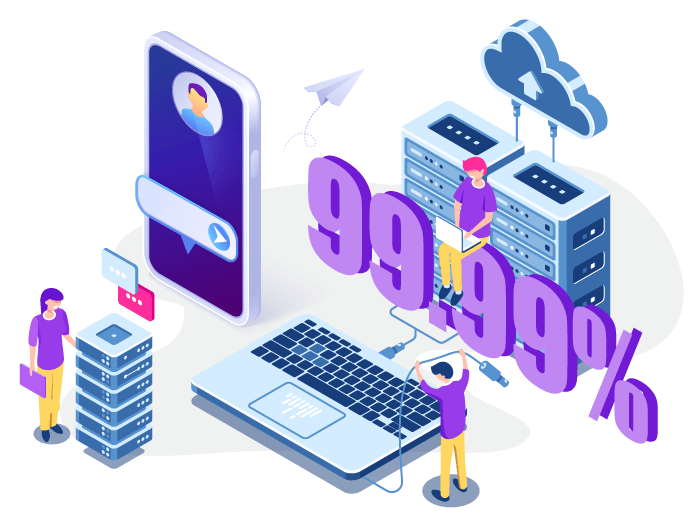 What Uptime Guarantee is Right For Your Business?
The answer to this question depends entirely on your business operations, communication setup, and service demands. 99.999% uptime is the industry gold standard – as it only allows about 5 mins of downtime per year.
But when determining the right uptime for your business, it's helpful to ask yourself:
How integral is your cloud phone system to your critical, everyday operations?
How much downtime can your business afford?
Then, based on your responses, select a provider with your preferred VoIP uptime guarantee.

Best Practices for Developing a System with High VoIP Uptime
While high availability falls mainly on your provider, it's still up to you to build a redundant system and minimize downtime for your business and customers. Let's review the best practices for developing a system with high uptime.
1. Carefully select your provider
Selecting a trustworthy provider with the right VoIP uptime for your business is crucial to developing a consistent network. When researching cloud telephony providers, evaluate the following factors:
Availability guarantees
Redundancy methods (multiple POPs and carriers)
VoIP security measures (voice encryption, firewalls, regular security checks)
Disaster recovery and business continuity plans.
2. Double-check Service Level Agreements (SLA)
Many providers list their uptimes on their websites, which may not always be accurate. So, it's important to double-check a provider's service level agreement. This document will list their true uptime percentage and permitted downtimes. The SLA may also list terms and conditions for what happens if their actual uptime dips below their guarantee.
3. Monitor your system
Regularly monitoring your VoIP system allows you to track any network issues causing interruptions. Simply start by integrating an open-source or paid monitoring service into your existing setup. Then, you'll be able to quickly identify and troubleshoot your VoIP system.
4. Implement failover strategies
With failover strategies in place, you'll build your network's redundancy. Even if your business experiences outages or crises, your system will continue to work with failover methods. Consider the following:
Use failover forwarding to route calls to alternate locations if the first destination is unavailable
Set up a backup or alternate internet connection
Opt for hardware that is simple to repair or includes a warranty
Disperse your teams, servers, and other systems across multiple geographical locations
Backup all mission-critical data, documents, applications, and so on
Create an in-depth disaster recovery plan and use it to train your teams.
Get High VoIP Uptime and Consistent Service with United World Telecom
Through a highly redundant global network, United World Telecom offers 99.999% VoIP uptime to users. We deliver high-quality telephony solutions with high availability as we have built long-term relationships with multiple Tier-1 global carriers. Additionally, we have several international POPs and decades of experience in telecommunications.
To learn more about our redundancy measures and if we are the right provider for you, speak with our dedicated telecom experts. Call us at +1 (561) 908-6171 or chat with us online today!