Here we explain what IP telephony is and why companies should consider this type of phone system for business communications.
IP Telephony: Definition
IP telephony is any phone system that runs on the internet instead of traditional landlines. In other words, it uses the internet — internet protocol (IP) — to send and receive voice transmissions. Voice over IP (VoIP) is another term for IP telephony.
In a private exchange or IP PBX system, messages and data are transmitted digitally on a local area network. Voice messages are converted to analog voice signals and delivered to the recipient. However, an on-premise PBX system can lead to high hardware, installation, and maintenance costs. A hosted PBX or cloud phone system is preferable where digital data is sent to the provider and the provider routes to the appropriate destination.
Over time and with advancements in telecommunications, IP telephony can now offer high quality international calling along with advanced phone features. Plus, running an IP phone is much cheaper than plain old telephone service. No extra hardware is required. You can make and answer calls from virtually any device and any location.

Top 6 Benefits of VoIP and IP Telephony
So, why are more businesses using voice over IP? Here are the top six benefits of IP telephony
1. Low Running Costs
A hosted VoIP service or virtual phone system is run by your VoIP provider. This means that they take care of the hardware and maintenance required. And your business does not need to worry about purchasing additional hardware or installation fees. The provider handles call routing, call queues, etc. All you need is the right equipment (computers, desk phones, headsets) and a reliable internet connection.
2. High-Quality Service
Advancements in internet and communication technology have led to the transfer of high-quality voice and video over the internet. Because of this, you don't have to worry about dropped or interrupted phone calls. This can greatly help improve and maintain your business' professional image.
3. Scalability
With Voice over IP, your business can scale and grow as needed. If you need new phone numbers, they can be added to your existing plan. Direct inward dialing makes it easy to add more lines for new employees. Need to change how or where calls are being routed? Just change the rules in your online account. With virtual phone numbers, you can expand to new areas and markets as/ when needed.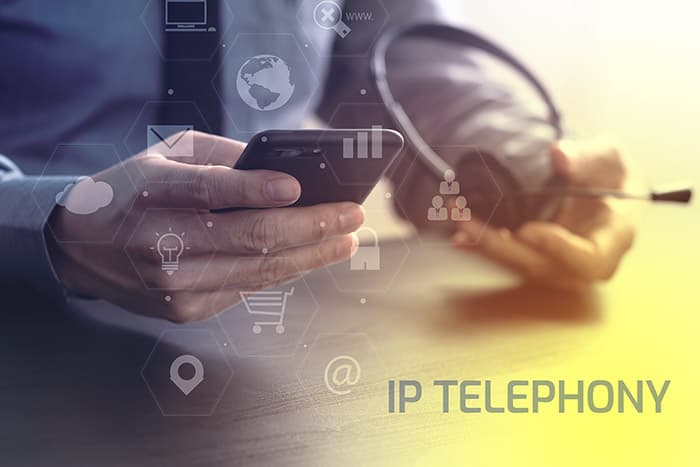 4. Tools for Global Expansion
Lastly, you can expand your business globally with local and international toll free numbers for different countries. If you want to offer sales and customer support service to a new city, state, region, or country, virtual numbers and an IP telephony service can help you create a local presence. And you can do this without having to relocate or open a field office in different areas.
5. Access to SIP Trunking
SIP trunking is a telephony service that enables outbound voice from a PBX or SIP server. You can, therefore, provide international communication with customers anywhere in the world. All through one communication platform instead of using separate services and subscriptions.
6. Advances Features
phone system comes with a variety of advanced communication features for better call management. Popular features include:
Advanced call forwarding
Auto attendants
Interactive voice response
Outbound calling with a web dialer and custom caller ID capabilities
SMS/MMS forwarding
Video conferencing
Call recording (inbound and outbound), and more
Get Lower Bills and Higher Call Quality with IP Telephony
IP telephony can not only improve your call quality but also the way your business handles calls and customer service. If you are looking for an upgrade, speak with one of our experts to see how VoIP can enhance your business phone system.