Technology is the backbone of the modern business landscape, supporting many levels of a business' operations. And with a properly implemented IT infrastructure, your company can improve business functions, meet goals, and even increase revenue.
In this article, we'll discuss IT infrastructure in detail, including:
But before we get into it, let's review its importance.
Defining IT Infrastructure and Its Importance
IT infrastructure, or information technology infrastructure, refers to all the necessary components that businesses use to manage their internal operations or deliver external services to customers.
So, who manages IT infrastructure?
Managing business IT systems requires a specific set of skills. And these skills are often understood by technicians, project managers, directors, and others in the IT manager career path. These individuals understand how to set up different components and factor in the budget and business goals.
An optimized and well-managed IT infrastructure can help your business gain a competitive edge in the marketplace. And it can even determine if your business is successful or not. It also allows you:
Gather data in real-time
Improve communication
Boost productivity
Provide uninterrupted service to customers
Meet performance goals
Increase customer satisfaction
Automate processes and much more.
On the other hand, an insufficient IT infrastructure integration can cause performance, connectivity, and security issues. This is why it pays to consider your business' technology setup and how you can use it to improve your business functions.
Components of an IT Infrastructure
There are many ways to deploy and arrange the IT infrastructure components to meet your needs. To better understand what this entails, we'll take a closer look at 5 standard components and examples.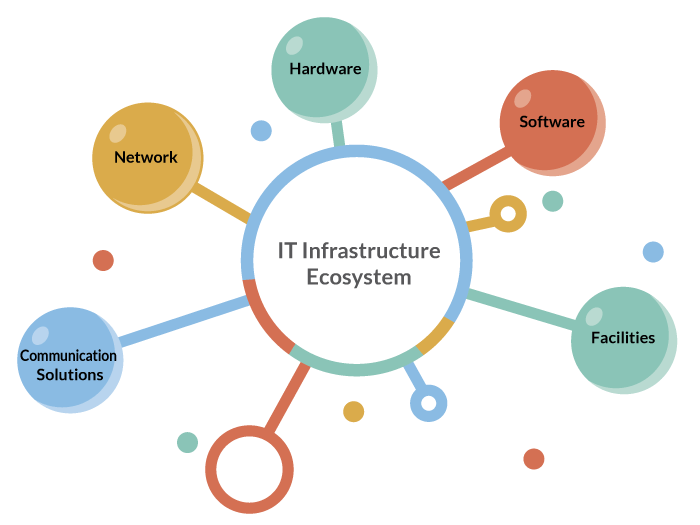 1. Hardware
Hardware signifies all the physical equipment and devices that form your tangible infrastructure and support the basic functioning of your systems.
Cabling and wires
Desktop and laptop computers
Desk phones
Smartphones and tablets
Internet hubs and routers
Servers
Data centers and so on.
2. Facilities
This component could also fall under the hardware category, as it is another tangible element of IT infrastructure. The facility component is the physical building itself that houses and maintains your equipment.
Dedicated rooms
Cooling systems (AC units, fans, etc.)
Cabling within the building (FiberOptic or CAT 5/6/7)
Power sources.
3. Network
The network element is vital for communication and connectivity between all components. It also consists of security methods like firewalls to keep your data safe.
Switches
Firewalls
Internet hubs and routers
Servers
Data centers.
4. Software
Software refers to all the applications and programs that businesses use to organize, control, and maintain their internal and external processes.
Operating systems (OS)
Call center software
Customer Relationship Management (CRM)
Content Management Systems (CMS)
Enterprise Resource Planning (ERP)
Web servers
Any other application or custom software that you use.
5. Communication Solutions
Communication is critical to your business' operation and success. You need a communication stack — with both hardware and software — to connect with vendors, suppliers, trade links, and (most importantly) customers and prospects.
IP-PBX
Desk phones
Softphones or web phones
VoIP architecture and phone service
Voice API
Business phone numbers
SIP Trunking.
Types of IT infrastructure: Traditional vs Cloud-Based
It's important to note that there are different types of IT infrastructure. The primary two types are traditional and cloud-based frameworks. Let's break these down.
Traditional Infrastructure
With a traditional setup, your business owns, controls, and maintains all the elements mentioned above. Typically, a traditional IT infrastructure resides at one location – usually on your business' premises. This means your business has full authority over your data environment. So, you determine how you'll manage the network, devices, storage, security threats, and so on.
The main drawback to this type of setup is cost. Since a traditional IT infrastructure consists mainly of hardware and software, it requires a lot of free space, power, and money to maintain. As your business grows, you'll need to buy more devices to keep up with all the data you collect. And, you'll have to hire more staff like system administrators to manage, monitor, and upgrade the system.
Pros

Cons

Full control over business data, software, and IT management
More secure than hosted solutions

Needs a lot of free space
More expensive to install and maintain
Complicated to set up
Requires routine maintenance and monitoring
Not easily scalable
Cloud-Based Infrastructure
Instead of purchasing physical hardware for an in-house setup, you can rent or outsource your IT infrastructure via a cloud computing provider.
In other words, the provider hosts and maintains the IT components (like servers, data storage, applications, etc.) on their premises. Then, the provider delivers these services to your business using the internet.
This means you can access your cloud-based IT infrastructure from any IP-enabled device or location. And you don't have to deal with the hassle or expense of maintaining, monitoring, and upgrading the infrastructure.
Over the last couple of years, more and more businesses are choosing to migrate to a cloud-based infrastructure. This is because of its affordability, flexibility, scalability, and automation capabilities.
Pros

Cons

Save money on expensive equipment, daily IT management, upgrades, etc.
Doesn't require complicated setup or installation
Easily scale up or down as needed
No limits on storage space
Accessible from any device or location
Provider handles routine maintenance, monitoring, security, and upgrades

Subject to attacks and malware
Less control over IT management
What Does an Optimal IT Infrastructure Look Like?
As mentioned earlier, an IT infrastructure that isn't fully optimized or well-managed can lead to connectivity, performance, and security issues. So, you may be wondering what an ideal infrastructure looks like.
Typically, an optimal IT infrastructure includes the following:
1. High-availability infrastructure – offers your business high uptime with little-to-no downtime. You can reduce system outages as well as interruptions to service and business continuity.
2. Bandwidth management – allows you to prioritize internet traffic as needed, using Quality of Service (QoS) settings to provide specific traffic (like VoIP calls) with a certain amount of bandwidth.
3. High-performance storage systems – enable you to save, backup, and recover (if necessary) large amounts of data.
4. Security measures – help protect your business from breaches, data leaks, and attacks like Denial of Service (DoS). This capability should also include systems that manage who can access information and resources.
5. Low-latency networks – produce minimal delays in data processing, allowing for real-time data availability and access.
6. Failover and Disaster Recovery Plans – keep your business operating or help it recover quickly in the event of an outage, attack, or other crises.
How you deploy IT infrastructure depends on your business size, industry, goals, and specific needs. But at a basic level, these 6 elements help create a fully optimized infrastructure.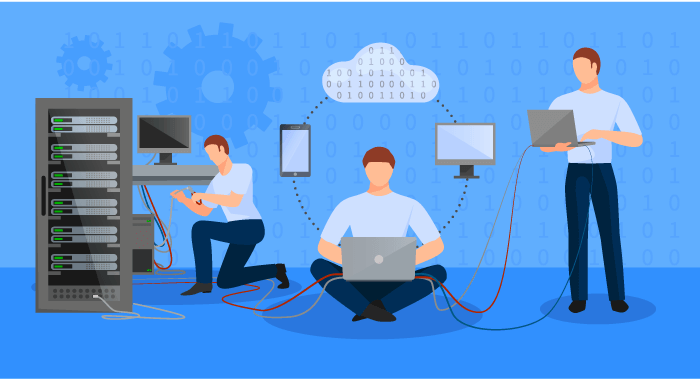 Best Practices for IT Infrastructure Management
IT infrastructure management is complex and multidimensional. It covers everything from implementation to continuous maintenance. And this is true not only for the IT hardware but all IT components, including the facility and software.
With that being said, IT infrastructure management is, well, manageable – especially with industry knowledge and best practices in mind. So, we spoke with our team to bring you expert advice and best practices.
1. Thorough Documentation and Organization is Key
A good deal of IT industry leaders and businesses think documentation is lacking in most IT departments.
Gregory Porras, Senior VoIP Engineer at United World Telecom, shares this sentiment and suggests cataloging equipment by recording the serial number, make, model, login information, and its function in your organization. He also recommends labeling all your equipment (including things like cables) with essential information, such as what it does and where it goes.
This practice is great for onboarding new team members and getting them up to speed quickly on your business' specific IT infrastructure. It's also helpful for troubleshooting, routine maintenance, and keeping track of your equipment's lifespan.
2. Make Sure Your Infrastructure Supports Your Vision
When building infrastructure, it's important to consider what services you envision using on a daily basis. Alain Rodriguez, Tech Support Manager, says: Make sure your IT infrastructure can support the sophisticated solutions you want.
For instance, VoIP and SIP trunking require a consistent internet connection to function properly. So, for these solutions to work effectively and deliver the best call quality, you have to evaluate your IT infrastructure by asking:
Do you have a sufficient amount of bandwidth to power these solutions?
Is your IP address static or dynamic?
How is your team organized (are they located at one office, fully remote, or spread across multiple global locations?)
Does your team have standardized equipment? Or all different types of devices and applications? And do all team members have access to the same quality level of internet?
Are you using standard PBX solutions, an open-source one, or a softphone to complete business tasks?
All of these questions and factors will help you set up a VoIP environment that works best with your current setup and infrastructure.
3. Invest in the Right Technology and Consider the Cloud
After evaluating what solutions your IT infrastructure can handle, invest in the right technology (equipment and services) for your business' specific needs. There is no "one size fits all" when purchasing tech for your business. In fact, it will vary depending on your company's size, goals, budget, resources, and day-to-day processes.
Since technology is constantly progressing, you want to make sure you're not using outdated applications and devices. By using the latest technology, you can easily keep up with your competitors, increase your productivity, and deliver optimum services to customers.
If you opt for on-premise solutions, frequent upgrades and updates are more involved and expensive. As a result, more and more businesses are moving to the cloud.
With cloud-based services, upgrades are as simple as clicking "update" on your device or, at times, occur automatically. Additionally, your remote and international teams can access cloud-based solutions from any location or device – making it easy to connect your widespread teams.
4. Build Your Infrastructure's Geo-Redundancy with Backup Practices
Your business may experience prolonged system downtime during an outage or a crisis – especially if you don't prepare.
Gregory Porras suggests backing up your IT infrastructure as soon as your system is online. He says you can build your geo-redundancy by spreading your servers across multiple locations or data centers. And adds that you should consider storing applications and equipment on-site and rotating them offsite.
Doing this can help with load-balancing so that no one server bears the burden of all your network traffic. This means if one server fails, your backups take on the traffic and distribute it – so you maintain your business continuity in case of a crisis.
Greg also recommends making sure your backups are always online and regularly testing them for potential emergency scenarios. This helps ensure that the backup will work when you need it most and helps you practice for emergency situations.
5. Develop IT Management Policies and Regularly Update Them
Policies help your business define clear guidelines for integrating, using, and managing your IT infrastructure. This includes policies on IT security, responsible use of data, business continuity, and more. With strong policies in place, your business can navigate crisis situations and unprecedented events with consistency, effectiveness, and efficiency.
As your IT environment grows, it's important to update your IT policies to reflect these changes. This way, your guidelines are always accurate and ready to go when you need to reference them.
Here's examples of some IT policies you should consider implementing:
Scheduled downtime and system maintenance policies
Risk assessment or vulnerability management policies
Bring Your Own Device (BYOD) policies
Network and VoIP security policies
Dependable Communication Solutions for your IT Infrastructure
With a well-organized and maintained IT infrastructure, your business can limit downtime, offer better customer service, boost productivity, and maximize your revenue. To get started, you need top-tier components – including a high-quality communication solution.
United World Telecom provides enterprise-grade cloud communication services from more than 160 countries worldwide. We've established long-term relationships with reliable Tier-1 carriers across the globe to deliver users with high-quality voice services.
To learn more about our reliable service and if we are the right communication provider for you, speak with our dedicated telecom experts at +1 (561) 276-7156 or chat with us online today!