Call centers can handle inbound and outbound calls for your business, and can be within your company or you can outsource the call center to other companies that specialize in customer service.
These call centers are departments where your current and potential customers will be directed to when they have an inquiry or comment.
Call centers can be used by telemarketing companies, online retailers, help desks, charities, and more. Any organization or company can use the telephone to sell products, answer customer questions, or provide services.
There are two types of call centers, inbound call centers and outbound call centers. Inbound call centers handle phone calls from customers and may have to take many calls at the same time, and will therefore need services like call forwarding and interactive voice response. The inbound call center usually handles technical support, accounts management, complaints, questions, scheduling appointments, and sometimes purchases can be made over the phone as well.
Outbound call centers usually utilize an agent to represent the company or a client. This agent will carry out tasks including, telemarketing, fundraising, debt collecting, surveys, and lead generation. To maximize the amount of calls that will go out, the outbound call center will usually use an automated dialer that can transfer to an agent when the phone call is answered.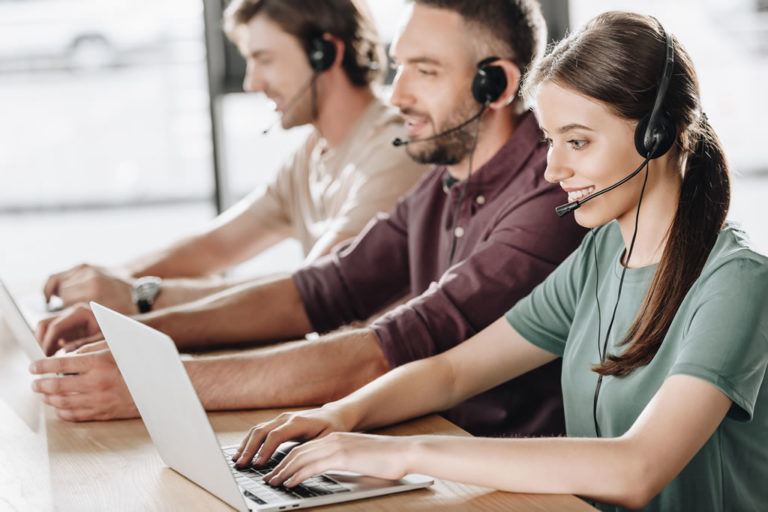 Outside of inbound and outbound call centers, there are four additional classifications of call centers. Theses are in-house, outsourced, offshore, and virtual call centers.
In-house call centers are part of the company in which that they represent, meaning that the company itself has its own call center and finds and hires its own agents.
Outsourced call centers are third party organizations that handle the inbound and outbound calling of any company that it has been hired by. This organization hires and trains the agents for the company on its own. Many businesses opt for this call center if the business is smaller and cannot accommodate its own in-house agency.
Offshore call centers are basically outsourced call centers but the outside organization is from another country. The costs are usually cheaper to use a call center from abroad, however customer complaints often go up because of language issues or lack of knowledge about the products or services.
Virtual call centers use cloud call center technology to answer calls, which means the agents can work from anywhere in the world. Virtual call center agents work from small offices or their own homes.
As companies expand, their call centers grow alongside them. The largest call centers are in-house operations that employ thousands of people with different positions. These employees are divided into customer service, technical support, claims processing, and more. The biggest call centers can carry out tasks from both inbound and outbound services.
The majority of these huge call centers are owned by Fortune 500 companies that can afford huge facilities to house all of their agents and the latest call center technology. The majority of companies prefer to use states in Southern region of the United States such as Georgia and Texas.
The following are the top companies with the largest call centers in the United States.
State Farm- State Farm owns three high-tech call centers around the US. Their largest call center, and the biggest one on this list, is located in Atlanta. Georgia and employs 10,000 people. The next two call centers are located in Richardson, Texas and Tempe, Arizona and each employ around 8,000 people.
Geico- Geico's call center is fourth placed behind all three State Farm Insurance centers. Their call center is located in Macon, Georgia and employs 5,600 people.
Fidelity Investments- Fidelity Investments call center is located in Westlake, Texas and employs 4,400 people.
Humana- In Louisville, Kentucky Humana employs 4,000 people at their call center.
Citibank, Verizon, and Progressive Insurance- Each of these companies employs 3,500 people. The call centers are located in Irving, Texas; Alpharetta, Georgia; and Tampa, Florida, respectively.
The majority of companies looking to outsource their call centers or create their own tend to find places within metro locations or nearby larger cities. The reasoning behind these decisions is that they want to make access easier for their clients and they want to pick from a larger labor market. However, companies rarely go above metro areas with a population over 1 million. If you're looking to expand your operation to include call centers, look to some of the biggest companies and their call centers for the right strategies.