One of the easiest ways to set your small business apart from the competition is to have stellar customer service, but many companies don't bother. However, these customer service strategies will take your company from "just another business" to a company that your customers can't part with.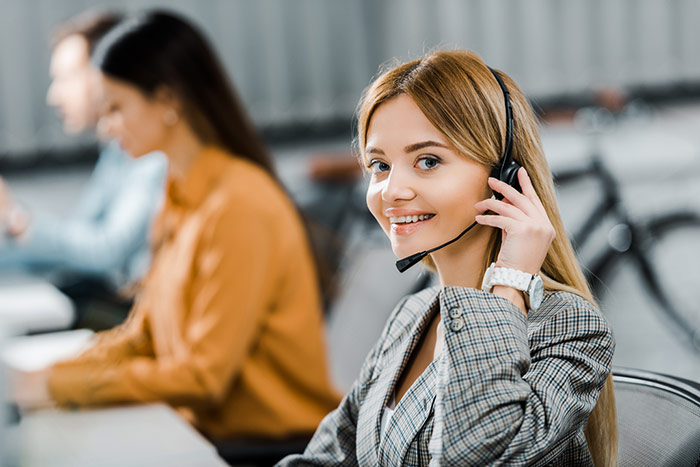 Although all businesses can benefit from having a strong customer service team, if you are the owner of a smaller company then you're up against lower prices from big box stores, and usually, those stores carry more items than your small store can. How will your business compete?
Big name stores like Wal-Mart and Home Depot have a lot on their sides, such as national advertising and bigger budgets, but there are still ways that small local businesses can compete with these big guys. Instead of making excuses as to why your business can't compete, set a goal to not only keep your existing company, but bring in new consumers even as that big new competitor moves in on your territory.
How to Offer Excellent Customer Service?
So what are the ways that your small business can compete with the big boys? They're the same strategies that big companies and small businesses alike can use. A lot of them don't cost any extra money, and when you carry out these strategies correctly, you will find that your business will be doing better every day.
1. Enhance your role in the community
Small businesses can get the upper hand over larger businesses by becoming essential members of the community. Have your business publicly support local or even international causes, because if your name is on a cause that people support, they will be more likely to shop at your business knowing that you care about what they care about. You can do this on a small community level by merely offering your venue as a space for charity events or by sponsoring a town softball team.
2. Sell your customers an experience
If a larger company has come into your town and is selling the same products you sell for less than you can keep up with, then you need to have another way to compel customers to come into your store. Make your customers feel good when they come to your store. Greet them with a smile, remember their names, make small talk; when your customers feel known and wanted in your store, they will want to return over and over again.
3. Stock merchandise that your competition doesn't sell
An excellent way to get new people into your store is to go into the big store down the street and find out what they don't have, then stock up on it. Chances are, if people are looking for a particular item and the big store doesn't have it, they will probably head your way, and if you've got it, then you've just saved their day and earned a new customer.
4. Stay in contact
The internet is an essential tool for expanding your business outside of its local market. Build a website for your company, create an email list for your loyal customers, and offer them exclusive discounts or invitations to things like holiday parties so you can give back to your customers. Sign up for social media sites so you can keep in constant contact with customers. An important place for all small businesses to be on is Yelp because you can do damage control with people leaving negative comments about your store, or you can send thank you messages to those who leave positive reviews.
5. Expand your business without moving
Purchasing a virtual phone number for your business can allow you to interact with customers all over the world and therefore expand your reach outside of your local community. Along with social media and building a website, you should also consider getting a toll free number which is a useful advertising tool that keeps you connected to all of your customers. These virtual phone numbers also come packed with features like call forwarding, so you never miss an urgent call and automated greetings to give your small business the impression that it is more extensive and therefore more professional.
6. Set up a loyalty program
Encourage your customers to return often by offering them incentives for their continued business.
All of these strategies are either free or low-cost and can help seriously expand your business. If you take anything away from this article, be sure that it is to make customer service your #1 priority!