As with any business, it is important to be aware of the ongoing trends and developments in the industry. Furthermore, it is essential to know what customers expect from your business at the current time. Here we discuss 7 practical solutions and call center tips to help your business stand out among the competition.
2023 Call Center Tips
The following call center tips are suggestions for call centers that do not have these solutions in place. Staying competitive in 2023 means staying relevant, providing easy access and quick resolutions, and keeping with the trends.
1. Be Aware of TCPA Compliance
First and foremost, ensure your call center is TCPA compliant. Be aware of the current and upcoming TCPA compliance regulations to avoid fines and lawsuits. TCPA guidelines for call center telemarketers and robocalling state that telemarketers must:
Obtain written consent from consumers before robocalling consumers
Not use an existing relationship with a customer to avoid getting written consent
Offer an automated "opt-out" mechanism or Do-Not-Call feature during each call so that customers can tell the marketer to stop calling
2. Consider Call Center AI
If you do not already have call center AI tools, then now is the time to upgrade. Automation and AI tools can help improve efficiency and streamline processes so everything runs smoothly. Certain tools may even interact with customers and offer solutions to common questions or provide troubleshooting help, without the need of an agent. It is important to note that AI does not necessarily replace live, human agents because customers will want to talk to a live person at some point. Automation merely helps organize calls and take care of simple, mundane processes.
There is a variety of call center AI tools offered by virtual phone service providers. For example, some common call center automation tools include:
AI virtual agents
Chatbots and email automation
Smart and automatic routing
CRMs and agent assists
Notifications and alerts
3. Maintain Call Center QA
One of the most important call center tips is to continue to maintain call center QA. Quality assurance (QA) is the process of studying how your call center performs in terms of quality and working on areas of improvement. Some ways to improve and maintain your call center's quality assurance is by:
Training agents and providing training materials regularly
Sitting in on agent calls or reviewing recordings of calls during performance evaluations
Using assessment tools to evaluate agent and call center performance
Conducting workshops and seminars
Creating and using professional scripts
Collecting feedback and analyzing data to identify ways to improve performance
Providing agents with the right call center software tools to aid them in their jobs
Providing valuable incentives to boost performance
4. Plan for Remote Team Management
The COVID-19 pandemic led to many businesses working from home in 2020. As a result, call centers have found usefulness in virtual call center software that helps agents stay connected and continue to make professional business calls from any location.
This trend will continue into 2023 with many call centers moving to the cloud or converting to cloud-based contact centers. Virtual call center software comes with a variety of tools to support remote working and remote team management, such as:
Outbound calling with customizable caller ID
Cloud-based dialers that can be used from any location and any device
Smart call routing (time-based routing, location-based routing, simultaneous ringing, etc.)
International call forwarding
Call detail records and metrics that can be used for performance evaluations
Inbound and outbound call recording
These tools help virtual call centers remain active and continue to work efficiently, irrespective of where agents are located. Furthermore, there are tools that call center managers can use to observe and evaluate their agents' performance.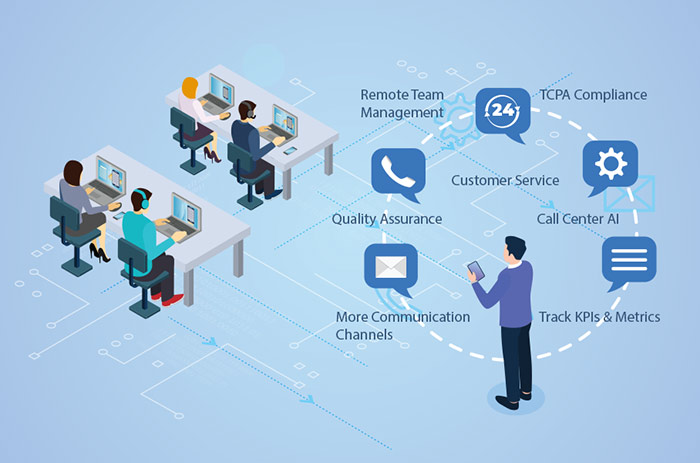 5. Track and Measure Call Center KPIs and Metrics
Collecting data and tracking call center metrics goes a long way in understanding how your call center is performing and how it can do better. One of the most common call center tips you will hear when starting a new call center is to identify key metrics or KPIs and track them. Most call centers track the following call center KPIs to evaluate performance:
Average Time in Queue
Calls Handled
Average Speed of Answer
Average Handle Time
Percentage of Calls Handled by Type
First Call Resolution
Percentage of Calls Blocked
Customer Satisfaction
Net Promoter Score
Customer Effort Score
Agent Turnover Rate
Cost Per Call (CPC)
6. Offer More Communication Channels
You may even want to consider omnichannel solutions for your call center. Most call centers specialize in phone and email conversations. However, there is a growing preference for live chat, chatbots, and video conferencing as customer service options. For this reason, switching to a multichannel support model may prove more useful to your call center.
7. Continue to Offer Excellent Customer Service
Lastly, continue to train and motivate your agents to offer excellent and empathetic customer service. Research shows that going into 2023, customers expect high-quality care with empathetic and quick responses for customer support teams. Keeping these trends in mind, retrain your agents with a focus on empathy, respect, patience, and positivity. 2021, 2022, and 2023 were trying for us all but 2023 can certainly be more considerate.
Improve Communications with Virtual Call Center Software
Need help finding a reliable virtual call center software provider? United World Telecom can help get you set up with virtual call center software and advanced communication tools. Browse our features online or speak with our experts to learn more!