The 2021 Remote Team Management for Business Guide
Download a Free Copy to Read Later
or Read Now Below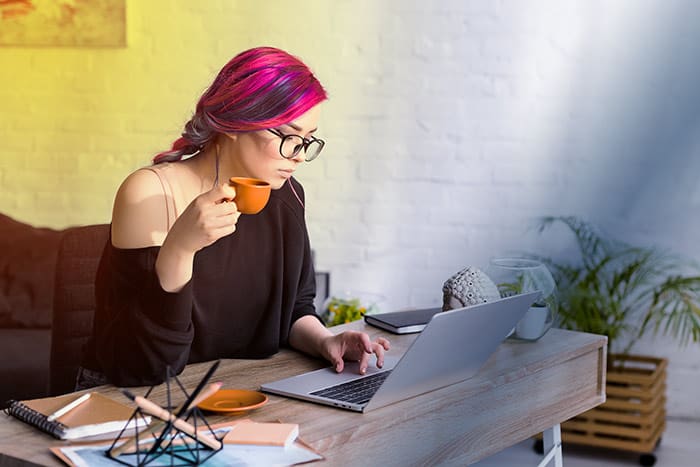 With so many businesses working remotely thanks to COVID-19, remote working is gaining popularity. More and more businesses are looking at ways to continue maintaining and increasing sales and keeping afloat while employees stay safe. With remote working gradually becoming a preference, your business must be ready as well. Here is a comprehensive guide to remote team management for the year 2021. We will cover:
Remote Team Management: How to Effectively Manage Your Remote Employees
Many businesses are adopting some form of remote working — whether it is letting employees work from home due to COVID-19, switching to a modern work environment to improve employee experience, or working with global teams to increase global coverage.
Managing remote teams
may seem overwhelming, especially when you do not have processes and strategies in place. But with the right people, technologies, and processes in place, your business could go fully remote, cutting down costs and improving employee experience.
What is Remote Work?
Remote work
is a working style that allows employees and even employers to work outside a traditional office space. This means people can work out of their homes, coffee shops, libraries, co-working spaces, and so on. And, everyone has more flexibility regarding their desk space, their schedule, and their work. Given this freedom, employees and employers can cut down on significant commuting and overhead costs. Before the COVID-19 pandemic, the traditional way of working involved everyone coming to the office and working at their desks from 9-5. This allowed managers and leadership to monitor employees and ensure they were working efficiently. It also enabled collaboration between teams and co-workers. And managers would keep track of sick days and time logs more easily. Remote work, however, complicates this monitoring as employees work from different locations. It is harder to "see" if they are productive and avoiding distractions. Then came the global pandemic that made remote working mandatory and life-saving. So, how did businesses manage? Some had to shut down while others moved to the cloud. Thanks to advancements in technology and software, you can use cloud-based tools from any location to keep business going. This allowed employees to work uninterrupted and managers to "monitor" them with tools and metrics. And with video and voice conferencing and chat tools, employees could easily collaborate, even across geographical boundaries. This opened up more possibilities for remote work to become the future of work.
How Has Remote Work Shaped the Way We Work?
Whether you love or hate remote work, the pandemic has definitely generated many conversations about the future of work. Is remote work here to stay? Are employees more productive when working remotely? Who does remote work really benefit? How can employers benefit? With millions
working remotely due to COVID-19
, we have seen a significant increase in the demand for remote work. But why? Here are some key remote work statistics from 2020 and 2021:
55% of businesses globally offer some capacity for remote work (Review42)
77% of telecommuters report being more productive (CoSo Cloud)
30% of telecommuters save more than $5,000 a year (CoSo Cloud)
Businesses would save an average of $11,000 annually per half-time telecommuter (Global Workplace Analytics)
52% of global employees work remotely once a week, and 68% do so at least once per month (Owl Labs)
2.9% of the total U.S. workforce work remotely at least half of the time (Flexjobs)
53% of U.S. telecommuters view flexible scheduling as the top benefit (Statista)
20% of remote workers identify communication as an obstacle (Buffer)
94% of employers stated that work productivity was the same or higher since employees started working from home (Mercer)
54% of IT professionals think that remote workers are a greater security risk (OpenVPN)
As of April 2020, 67 percent of organizations reported an increase in spending on web conferencing software (Statista)
69% of young managers allow their team members to work remotely (Upwork)
74% of companies plan to shift some of their employees to remote working permanently (Gartner)
97% of employees don't want to return to the office full-time (Growmotely)
Remote work is the biggest draw for top talent (Growmotely)
59% of respondents said they would be more likely to choose an employer who offered remote work than those who didn't (Owl Labs).
Challenges of Remote Working
While there are countless benefits of remote working, there are challenges associated with remote team management that businesses must be aware of. Here we will look at the common challenges of such a work environment and how businesses can avoid them:
1. Lack of Training Not all users and employees are tech-savvy or computer literate. Additionally, not everyone understands how to protect data and information. This leaves them prone to cyber-attacks and phishing scams.
To fix this: Train employees in software, programs, and devices they will need to use. Prepare them by educating them about cyber-attacks and phishing scams and how to avoid these schemes.
2. Lack of Device Security Education Like the above point, not every user knows how to protect the personal devices (laptops, smartphones, tablets, etc.) they use for work. This includes not updating the devices appropriately, using anti-virus protection, or using open and unsecured networks.
To fix this: Educate employees in good device maintenance. Help them understand the importance of updating and using anti-virus protection and how to secure their devices.
3. Unsecured Networks Using public workspaces is always a risk as these networks or WiFi services are not always secure enough. Furthermore, some home networks are not secure either unless users definitively ensure their security.
To fix this: To combat this, teach employees the importance of working within a secured network. You may even help them secure their home networks. Furthermore, businesses have also used VPNs to ensure the security and protection of company data and information.
Benefits of Remote Working
Due to the Coronavirus pandemic, businesses around the world have learned to adjust to remote working. Employers and their employees have witnessed the
ease of remote working
and the possibility of continuing to do business through remote team management. As such, one should understand that remote working will be much more of an occurrence in the future, with employers and employees both seeing the benefits. So, how can remote working be beneficial? Here are some of the most important factors to consider.
1. Cost Savings
Employees working from home leads to savings for both employees as well as employers. Employers can downsize their office space and reduce costs spent on purchasing and maintaining equipment. Employees, on the other hand, save on commuting and travel. This is because communication is moved to voice and video meetings and virtual conferences.
2. Improved Employee Experience
The incoming and younger workforce comes with different needs and expectations than those of past workers. Especially with the growing trend of remote working, employees now expect some form of work-from-home consideration from their employers. Businesses have been considering remote working as part of a hybrid work culture where employees work from home on some days and out of the office on others. This helps employees cut down on telecommuting costs and reduce absenteeism due to various reasons such as illness, weather, family emergencies, etc.
3. Increased Productivity & Efficiency
Since remote working makes working more comfortable for employees, this type of workplace arrangement has proven to increase productivity and efficiency as employees can work with more ease. In fact, a Standard University study concluded that telecommuters showed a significant increase in productivity.
4. Increased Accountability with Virtual Communication Tools
When it comes to remote team management, businesses are often skeptical of remote working as they fear low motivation and productivity levels. However, with the availability of many advanced communication tools, virtual communication has never been easier. You can now ensure employee accountability and productivity through project management systems, cloud computing, and more.
Related: Remote Phone Systems: Features, Benefits, Costs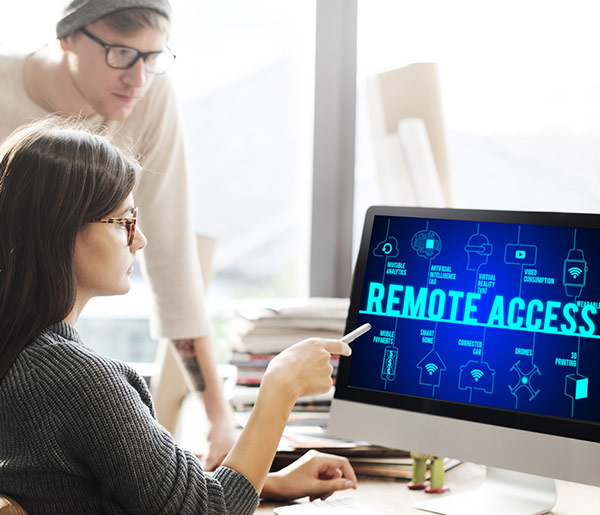 Remote Team Management Strategies to Keep in Mind
Here we look at top remote team management strategies to help your business maintain productivity and reach business goals. Managing global teams effectively is crucial to the successful running of your remote or global business. If employees are not connected or in constant conversation:
They may neglect goals
Misunderstandings may occur
Productivity and efficiency may take a hit
Collaboration and teamwork may decline
And with many businesses working remotely in some capacity due to the pandemic, managers need to take time to evaluate how they will handle remote teams so employees don't feel out of place and the business does not take a hit. Many individuals are used to working in an office, keeping tabs on each other, and maintaining accountability. And for the longest time, most jobs could only be completed from within the office. However, that has changed with the development of technology. The growing adoption of
VoIP for managing distributed teams
tells us that cloud communications make it easy for businesses to stay connected internally and with their customers, no matter where everyone is located. Digital software enables businesses to keep business and customer information on the cloud, easily accessible from anywhere. So, how can you use technology to manage your remote teams effectively?
1. Check in With Your Global Teams
Hold regular meetings
and check in on your employees and teams. And while these meetings must focus primarily on company updates and department performance, you can use these opportunities to connect with your remote team members and see how they are doing. Remote work can be isolating and can make employees feel left out. Use these meetings to build rapport, get to know your employees, and learn about things that matter to them. You may even decide to start these meetings with ice-breakers or run fun workshops to help employees loosen up. According to research by
Gallup
, "Regularly scheduled meetings with a manager are critical to an employee's engagement. On average, only 15% of employees who work for a manager who does not meet with them regularly are engaged; managers who regularly meet with their employees almost tripled that level of engagement." Meeting regularly with your employees gives you a chance to get to know your employees and improve engagement and accountability.
2. Make Goals and Purpose Clear
For remote teams to work effectively, everyone needs to be on the same page. Make goals known and clear. Repeat long-term and short-term goals during regular meetings. Explain why these goals are significant and how each department or team may work towards achieving them. Define key parameters that impact how teams work individually and collectively. Define remote work rules and best practices. Set clear guidelines for flex time and off-duty time. Create policies for communication, technology use, data security, and so on. This ensures that all employees know what is expected of them and what they need to do to achieve business goals.
3. Cultivate Empathy
Empathy is crucial to keeping teams motivated, cared for, and productive. If your employees feel like you care about their well-being and personal career goals, they are more likely to be motivated and engaged. This goes back to checking in with them regularly and inquiring about their stress levels and work-related issues. Practicing empathy in the workspace can increase the employee retention rate, which, in turn, reduces hiring costs.
4. Create a Communication Policy
A communication policy determines the types of communication software and channels that teams will use. You have an abundance of advancements in telecom to choose from to make communication across borders easy and manageable. By adopting
unified communications for remote teams
, you can have all communication channels and tools in one platform. This means employees don't have to toggle different channels to get their word across. You may even decide to use cloud communication solutions to ensure connectivity and productivity. Businesses are switching to the cloud for a variety of reasons:
Lower communication costs — especially for global communication.
Mobility — helps keep remote teams connected via the internet, no matter the location.
Flexibility — can be accessed from anywhere and any device.
Additional features and services — hosted call recording, call detail records, routing strategies, outbound calling with customizable caller ID, and so on.
Read our article about
cloud communication solutions with UCaaS and CCaaS
to learn more about cloud-based phone solutions.

5. Take Advantage of Project Management Systems
Project management systems and tools will help managers keep track of how teams perform and progress in their tasks. These systems are built to keep track of projects, enable collaboration between team members, and track time and performance. Some systems even have metrics tracking included in them to make performance analysis easier. Use these systems to keep tabs on projects, create and assign new tasks, and streamline workflows.
6. Use Call Forwarding to Maintain Professionalism
A call forwarding service lets your business receive business calls and forward them to desired numbers or lines anywhere in the world. For example, you can have customers in Italy call your business' Italy phone number and have those calls routed to your customer service team in Italy or elsewhere in Europe, as needed. With
remote call routing
, your business can offer 24/7 customer support to global customers by routing calls to different teams during different times of the day. And with an outbound calling service, these teams can display local numbers, even if they call from an international location. These tools make it easier for businesses to maintain professional relationships with their customers even when global teams are distributed worldwide.
7. Conduct Regular Performance Reviews and Quality Checks
Finally, measure quality over quantity — just because someone is doing a lot of work does not mean the quality is good. Conduct regular checks, sit in on calls,
review recorded calls
, do reviews over video meetings, analyze metrics and data. Check in with team leaders on the state of their teams and short-term and long-term goals. Doing these reviews and checks regularly will give you insight into how your business and teams are doing and where improvements are necessary. You may even consider getting feedback from employees in these remote teams. Feedback can help you see things from the perspective of your employees, which you may otherwise miss. Then, create action plans to resolve these issues.
Remote Team Management Best Practices
From setting up hierarchy and processes to using cloud-based software, there are a few different ways you can effectively manage your remote employees. The key is to find the right solutions for your business and modify as issues pop up. The following best practices can support your remote team management efforts by providing tools and features necessary to maintain contact, reliability, and accountability.
1. Get VoIP for Distributed Teams
The first step would be to get a VoIP phone system for managing distributed teams. Voice over IP (VoIP) enables communication over the internet. In other words, users can make and receive calls from any location or device as long as they are connected to a stable internet connection. Such a phone system is beneficial for businesses with international offices or employees in different states and countries as it reduces the cost of long-distance communication. Furthermore, your employees can answer business calls made to your business phone number by forwarding these calls to their devices. They will not have to use their personal phone numbers for business calls. This feature comes with every virtual phone number and VoIP plan.
Benefits of using VoIP
for remote team management:
Reduce communication-related costs by going virtual and investing in cloud communication.
Employees can work and stay connected from any location.
Employees can use their own devices for business-related work.
Employers can implement a BYOD policy for the safe and secure use of devices.
2. Consider BYOD Policies
Bring your own device (BYOD) policies are growing more and more popular as businesses switch to remote work. A BYOD policy lets employees use their own devices for work-related processes instead of relying on equipment provided by the office or employer. Businesses can cut down the costs of purchasing and maintaining equipment when they
establish a BYOD policy
. Furthermore, users can use devices they are most comfortable with, increasing comfort and productivity. Lastly, by teaching employees best practices to secure their devices and protect privacy and information, you can ensure a safe and secure remote work environment.
3. Use International Call Forwarding
How does international call forwarding work? International call forwarding is a service provided by virtual phone service and VoIP providers. With an
international call forwarding service
, your business can route calls from international customers to your main office or remote workers as needed. You can get international toll free or local numbers for target countries to expand services to. Then, you can route incoming calls from local customers in these areas to your customer service and sales teams located elsewhere. Businesses use an international call forwarding service to reduce long-distance and international calling costs while helping their remote customer service and sales teams do their jobs effectively.
4. Unified Communications
Lastly, you can use unified communications for remote teams to ensure everyone is well-connected, easily accessible, and on top of their tasks and projects. Unified communications help businesses access all important communication tools in one place. These tools include voice, video, email, text messaging, chat, and more. As such, you can encourage remote team collaboration. Unified communications are necessary for remote team management.
Related: The Business Guide to UCaaS [2021]
Manage Global and Remote Teams with United World Telecom
Remote working is a growing trend and may become the norm for specific industries. As such, it is important to be prepared both as employers and employees. United World Telecom offers a variety of global cloud communication tools and services that make it easy for global teams to communicate with each other and their customers. Speak with our representatives to learn more about our services;
call us at 1 (877) 898 8646 today!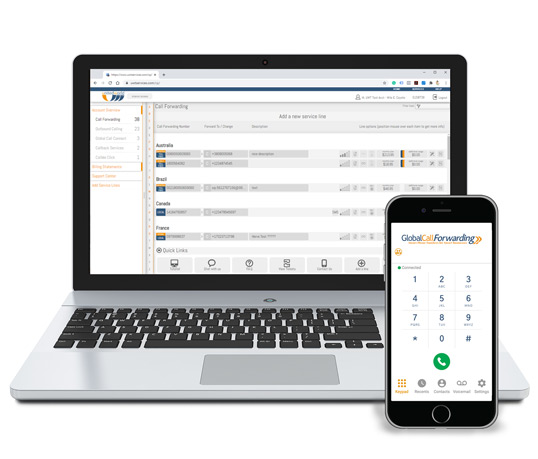 Why Customers Choose Us?
Outstanding Quality
Because we offer the best quality for both international and local phone services, you'll never have to miss another important phone call again.
Feature Friendly Competitive features including SMS forwarding, outbound calling, rollover minutes and more.
24/7 Customer Support Our support team is available 24/7 at your convenience for any questions or setup assistance.
Service Features
A reliable suite of included and premium features to power your business communications.
Hosted Call Recording
Time of Day Routing
IVR (Auto Attendant)
Local Ringback Tones
Simultaneous Ringing
Fax to Email
Rollover Minutes
Failover Forwarding
Virtual Voicemail
Outbound Calling
Sequential Forwarding
Black / White Lists
The Most Trusted Provider of Business Phone Numbers
Service quality and customer experience are our top priorities.
150+
Countries
Phone numbers available across the globe.
24/7
Support
Reach us via phone, chat, website, and email.
25+
Years
We've been in business since 1996.
99.999%
Uptime
Multiple layers of redundancy = Higher reliability.