Want to spice up your business phone number and make it more attractive and memorable? Then a vanity phone number is the way to go. Read on to learn how vanity numbers can boost your business' visibility and how to get a vanity phone number.
Vanity Phone Numbers
Vanity phone numbers are one of the easiest and most effective ways of marketing your business, with long-lasting effects. They are called "vanity" numbers because they add some flair and interest to what would be an ordinary toll free number or local phone number, with the appropriate area code applied. They use numbers arranged in a specific sequence to make a statement for your company, either with your business name, or other wording that is symbolic of your company or industry.
Vanity numbers are customized phone numbers, and they're excellent for business because they are easy to remember, and they help keep both your business and your business's number in the mind of your clientele. Increasing brand awareness should be the goal of every company, and having an eye-catching, easy-to-remember number is one way to accomplish this. This has been shown to have a very positive effect on the response rates of incoming calls received, as well as conversion rates. When repeated on television or the radio, or placed on business cards or on your website, customers will be able to instantly link your company to the vanity number you have listed.
What is a Vanity Phone Number?
Vanity phone numbers are business numbers that use letters or patterns within the number to make them more memorable and attractive. Popular vanity phone numbers with the business name inserted include:
888-BBT-ONLINE
1-800-GOT-JUNK
1-888-SANDALS
Besides letters and words, you can also get unique combinations of numbers such as 800-333-4444 or 800-225-2255. Such combinations and patterns make a business number easy to remember.
These numbers go a long way in grabbing customer attention and sticking in their minds. They can also be a good marketing tool as they display your business or what your business stands for. You can then advertise this number on social media, billboards, your website, and other advertising channels.
Examples of Vanity Numbers
Some of the most famous vanity numbers are 1-800-Flowers and 1-800-Battery, as these numbers use words to make their statements while placing these companies in the minds of customers as the leading brands in the industry. This is one of the most common and most memorable ways to use a vanity number.
One interesting variant many companies use for their vanity numbers is with repeating numbers or patterns. For example, 1-800-112-2212 or 800-666-2266, are both easy to remember and quite simplistic, offering an additional advantage to the businesses using them.
Need a cab in NYC? Just dial 212-666-6666! This New York City cab company's vanity number stands as one of the easiest to recall numbers, which comes in quite handy for their customers while increasing their business as a result.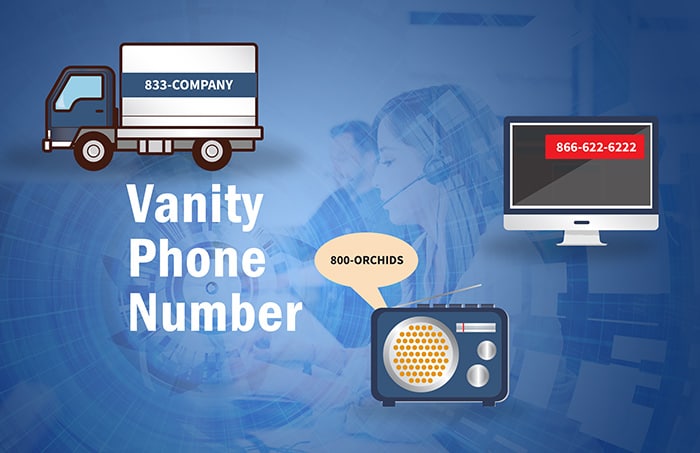 How Can I Choose My Own Number?
Choosing your number depends on vanity number availability. For instance, common business numbers like 1-800-FLOWERS are taken. You will need to check and make sure the number you want is available. Work closely with your provider to get the number you want.
Vanity Number Search
Another way to see what vanity numbers are available is by using a vanity number search tool. These tools help you search for vanity number availability and if a particular phone number is available. When using these tools, you will most likely have to specify the area code or toll free prefix you want, then enter the specific number, word, or phrase you desire. Upon hitting the "search" button, you will find out if the number you want is available for use.
Get a Vanity Phone Number in 3 Steps
Getting a vanity phone number is easy once you know your number is available. However, if you want to get the best out of your vanity phone number service, then using a virtual phone service provider may be the better choice. Here are the 3 steps to getting your business a creative and memorable vanity phone number:
1. Decide on Communication Features and Services You Need
Besides simply getting an attractive business number, you can also get additional features and services to upgrade your business communication system. For example, all United World Telecom virtual number plans come with:
Call forwarding
Routing options (time-based, location-based, skill-based, simultaneous ring, etc.)
Advanced cloud IVR system
Voicemail and fax sent to your email
Black and white contact lists
Custom greetings and messages
Call transfer and extensions
Furthermore, you can get premium services for a small additional monthly fee. These services include:
Outbound calling with dynamic caller ID
Inbound and outbound call recording
International call forwarding
Determining which features are must-haves for your business can help you narrow down which providers to choose from. These features can help with call management, customer service requirements, call recording compliance, and more.
2. Review Business Phone Service Providers
Review different providers to see what they have to offer and at what prices. Make sure to note if they have a monthly charge or a "per user per month" charge. Also, look for signs of the provider's credibility. For instance, how long have they been in business, what are their current customers saying about the services, and so on.
United World Telecom's pricing is straightforward with no hidden fees. Our vanity numbers start as low as $28.95/month. You can add Rollover Minutes, Call Recording, and Outbound Calling to any plan.
3. Purchase Your Vanity Number & Start Promoting It
Lastly, once you've decided on the right provider, go ahead and make your purchase. Upon activation, you can start promoting and advertising your new vanity phone number across different channels and start answering customer calls!
Related: 9 Inexpensive Advertising Ideas to Promote Your Local Business
Get Your Vanity Number Today!
At United World Telecom, we offer the most affordable vanity numbers available, in the most efficient time frame. Whether you want them for specific marketing campaigns, to represent a product, or to feature your business name, we can help you get the vanity number you need. We can help you get a vanity phone number that is the right business phone number for your company along with advanced communication features. Speak with one of our specialists today and find out how you can improve your office phone system!