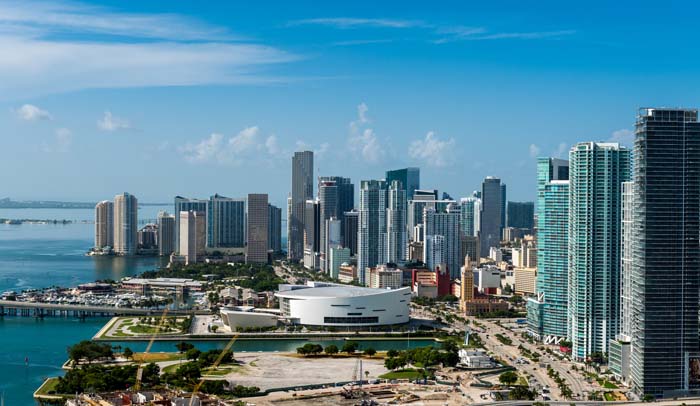 Miami Local Phone Numbers
To do business in Miami, Florida, you need to establish a connection with the city. And one way to do that is to have a local Miami number with a 786 area code. The common perception is that to do business with a certain city or state, you should be physically present there. However, you can get a local virtual number with the city's area code, to open a communication channel with its residents. A 786 area code number will give you the opportunity to work with potential customers from Miami, Florida.
Location of Area Code 786
The 786 area code belongs to the state of Florida located on the eastern coast of the United States. More specifically, the area code covers major cities in South Florida like Miami, Miami Beach, Carol City, Coral Gables, Hialeah, Homestead, Key West, and more. As such, this area code covers quite a large area of South Florida. A business phone number with this area code will let you communicate with potential customers in Miami and the Florida Keys.
History of This Area Code
Originally, area code 305 was the calling code for all of Miami, Miami-Dade County, and part of Monroe County of the Florida Keys. The 305 code was created in 1947 as one of the original codes meant to cover the entire state of Florida. In 1953, however, the Tampa Bay area split from 305 and came under area code 813. Then, due to a growth in population in 1965, the northern part of Florida, from the Panhandle to Jacksonville was assigned the 904 code.
Then in 1988, the NANP assigned 407 to the east coast from Palm Beach County to Brevard County and Orlando. Broward County split and became area code 954 in 1995. This was due to the population growth exhausting phone numbers with these area codes. Then finally, to solve this problem, area code 786 came into existence as an overlay in 1998. Originally meant to serve the Miami-Dad County, this area code also covers the Florida Keys.
More About Miami, Florida
Due to the location of the 786 area code, it spans across some of the most influential areas of South Florida. Miami-Dade County is the third-largest county in Florida, and it covers 1,946 square miles. And the county's seat, Miami, is the cultural, financial, and economic center of South Florida. This part of the state is heavily urbanized with high-rise buildings, a central business district, and more.
Monroe County, on the other hand, consists of 3,738 square miles and is, therefore, the largest county in the state. It consists of a section on the mainland in Everglades National Park as well as the Keys, from islands Key Largo through the Dry Tortugas. Interestingly, more than 99 percent of the county's population resides in the Florida Keys, located off the southern coast of Florida.
Note that this area code, like most of the eastern states in the United States, follows Eastern Standard Time (EST). This time zone is five hours behind the Coordinated Universal Time (UTC), that is, UTC–5.
Doing Business in Miami, Florida
The Sunshine State is one of the largest economies in the United States. Top industries for small businesses are healthcare and social assistance, construction, retail, accommodation and food services, and professional, scientific, and technical services. Because Florida is a state with no personal income tax, it remains an attractive state for limited liabilities (LLCs). Miami is considered one of the top cities for small businesses, based on factors like credit score, age of business, and annual revenue. The city's proximity to Latin America makes it a good spot for imports and exports. It boasts a diverse economy with industries like real estate, tourism, and construction.
You will need a way to contact prospects if you want to start or expand your small business in Miami. Locals recognize local numbers and know that calling such numbers won't incur heavy fees. A 786 area code number will make it easier for Miami and Key West residents to reach your business. All the while, you can stay connected with your clients from anywhere in the world.
Getting a 786 Area Code Number
To enter your business in this part of the world, getting a 786 area code number is the first step. You will incur no moving costs, no equipment costs, no additional calling costs. Contact us today to learn more about how to get a 786 virtual phone number for your business.