Wish you could distribute your business calls better so agents and employees are not overwhelmed or (worse!) underwhelmed? Call routing is an effective call management solution that can organize your calls and distribute them more efficiently.
Call Routing: Definition
Call routing — also known as automatic call distributor (ACD) — is a telephony feature that answers and directs calls based on predetermined rules set by the account manager. A business can use call routing to enable callers to connect with specific people or departments instantly.
In other words, callers will not have to dial separate numbers. When they call a business, they are offered different options, to which they respond verbally or by pressing a number on their keypad. The caller is then routed to the individual or department that can help them.
How Does Call Routing Work?
Call routing is a feature of voice over IP or VoIP phone systems. This phone system answers incoming calls, determines the purpose of the call, and accordingly transfers it to the right department or individual. How you set up your call routing map depends on what you want it to accomplish. Here are a few different criteria that have been used by various businesses.
Interactive Voice Response: Also known as IVR, interactive voice response is essentially an automated phone system that offers a predetermined series of menus to callers. Callers pick their choice by dialing a number on their keypad or verbally saying it. They are then directed to the right department.
Time of Day Routing: A type of routing based on time, for both the caller and receiver. Calls coming in during off-hours or during the weekends can be directed to remote offices or employees or your smartphone so service is uninterrupted.
Skill-Based Routing: A type of routing based on agents' skills and caller requirements such as language preferences. This can be accomplished through direct inward dialing, which enables callers to dial a direct number that corresponds to the department or extension they want to reach.
Location-Based Routing: A type of routing that depends on the location of the caller. This is good for businesses with offices and customers in different time zones as callers can get assistance in the area they are calling from. It is possible to forward calls internationally based on the locations of callers.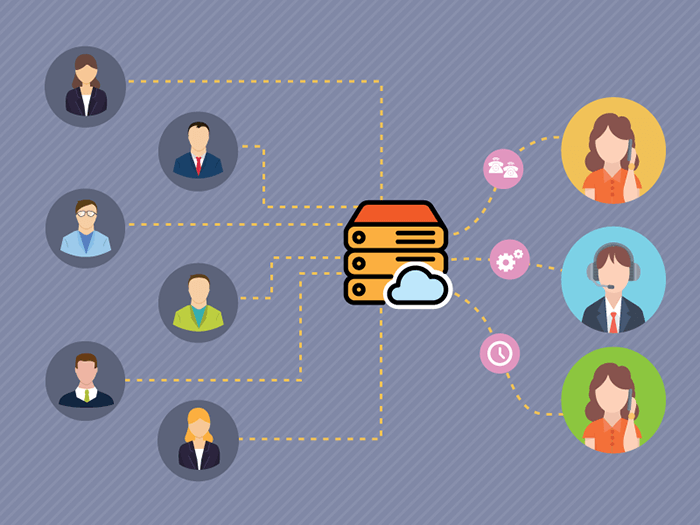 Different Ways Calls Can Be Routed
As you can see, there are a few different ways to set up call routing for your business. However, with an IVR system, you might be able to combine a few of these criteria to provide better options for your callers. Some ways you can route calls are:
Regular Routing: This type of call routing is based on a predetermined set created and managed by the account or department manager. All calls will move through a chronological order and available agents can answer and assist callers.
All-the-Way-Round Routing: With this type of routing, incoming calls are equally distributed. The first call goes to the first agent, second to the next agent, and so on. Once the last agent receives a call, the next call is sent to the first agent.
Least Occupied Agent Routing: This type of call routing ensures that no agent spends too much time idly. Incoming calls are forwarded to any agent waiting the longest or that hasn't received a call in a while.
Simultaneous Routing: This routing strategy is pretty straightforward. All incoming calls ring simultaneously on all assigned employees' phones. Whoever is available immediately can answer and assist the caller.
Top Reasons Why Your Business Needs Call Routing
So, why should you consider getting call routing and using these routing strategies for your business? First, thanks to advancements in telecommunications, this technology is available not just for call centers but for all business types: small businesses, solopreneurs, large corporate enterprises, and more.
Basically, if your company wants to improve sales or customer support, then routing calls effectively can save on time and money and help you provide high-quality service. Some of the main benefits are:
Providing better customer service options and expand internationally based on location and language preferences
Offering 24/7 customer support by forwarding calls to offices in different time zones
Reducing wait times and increasing first call resolution rates
Increasing customer satisfaction and retention rates
How to Get Call Routing
Call routing comes as a part of a VoIP phone system. In that, you can build your business a solid and reliable communication system that helps you manage and handle incoming calls effectively. United World Telecom can help you get call routing and VoIP. To start, speak with an expert today!