Choosing a business phone system for your company is a necessary part of creating the perfect communication system. With advancements in technology, there are many different systems available for businesses to choose from. Here we will discuss primary rate interface (PRI) and the advantages and disadvantages of this phone system.
What is PRI?
A primary rate interface or PRI is a communication system that is provider-free. This system allows businesses (users) to send and receive voice, data, and video files through a copper wire network. PRI systems or lines constitute two pairs of copper wires. This feature of primary rate interface networks provides secure data transmission. You can get two types of PRI systems:
Basic rate interface solutions (BRI) for personal and small business use
PRI for large enterprises and corporations.
Features of Primary Rate Interface
To understand how these communication systems work, it is first crucial to be aware of their features. Key features of a PRI system include:
Lines are made of two pairs of copper wires connecting the provider and the user.
You can have 23 B-channels on a single telephone line. And by doing so, it enables businesses to have multiple extensions and telephone numbers via one connection.
Each channel has 64 kbps for data transmission.
Can connect two private branch exchange or PBX systems together and can also work with an IP PBX system.
Advantages of a PRI Phone System
There are different ways a primary rate interface phone system benefits businesses. However, whether or not your business needs this system depends on what you hope to achieve through your business communication system. Let's look at how PRI systems boost business communication:
1. Extensions and DID numbers:
Direct inward dialing refers to direct numbers assigned to individuals within a business. This means that callers from outside can dial this number and reach a contact directly. Extensions work in a similar way with an additional code attached to a number to let callers reach an individual or department directly.
With PRI, SIP trunking, or virtual phone systems, you do not need additional lines for each number or extension. For PRI, specifically, you can have up to 23 conversations happening simultaneously on one line. That means you can have up to 23 users using the system. And that is considering everyone uses it at the same time. If you need simultaneous communication, you can add more users to these existing lines and they can use it as and when needed.
2. Scalability and expansion:
As your business traffic grows and communication needs increase, you will want to scale and expand. And a primary rate interface will allow you to do that. If more users are needed, you can simply get another PRI line and add it to your existing system, giving 23 more users the ability to communicate.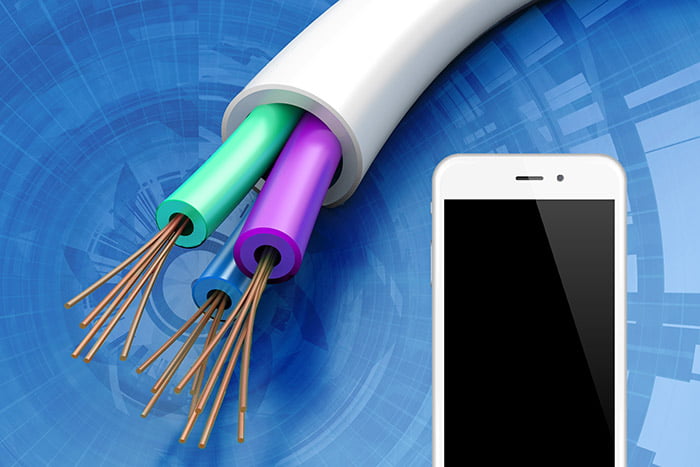 PRI Drawbacks
While a primary rate interface system changed the way businesses communicated over the years, phones have come a long way since. Advancements in telecom technology have given rise to more modern and user-friendly systems.
The biggest drawback that PRI systems have is the ability to expand in bundles of 23. This means that if you have just one or two extra employees and all channels are used constantly, then you will need to buy 23 more channels for those extra employees. You will end up paying more than you need.
On the other hand, if you run a large corporation with 100-150+ employees, then you will need multiple PRI lines to work efficiently. Additionally, it gets more complicated if you need to add multiple locations or remote workers.
To combat these issues, you have a few alternatives to consider: Hosted VoIP and SIP trunking.
PRI vs Hosted VoIP vs SIP Trunking
Most businesses today have adopted a cloud VoIP or hosted VoIP solution. Hosted VoIP means that your service provider hosts your phone solution and takes care of all your software needs and maintenance. All you do is use the service. You do not have to worry about purchasing hardware and software, maintaining it with a professional IT team, and so on. This helps your business save on communication and IT-related costs.
SIP trunking is a session initiation protocol (SIP) feature that enables transmission of voice communication over a data network. SIP trunking works similarly to POTS except that the phone lines are virtual instead of standard copper lines. And your phone system connects to your provider via your internet connection. SIP trunking has often been used as an alternative to POTS and PRI systems.
PRI, unlike VoIP and SIP trunking, does not rely on internet bandwidth for transmission, and therefore does not suffer from jitter or packet loss. However, there are limitations in terms of scaling upwards, mobility, and features available.
Here's a table to demonstrate the differences between these business phone systems:
| | | | |
| --- | --- | --- | --- |
| | PRI | SIP trunking | Hosted VoIP |
| 1. Upfront costs | Medium-High | High | Low |
| 2. Maintenance costs | Medium-High | Medium-High | Low-High |
| 3. Connectivity | Physical | Virtual | Virtual |
| 4. Service quality | Low; calls may experience muffled or distant quality, frequency range is limited | High; good bandwidth required, low bandwidth can lead to jitter, packet loss | High; good bandwidth required for VoIP, low bandwidth can lead to jitter, packet loss |
| 5. Scalability | Low | High; very scalable | High; scalable |
| 6. Mobility | None; no routing ability | Medium; calls can be transferred to predetermined locations | Very high; can be used anywhere and through any device |
Choosing the Right Phone System for Your Business
The phone system that is ideal for your business purposes depends on what you want to accomplish with it and what your budget can include. Speak with our experts today to see if VoIP or SIP trunking is a good fit for you!