Automate your call forwarding to ensure you answer every call and customers don't wait long to connect with you. Use failover forwarding to:
Increase connectivity
Route calls to multiple destinations
Increase business productivity
What is Failover Forwarding?
The United World Telecom Failover Forwarding feature enables businesses to program multiple phone numbers or SIP accounts to answer incoming calls. By utilizing multiple Tier-1 carriers, if the first number or SIP account is busy or fails to connect, the system automatically routes and connects the incoming call to the next number in line. By doing this, failover routing ensures that calls are not dropped.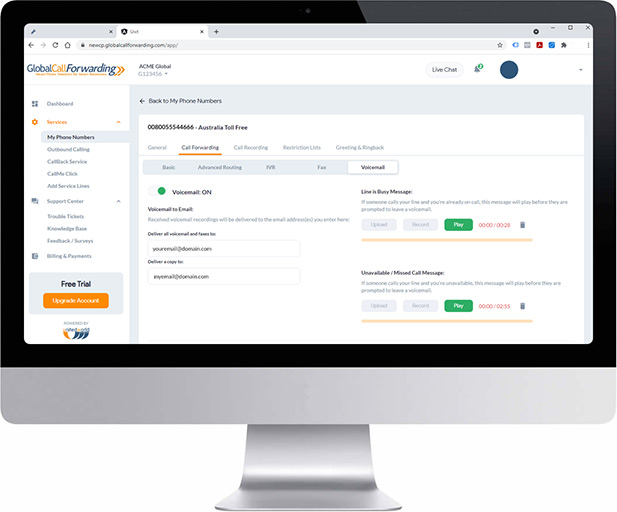 How Does it Work? PSTN vs SIP Failover
This feature is designed to find the best carrier for optimum connection and successfully handle and minimize failover issues. In case your PSTN number or SIP account is unreachable, our failover routing feature will automatically forward incoming calls to a predefined backup destination. Let's take a look at PSTN and SIP failover individually:
PSTN Failover Forwarding
PSTN refers to the regular landline phone number. You can program PSTN numbers into our system to take advantage of the failover forwarding feature. In case the incoming calls can't get to the primary PSTN number, our system will automatically forward them to specified backup PSTN numbers. Additionally, any timeouts or other errors triggered and detected when people call your number will immediately trigger a call to your backup numbers.
SIP Failover Forwarding
You can use the United World Telecom failover forwarding add-on feature to program SIP accounts too. Our network continuously monitors the availability and response of your SIP device. In case the primary SIP account does not answer incoming calls, then the calls will immediately forward to a backup SIP destination.
SIP with PSTN Failover
Lastly, you can use our failover forwarding feature to route calls to both your PSTN to SIP accounts. If the call does not go through to your PSTN, our system detects that issue and forwards the call to your SIP account in the pre-defined backup number.
Key Benefits of Failover Routing
So, how can your business benefit from our failover forwarding feature? Here are some key reasons why this feature is essential in business phone systems:
Offers increased connectivity
With incoming calls automatically forwarded and connected to backup destinations, you can ensure that calls are never missed or dropped if the dialed or primary number is busy.
Routes to multiple destinations
With this add-on feature, you enjoy the possibility to set up a failover routing sequence to multiple destinations, including both PSTN numbers and SIP accounts. This feature will prove useful during internal phone system maintenance.
Improves business productivity
By attending and catering to a maximum number of callers, you can significantly increase your business productivity and profitability.