More and more businesses are looking for efficient and cost-effective ways to cut down negative environmental impacts and make their businesses more green. One way your business can become more eco-friendly is by replacing your traditional phone system with a cloud phone system. Cloud communications can help you cut down on unnecessary costs, space, and material waste while improving business connectivity. But how can you achieve this?
Why Invest in an Environment-Friendly Business Communication System
As climate change awareness grows, individuals and businesses are looking for ways to reduce their carbon footprint and have a more positive impact on the planet.
Businesses are taking action to combat environmental issues in a variety of ways; from including sustainable packaging to following ethical practices to sourcing products produced in sustainable ways.
Another avenue for change is a business's communication or phone system. With advancements in technology and the development of smarter and cleaner products, you can easily upgrade your business phone system to one that is more environmentally conscious. Here's how:
Green Communications and Green IT Solutions
Green communications is the practice and process of creating a communication system with energy-efficient technologies and products. By doing this, your business can reduce and minimize resource use in different aspects of communication, and move towards making your business environment-friendly. Green communication practices include:
Updating old technology or legacy systems for newer, energy-efficient products.
Implementing virtualization where one physical server runs multiple programs and systems.
Choosing cloud communications solutions instead of traditional phone lines.
Substituting remote work and telecommuting for travel.
Investing in Green IT solutions.
Green IT refers to computer and IT systems, applications, and practices that have a positive environmental impact and enhance sustainability. The three facets of green IT include:
Greening of IT — focuses on efficiency design, manufacture, use, and disposal of computers, communication systems, and applications.
Greening by IT — focuses on using IT systems to reduce energy and resource consumption.
Using IT to increase green awareness — using technology to promote awareness of green practices and the importance of sustainability.
You can learn more about Green IT in this handy fact sheet about green IT created by the University of Michigan.
Environmental Impact of Cloud Communications
Can upgrading our business phone systems and business communication services actually help the environment? And, what is the environmental impact of switching to cloud communication solutions?
According to a report by Accenture, "Migrations to the public cloud can reduce CO2 emissions by 59 million tons per year which equates to taking 22 million cars off the road." This goes to show that moving to the cloud can help your business not only cut down on operational costs but also support your social responsibility efforts.
But why do we need to reduce our carbon emissions? To reduce pollution-related death, to make the air cleaner, and the planet healthier. Want to put into perspective how much CO2 is produced? Check out this illustrious guide to CO2 by the Bank of the West.
Reasons to Switch to Cloud Communications
There are many reasons to take your business communications to the cloud: cost savings, gaining a wider reach, access to advanced features and integrations, using a reliable network, and so on.
But if social responsibility and sustainability are core to your business, then the environmental impact of green communications will mean much more. Here are the benefits of switching to cloud communications:
Sidebar: Now this is going to get technical, but bear with us, we will break down these technical terms.
Clean energy transitions — shifting energy production away from ones that release high levels of greenhouse gases.
Material waste reduction — reducing the amount of material wastage to improve resource efficiency and reduce pollution.
Less use of hardware and equipment — gradual dependency on cloud computing and software.
Reduced dependency on paper — paperless alternatives.
Greater flexibility — ability to work and connect from any location; telecommuting.
Adoption of resource virtualization — enabling one physical server to run multiple independent programs or operating systems.
Development of robust data centers — improved data centers with combined heat and power systems.
Multi-function communication systems — eliminate the need for deskphones with computer telephony integration.
Storage efficiencies — storing data in a way that consumes the least amount of space without affecting performance and operational efficiency.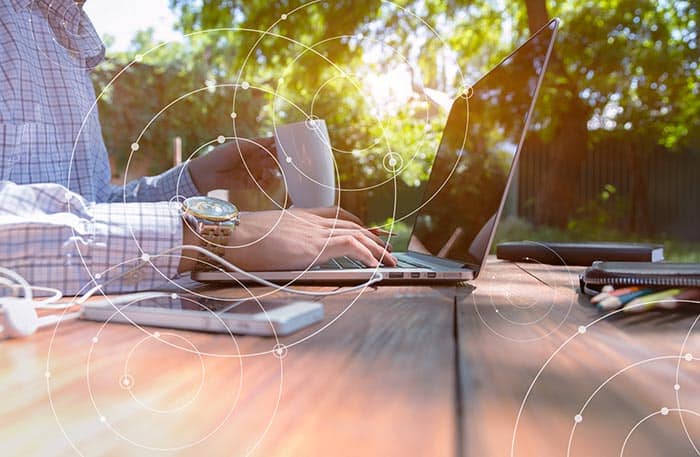 6 Ways to Go Green with Cloud Communications
How can a cloud-first approach boost business communication and benefit the planet? And how can your business take the necessary steps in the right direction? Here are some ways to make your business more environment-friendly:
1. Switch to a Cloud Phone System
First, if you are still using a traditional phone system, you may want to consider switching to a cloud phone system instead. A virtual or cloud phone system comes with VoIP capabilities and cloud phone numbers.
Such a system uses voice over IP or VoIP to transmit voice signals from one user to the next via an internet connection. Therefore, it does not need traditional phone lines or physical hardware to make and receive calls to function effectively.
Cloud phone numbers or virtual numbers use VoIP to connect users from one location to another. These numbers are not attached to any one physical location or address and can transmit calls virtually.
You can buy local phone numbers from countries around the world. And you can use them from any location. Additionally, you even gain access to various advanced call routing and call management features to create an efficient business communication system.
But the main benefit of switching to the cloud is to reduce environmental impact with lower hardware and equipment use, telecommuting, and virtualization. More on this below!
2. Reduce Use of Hardware and Equipment
A cloud phone system or VoIP phone system only needs a business SIP trunk provider and a stable internet connection. You can then convert any device into a business phone. You don't need heavy-duty computers or high-end deskphones. And no additional equipment or cables are needed.
This means you can run your cloud phone system through smart or energy-efficient devices instead of bulky setups over-consuming energy. And if you get multi-function devices, you can further cut down on the need for extra devices and machinery.
For example, when you purchase SIP trunks, you can get a softphone to make and receive calls. The softphone is a web dialer that lets you make business calls from any device like a laptop, smartphone, tablet, etc. You simply download a softphone to your device. Log in with your VoIP/SIP credentials and start making calls.
With this feature, you can convert your existing computer or laptop into a phone, instead of getting a deskphone. And you can use advanced call management and collaboration features such as call transfer, conferencing, outbound calling, managing caller IDs, updating contact info, and so on. This way, you have a multi-function and energy-saving device.
Related: How Much Does a SIP Trunk Cost in 2021?
3. Reduce Paper Usage
Unified communications include voice, video, email, messages, chat transcripts, contact/customer information, ticket tracking, voicemail, fax, and file-sharing. So, it's only natural that you end up with a lot of confidential and important documents and transcripts. And a lot of paper.
But by taking your business communication system to the cloud and using cloud communication and storage features, you can easily cut down on the use of paper. You can:
Share files and documents via your email, control panel, or CRM. Go paperless with an eFax or Fax-to-Email feature that forwards incoming faxes to your email address instead. Automate customer tickets to end up in your CRM. Integrate your phone system with the right CRM and file storage services such as Google Drive or Dropbox to keep all important documents in one place securely.
4. Encourage Telecommuting and Remote Working
Advancements in technology have made it easier than ever for people to communicate and collaborate over the internet. And a cloud phone system helps with just that. It lets you make business calls from any device and location as long as it is connected to the internet. Plus, when you integrate your phone system with other services such as your project management system or CRM, you then have a full-fledged digital workspace.
This means a lesser need for physical office space and running an in-house office. Cut down on commute times and travel costs by telecommuting and letting your employees work remotely. All without losing productivity or connectivity!
Related: 5 Benefits of Unified Communications for Remote Teams
5. Conduct Video Meetings
If the pandemic taught us anything it was the effectiveness of a good Zoom meeting. Zoom and other video conferencing and streaming apps became commonplace for meetings, webinars, tutorials, and even weddings!
We know that video meetings work. So, when possible, conduct video meetings instead of in-person meetings. This reduces time and money spent traveling only for such meetings. And with a VoIP provider that has a video conferencing integration, you can do this cost-effectively.
6. Scale Globally Without Physical Offices
Finally, when it is time to expand your business globally, you will be glad to have an easily scalable phone system. You can set up direct inward dialing from target countries to your existing phone system, and establish a virtual, local presence without opening a physical office immediately.
Scope new markets, test and conduct market research, and gradually grow your business. All without increasing your carbon footprint or burning a hole in your pocket.
Go Green with a Cloud Phone System
So, are you ready to take the next step? Making changes can be overwhelming but we can help you switch to a cloud phone system with minimal interruption and downtime. Call us today or chat with our experts to learn more! We are here to help you create a business phone system that works best for your business.