Remote work is more than just for subcontractors and freelancers. Business owners are maximizing their own productivity while they are away from the office, traveling, or doing business. The best way to manage this is to use call routing, one of the primary functions of virtual phone numbers with United World Telecom. In this article, will take a look at how on the go entrepreneurs can run their businesses remotely.
Understanding Virtual Phone Numbers and Remote Work
Virtual phone numbers enable subscribers to route calls anywhere in the world instantly. Furthermore, virtual phone numbers can work with any device with audio capabilities and an Internet connection.
Therefore, you can take your business wherever you may be and remain accessible by phone. Vice versa, you can conduct calls using your business phone numbers while you're away from the office. This enables you to keep a separation between your work life and personal life, as needed.
Using Multiple Contact Numbers
Having multiple contact numbers routed to your devices can enable you to maximize your networking efforts. This is a great method for entrepreneurs networking with new clients in person. This method of going remote is best illustrated with an example:
Suppose you regularly attend conventions as part of your consultant business in the United States. As you know, there are many different regions where businesses are conducted. To reach those people the same way that they would local businesses, you can offer phone numbers with a matching area code that they're familiar with.
With company headquarters in Chicago, for example, you can have a New York number and a California number for respective prospects.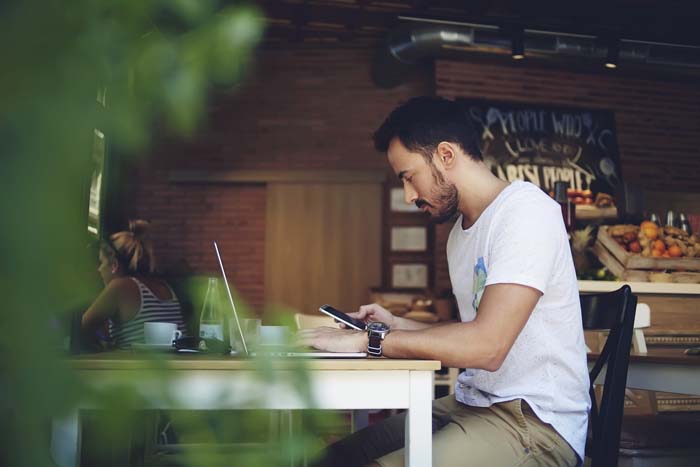 Using Failover Forwarding
One popular add-on for taking your business remote is using failover forwarding. In essence, failover forwarding enables inbound callers to reach an available line even if the first number they dial is busy.
Failover forwarding can reroute calls if you are currently busy with a client. In a way, it is like an automated secretary that transfers your call to the next available person of your choosing. This is a valuable asset for those that want their business to remain accessible.
Outbound Calling
Sometimes you need to make calls when you're away from the office using a personal phone.
Virtual phone numbers let you take business calls with a phone number normally reserved for business. When paired with an add-on feature called "outbound calling," these virtual phone numbers serve as a type of overlay. Instead of your personal phone number appearing on the recipient's caller ID, the virtual phone number of your choosing will appear in its place. This enables you to give your contacts a business number instead of a personal home phone number for privacy reasons.
Call Recording
Travel can get hectic, making running your business a more difficult endeavor while on the road. Call recording is an asset for those who are jet-lagged and don't remember every detail of a phone conversation. Call recording enables you to store and record phone calls made while using a telecom service. By enabling this feature, you provide a backup service to capture important information. Furthermore, you are able to forward these transcribed and/or recorded conversations directly to email addresses of available staff members. This can bring in new levels of efficiency as well as provide a back up as needed.
Get Call Routing from United World Telecom
Now that you know how your business can work remotely with a host of different tools, it's time to implement them. Call routing remains one of the most versatile and functional options you can use for communication. And, because it is low-cost and easily connected, it is the best option for businesses aiming for seamless, remote operations. Visit United World Telecom today to purchase call forwarding for your business!