In this guide, we share everything there is to know about international toll free numbers.
What is an International Toll Free Number?
An International Toll Free Number, or an ITFN, is a phone number that can be dialed free of charge and connects calls to representatives in other countries. Incoming calls to an ITFN are forwarded internationally to another phone or PBX anywhere in the world. It is one of the most cost-effective options for a business wanting to expand operations internationally.
An example of an international toll free number would be an 888 number in the United States or an 0800 number in the United Kingdom that gets answered by representatives in another country or other countries.
Another example: A US company that wants to strategically extend operations to Germany and South Korea can get German toll free numbers and South Korea toll free numbers. Individuals and businesses in these countries can call the US company's ITFNs for free from within their country. And your business can forward calls made to these numbers to the company's main office in the US through a call forwarding service.
All of this occurs quickly when calls are placed. Simultaneously, callers think your business is local instead of international because there is no way of knowing where you or your business may actually be located. An ITFN, therefore, makes your business more available and closer, thereby increasing credibility and encouraging more customer engagement.

Are ITFNs Free to Call Internationally?
Traditional toll free numbers are usually not free to call internationally. They are country-specific, meaning that callers from a specific country can only dial a number for free if the number is specific to their country.
For example, calls to an 888 number in the United States would only be free if the call is made from North America. Callers from other countries can call this number but they will incur international tariffs.
Some ITFN, on the other hand, cannot be dialed internationally at all. An example of this would be an 800 number in the UAE that is only accessible to callers in the United Arab Emirates. Although this seems like a potential challenge, an easy solution is to get an international toll free number supported by an ITFS.
ITFN Versus ITFS
ITFN is supported by International Toll Free Service. ITFS is a telephone service that enables callers from one country to make free phone calls to another country. It improves businesses' international reachability as they are able to provide toll free telephone access to contacts located outside the country.
It also helps businesses outsource various processes to third-party vendors that charge lower wages. According to Grandview Research, the BPO Market will reach $405 billion by 2027. In addition to significant cost-savings, many top organizations also consider outsourcing as a solution to meet back-office requirements related to skill-set and productivity.
What are the Types of International Toll Free Service?
There are three main types of ITFS. Each type of international toll free service provides end-to-end call origination and termination. Modern providers will usually implement a turnkey solution rendering the different types less relevant to users these days.
Basic ITFS
End User Dedicated ITFS
Switchless ITFS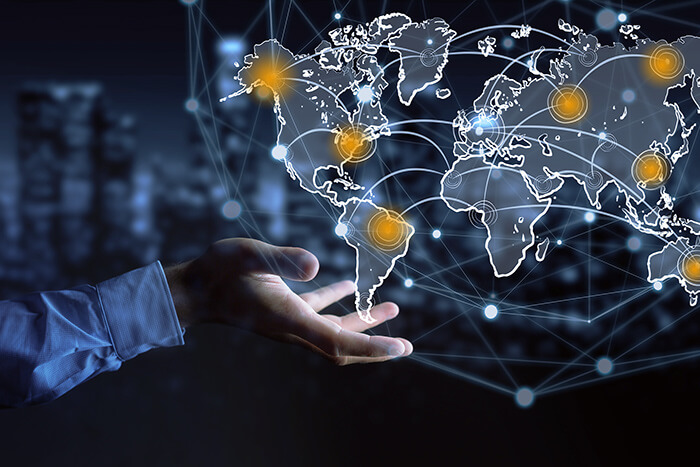 Types of International Toll Free Numbers
Many people have questions about the different types of international toll free numbers, so we describe them and explain the pricing and differences below.
International Toll Free Numbers (ITFN)
ITFNs are the ideal solution for businesses looking to use toll free numbers for international countries. Since these numbers use an international toll free service (ITFS) to enable global call forwarding, your business can be located anywhere in the world. A classic example would be an international 800 number in the US forwarding calls overseas. These have significant advantages, including cost, reachability, and flexibility, over other types of numbers. You can forward these numbers internationally, enabling businesses to establish a presence virtually anywhere in the world. The cost for international toll free numbers starts as low as $13 per month.
Universal International Freephone Numbers (UIFN)
The International Telecommunications Union issues Universal International Freephone Numbers, or "global" toll free numbers. Callers can dial UIFNs, free of charge, from up to 40 countries around the world. These numbers are not accessible from all mobile phones, however. Dial-out conventions can also vary across countries. The cost is significantly higher for this solution. Monthly pricing starts at $80 per month plus setup charges.
Domestic Toll Free Numbers (TFN)
Domestic toll free numbers, also known as DTFs, are classic 800 numbers that can only be dialed from inside the country where the phone number is located. These numbers are accessible and free to call for anyone within that country. For example, callers within the UK can call UK toll free numbers for free and with fewer restrictions. However, they are generally not accessible from other countries. Pricing for these start at $13 per month.
Deciding Which Toll Free Numbers Your Business Needs
Toll free numbers help businesses develop their professional image by using a reliable method for communication. You can increase credibility and your international reputation through the right business phone number. A toll free phone number established your business as a credible and professional one. Additionally, having a designated business number keeps your personal calls entirely separate from your business calls, so you gain added flexibility through this automation. So, what types of toll free numbers are right for your business?
Domestic vs International Toll Free Numbers (ITFNs)
Both domestic phone numbers and ITFNs perform the same function. Callers can call these numbers for free from within the country associated with the number. The main difference between the two number types is the number of restrictions involved. Domestic numbers come with fewer restrictions than international toll free numbers.
Domestic and international toll free numbers are both beneficial to any business. However, if you want to expand to multiple countries outside your country of origin, then you will want to get international toll free numbers for the respective areas you want to target. Irrespective of where you and your business are located, these numbers can help you build an international reputation by offering sales and customer support services worldwide.
ITFNs vs UIFNs
In the same vein, a common question asked by many businesses, is UIFN or ITFN? As you can see above, three different models can exist for your business, but we found that in general, international toll free numbers are the right choice. They offer key advantages including flexibility and cost-savings. We recommend getting multiple ITFNs rather than opting for another type of number. If you still have questions, feel free to reach out to us or try our service risk-free for 15 days!
Get Toll Free Numbers with Us!
If you are considering either a domestic toll free number or an international toll free number, we can help guide you in the right direction. United World Telecom can help you get the right numbers for your business with easy sign-up procedures and fast activation! Call us today to learn more about what we offer and how we can support your business.