Quick Look at Black & White Lists
Block unwanted calls by area code
Prevent wasted minutes
Save time for your business
Improve efficiency and productivity
What are Black & White Lists?
This free call forwarding feature allows you to create lists by area code. The two lists are black (blocked phone numbers) and white (accepted phone numbers). Anyone calling from an area code on the black list will be unable to reach your local or toll free phone number. Anyone calling from the permitted area codes on the white list will be able to place the call and reach you. Furthermore, you can accept or block specific phone numbers. For example, black list bothersome telemarketers or white list only friends & family members.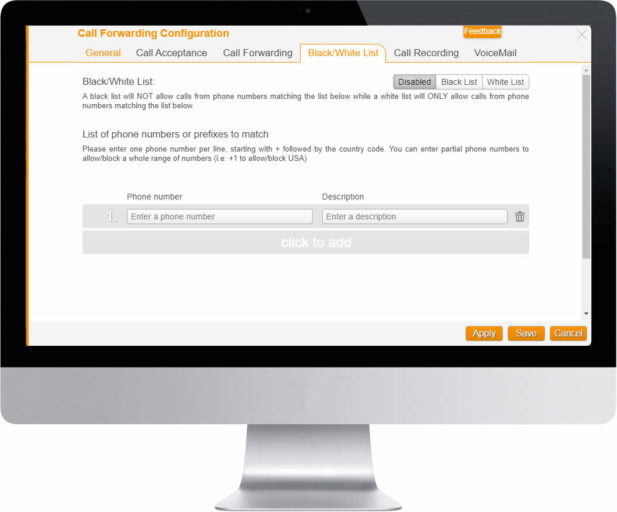 Benefits of Black & White Lists
Through the Global Call Forwarding control panel and telecom system, you can strategically select which area codes are able to connect to your local or toll free numbers. The most significant advantage to this feature is the time and money that it saves you.
For example: You own a US business, but you are unable to extend your services to locations outside the 'continental' US. Taking calls from Hawaii, Alaska, Puerto Rico, etc. would be a waste of time for your sales personnel as they would need to explain that they unfortunately cannot be of service to them. These phone calls will also consume your monthly call forwarding minutes. Simply blocking the call before it reaches you takes care of the problem at the base.
Another example: Individual customers often use call forwarding and a local number to stay in touch with friends and family in a foreign country. A common strategy to keep minute consumption down and in turn reduce costs is to simply white list only your friends and family's phone numbers. This essentially blocks any unwanted telemarketing or sales calls.
There are a range of options regarding how you take calls and where they are redirected to. For example, you can chose to divert all black listed calls straight to voicemail to prevent an overload of incoming calls to your receptionist. Overall black & white lists have a number of benefits that greatly increase the efficiency and productivity of your business, all while simultaneously reducing costs.