As a business owner, it is your job to do everything you can to support your business. Whether it is through finding better funding or new investors, the business takes priority. However, oftentimes, in planning a business, not much attention is paid to the business phone number. It's just a phone number, right? How much can it really affect how customers view or interact with your business? Well, more than you can think. Phone numbers, specifically toll free numbers, can improve your brand's visibility and accessibility to customers across the world. Let's examine all the ways how; read on to learn more.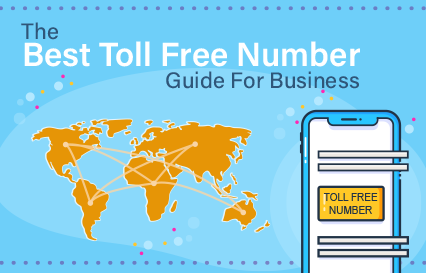 Quick Navigation
In this guide, you can explore current toll free number practices and tools that make running a business more efficient and productive. Continue reading or choose the section that's most relevant to you.
What is a Toll Free Number? And How Do They Work?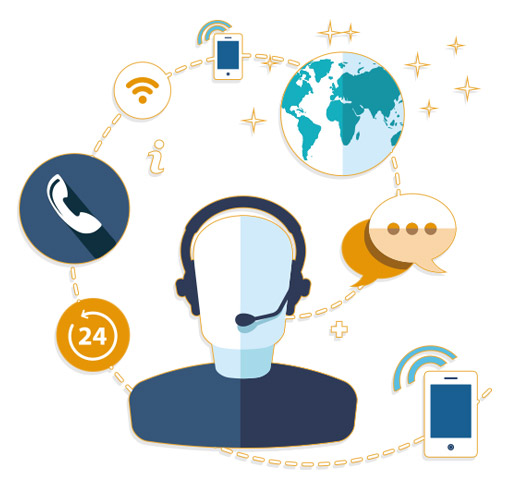 Many major corporations, as well as businesses focusing on certain niches, will have a toll free number. This is because toll free numbers are free/ inexpensive for customers to call. Toll free numbers are phone numbers with a distinct three-digit code at the beginning. United States toll free numbers are formatted as 1-8XX-234-5678, where the 8XX prefix can be 800, 888, 866, 855, 844, or 833. Calls made to toll free numbers charge the receiver instead of the caller. Additionally, callers can call from smartphones, landlines, payphones, and fax transmissions.
United World Telecom offers a variety of virtual numbers such as toll free numbers and local and international numbers. A virtual phone number routes calls over the internet, making them cloud-based and digitally-accessible. You can connect this number to any line that you want; for example, any specific office line.

Because of their affordability and convenience, these numbers are in demand for major corporations, customer service departments, and call centers. Any company that wants or needs to boost its incoming call rate should consider having a toll free number. No matter what business or industry you are in, toll free numbers are a great way to encourage customers to reach and do business with you.
History of Toll Free Numbers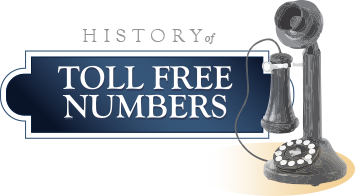 Contrary to common belief, toll free numbers have been around for years. In fact, 1-800 numbers were introduced in 1967. Before automated toll free services, phone companies had operator-assisted toll free services in the 1950s and 60s. With such a system, callers would ring the operator number for their country and ask for a particular free number. The operator would then find the number from a list and place the call with reversed charges. This way, the receiver would be charged instead of the caller. However, in 1967, the Bell System introduced inWATS while British Telecom developed Linkline in 1985. Both of these systems allowed for automated toll free calling without the need for an operator.

During this time, 1-800 numbers were very expensive due to the monopoly of the Bell Telephone Company. However, over the years, more and more telephone and telecom companies have been developing toll free numbers at cheaper and more reasonable rates. United World Telecom offers a variety of plans for businesses of different sizes based on the amount of calling minutes required. You can get a plan as low as $12.95 a month for 200 monthly minutes. Additionally, you can add Rollover Minutes to accumulate unused minutes for future use.
Types of Toll Free Numbers: What are Vanity Numbers?
As noted above, you can get a toll free number with the following three-digit codes: 800, 888, 866, 855, 844, or 833. And so your number can be 1-800-839-4566 or 844-248-2758. However, there's more to toll free numbers than that. There's room for creativity with vanity numbers.
Vanity numbers work the same way as regular toll free numbers. The best part, however, is that they include a phrase, letters, or patterns that make them stand out against other numbers. For example, 866-882-8822 or 855-LUNCHBX. These numbers are easy to remember and attract more attention, which is why large businesses use them so often. You will see these numbers on billboards, advertisements, and more. They have a positive effect on increasing brand familiarity and awareness. United World Telecom offers vanity numbers for companies looking to advertise and promote their business creatively by drawing customer attention.

Toll Free Numbers as Virtual Numbers: An Effective Business Communication Solution
Besides affordability and convenience, toll free numbers are often preferred because they support virtual communications. With a virtual toll free phone number, you have the ability to expand your business' reach beyond your physical location. You can build customer relations through credibility and professionalism. And you can also upgrade your marketing efforts. Let's explore the different ways companies can make the most of their toll free number.
Virtual Numbers: The Many Business-Friendly Features
Virtual numbers route calls over the internet. This means that you can make and receive calls over the internet instead of using traditional phone lines. And so, you don't have to pay high phone bills when making calls. All you pay for is the subscription fees to your service provider. Additionally, you can have multiple lines on one number or forward calls from one number to another, which provides flexibility. These cannot be easily done with a traditional line.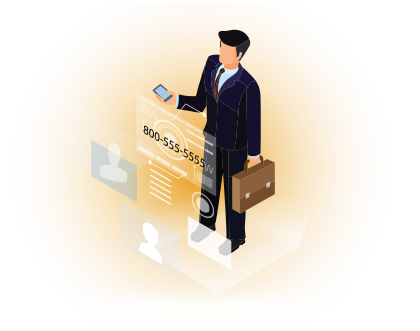 But the best part about virtual numbers is the range of features that come along. These features provide an array of ways to keep in touch with your clients and ensure that important calls are answered. You can customize the experience to reflect and create a professional image of your business. For example, United World Telecom offers these basic features with all their plans:
Advanced Interactive Voice Response (IVR): This is an automated greeting system that receives incoming calls and directs callers to the right department through a menu.
Black and White Lists: This gives you the ability to blacklist blocked calls and white list accepted phone numbers.
Call Transfer: Manually transfer calls with a pre-programmed digit sequence arranged by the account owner.
Customized Greeting: Create customized greetings for incoming calls to let them know about your business, operating hours, etc.
Dedicated Account Manager: To ensure there are no complications or issues with the service.
Failover Forwarding: This automated system connects incoming calls to numbers in line if the first line is busy.
Fax to Email: Receive and forward faxes to your email.
Local Ringback Tones: This is the sound heard by callers when the destination (local) phone is ringing.
Simultaneous Calling: This enables incoming calls to ring simultaneously on multiple phones to ensure no call is missed.
Time of Day Routing: This directs calls to an assigned number during certain hours of the day.
Voicemail to Email: Answers calls if your phone is busy and sends voicemail as a .mp3 file to your email.
24/7 Customer Support: Available via phone, email, chat, and trouble tickets.
Additionally, you can also add these features to enhance the way calls are handled:
Outbound Calling and Outbound Call Recording: To make outgoing calls and display caller ID of numbers bought from us.
SMS Forwarding: Forwards incoming SMS texts from a virtual number to a listed email address.
Call Recording: Record calls for performance analysis and market research.
Free Unlimited Extensions: For different office departments.
Rollover Minutes: Utilize unused minutes at a later time.
CallMe Click: This is a website feature to boost multi-channel communication.
International and Long Distance Calling

These resourceful features aside, virtual numbers also make it easier to make long-distance and international calls. With a virtual toll free number, you don't have to worry about high long-distance calling charges or dropped calls due to bad connectivity. And this is all because calls are made through the internet and at subscription rates. Such numbers are a good option for owners that are constantly traveling for business. You can always be accessible to your customers as well as teammates with a virtual connection. And this is because you can use your number on any device and forward calls to any number with international call forwarding.
Build Credibility: For Large Corporations and Small Businesses
For any business, it is necessary to build credibility to get customers to trust you and your service. One way to do so is to invest in a toll free number that can handle a high call volume effectively. This is because with a virtual number you can track, forward, and redirect calls. So, no call is missed as it is always directed to an alternate number or office. And if a call does go unanswered, you can get a copy of the voicemail. You also have the ability to utilize IVR to educate your callers about the business and help them arrive at the right department without using an employee to manually do so. Virtual numbers help with organizing and managing your incoming calls. And this is why large businesses with high call volumes prefer toll free numbers.

Additionally, small businesses, solopreneurs, and freelancers can take advantage of what virtual numbers have to offer. Quickly develop a professional image with a toll free number that greets your customers, forwards calls so that you can always answer them, and more. The best part: you can target clients in neighboring cities, states, and countries as well.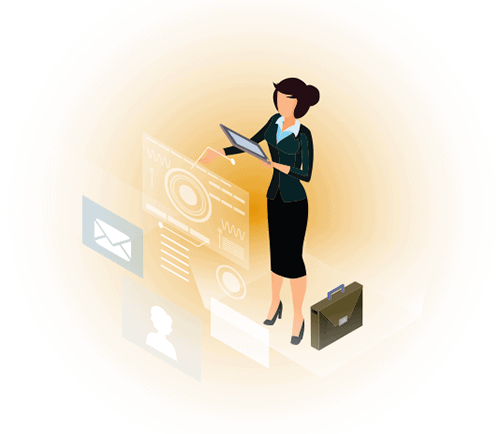 Build Customer Loyalty
Customers appreciate it when they do not have to work hard to get in touch with you. And so, you will gradually build customer loyalty. And loyal customers make for a great way to get new clients. Your customers can be your biggest fan base, promoting and recommending your service. Therefore, it is necessary to keep them satisfied. And virtual toll free numbers can help you attain that.
A New Way to Market Your Brand
With a toll free number, especially a vanity number, you can further enhance the image of your brand. All toll free numbers can be used for marketing campaigns. Advertise them on your website, visiting cards, flyers, promotional emails, social media, and more. This way, customers will start recognizing your brand and you will be on their minds. Use your virtual toll free number alongside email marketing, social media marketing, and ad marketing efforts.
You can also utilize United World Telecom's CallMe Click feature. CallMe Click is a button that is placed on your website. When visitors select the button on your website, they will be prompted to fill in their contact number. Upon doing so, they will instantly receive a call from your business. This is another way in which your business will make it easier for customers to contact you. With this feature, you can increase sales from website visitors across the world and decrease wait times. And believe us, customers will highly appreciate such convenience.
Additionally, you can use virtual numbers to track exactly where your calls and customers are coming from. That is, you can promote specific numbers for specific campaigns. For example, use one number for social media and another for billboards. Some businesses also invest in pay-per-click (PPC) campaigns where sponsored ads with the company's phone number are available in search results for specific keywords. Here, too, a different number can be used. In addition to these, you can also use the CallMe Click feature. Then, you can track which channel is getting more attention and visibility as you receive calls from both channels. Then, you can streamline your focus towards marketing efforts on channels that are working effectively.
Call Tracking with Virtual Numbers
By tracking where your calls are coming from, you can analyze marketing metrics quickly and effectively. This can give you insights into where your efforts are successful and where you may be wasting your time. Additionally, you can also study customer preferences: where are they searching for your service? What mode of contact do they prefer? And so on. This is beneficial information in customizing your service for your target audience and it will enable you to ace customer service offerings.
---
Get a Toll Free Number for Your Business Today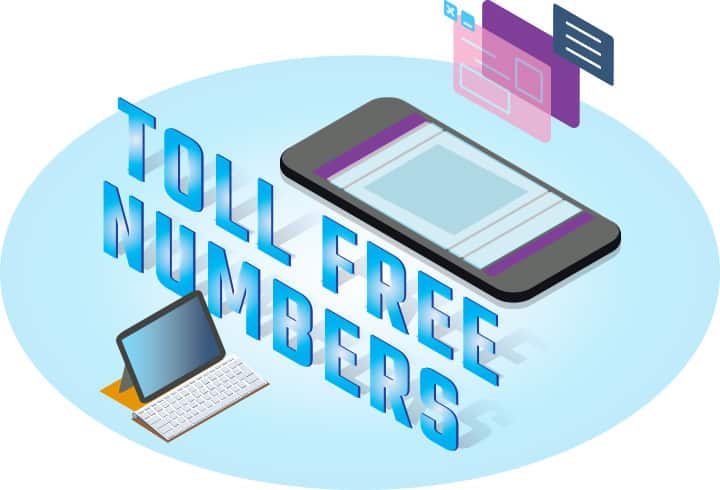 Getting a toll free number for your business is easy, with almost no set-up processes required. Here are the most important steps to follow:
Step 1: Research Providers
Research various providers available for your needs. We recommend United World Telecom for affordability and overall call quality.
Step 2: Review Options and Features
Next, review what features and plans your provider has to offer. With United World Telecom, all information is provided upfront, with no fees added at the last minute.
Step 3: Enter the Necessary Information and Purchase Your Number
The sign-up process for purchasing a toll free number from United World Telecom is relatively easy:
First, select your Country in the dropdown box on the left.
Then, select the Number Type and Prefix; for example, United States and 844.
Next, choose a number from the next dropdown box.
Then, on the right, enter the country and destination number for where you would like to forward your incoming calls.
Review and choose your plan.
Add any additional services.
Finally, enter your contact information and check out.
Toll free numbers have been in circulation for years and even with growing advancements in technology, they are here to stay. And they have been successful in helping businesses grow their customer base and increase their visibility. United World Telecom understands how important customer relations are, so we try to provide you with a service that is perfect for your needs. Get a virtual toll free number with us today or call us at 1-888-908-6171 to learn more about how we can help your specific business needs.