2019 is finally here. With each new year comes resolutions, letting go of the past, focusing on the future, and starting anew. This year, we can put 2018 behind us and get psyched for all the cool stuff we have to look forward to in this new year. Check out this list of the coolest movies and tv shows, technology breakthroughs, natural phenomenons, sporting events, and of course, another royal baby that will all be happening in 2019!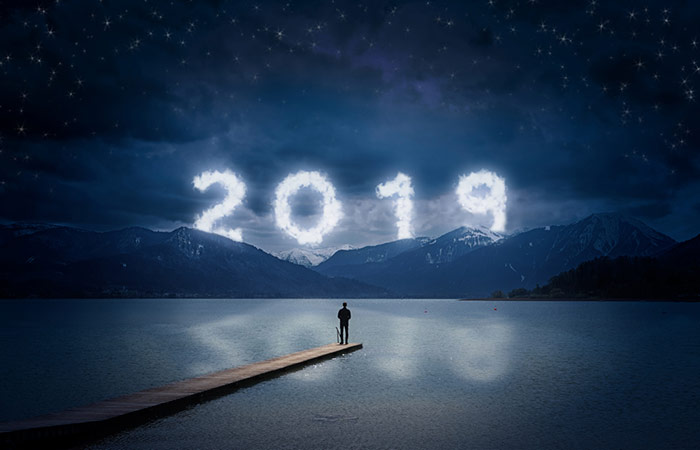 1. Total Solar Eclipse
Remember back in 2017 when the moon came between the Earth and the sun? Well, even though it happened two years ago, it is a super rare natural phenomenon. This year it will be visible in parts of South America for about two and a half minutes in early July. If you can't make it out to South America, there will be four other smaller eclipses coming this year, too.
2. We're Going to The Sun
Well, NASA will be going, anyway. This year, NASA will be sending out a $1.5 billion solar probe to make another trek to the sun. Two are planned to set out in April and September of 2019 following the trail of the Parker Solar Probe 2 which got within 15 million miles of the surface of the sun. The next two are believed to get even closer this year, which means scientists will be gaining a lot more knowledge concerning the center of our universe.
3. 5G Laptops
Dell, Acer, HP, and more have teamed up with Sprint to bring us laptops that don't require a WiFi connection to get online. Not only that, but these new devices don't have a limit for storage capacity. More networks such as T-mobile and Verizon will be unveiling their laptops in 2020, but for now, Sprint users will be the first to get their hands on these new computers.
4. Game of Thrones Finale
It's finally here! And while it may be bittersweet, in April of this year we finally get to find out who will ascend to the throne. We can put to rest all of the fan theories we've been reading all over the internet and find out the truth. But don't be too sad that it's coming to an end, because HBO has a few ideas for a new series that will take place in the Game of Thrones universe. It won't have any of the old storylines and most likely will include a completely new cast, but it will explain a series of stories and events that took place in Westeros before the first season.
5. Women's World Cup
The 2018 Men's World Cup is over, and now it's time to make way for the ladies in the FIFA Women's World Cup. These matchups will begin in June and end by July of 2019 all around France, which is the homeland of the winning team in the Men's 2018 World Cup. The USWNT will be returning as the reigning champions from the last World Cup in 2015. However, not only is the soccer World Cup happening this year, the Rugby World Cup and the Cricket World Cup will also be taking place in 2019.
6. $100 Million Fortnite Competition
Fortnite dances took the world by storm in 2018, but it will all culminate in a massive competition. Anyone with a console can participate and qualifying rounds have already begun! Get your Floss, Robot, and Hootenanny on!
7. A New Royal Baby
2018 may have featured the royal wedding between Prince Harry and Duchess Meghan Markle, but 2019 is the year their royal heir will be born. Although we're not sure of the exact due date at this time, we can expect the baby to be born in the springtime!
8. Netflix is Getting Some Competition
Disney recently announced that they will be launching a streaming service of their own in 2019. It will be called Disney+ and it is going to cost less than a Netflix subscription. It has already announced some of the original series' it will be producing and if you're a fan of Star Wars or Marvel, you might want to check out this new streaming service.
So, what are you looking forward to in the New Year? Let us know!