What are the goals of your company and how do you achieve these goals? More importantly, what can your business do for your customers? A marketing team works hard to build your business' professional image and does everything it can to showcase its strengths. This can be a lot of work: planning and organizing the workload, following up with others, tracking progress. And that's where Teamwork Projects comes in. Teamwork Projects promises efficiency and productivity and encourages collaboration within a team. This software can help you organize your goals, review your team's progress, and become more time-efficient overall.
Using Teamwork Projects in the Marketing Department
Marketing and design teams thrive on proper management and efficient workflow. The marketing process involves many complicated tasks conducted by different team members simultaneously. These involve content production, website development, email marketing, strategy building and more. Teamwork Projects helps the marketing process by providing a variety of features and tools that enable visual management and time-efficiency.
Efficiently Maintain Processes
In order to complete tasks smoothly and within a given time, the processes utilized are a key component. A marketing and design team generally consists of marketing managers and specialists, graphic designers, content writers, and editors. All members are integral to the process and they work together to produce quality work in a reasonable amount of time.
To be able to do this, they need to be in constant communication with each other. Teamwork Projects has different features that allow members of the team to keep tabs on each other's work. By creating tasks and subtasks, Teamwork Projects lets the team develop a hierarchy of processes assigned to different members. Subtasks are steps or duties that contribute to the completion of the main task. When a team member completes a subtask, it moves to the next member in the hierarchy. Once all subtasks are completed, the main task is accomplished.
For example, to produce a high-quality cornerstone article, the marketing specialist/ content director will first generate an SEO-focused topic. The content writer then writes the content for the article. Then, the editor reviews the piece prior to publishing. Once reviewed, final preparations can be made to an article before it's finally published. Teamwork Projects alerts each member of the team about the tasks assigned to them whenever changes or updates are made. Users can also view task history to track progress and reference old tasks.
Automate With Project & Task Templates
Every team has a specific process they are comfortable working with and generally follow the same process across different tasks. Instead of creating a new task list or hierarchy each time, Teamwork Projects lets you create project and task templates. Creating and saving these templates can help you save time when creating new similar tasks.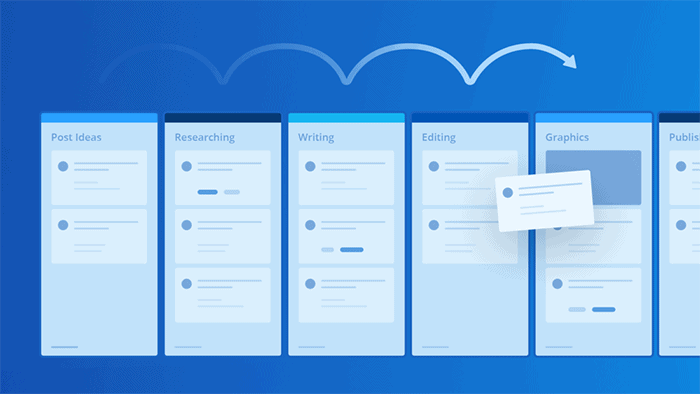 Visualize Your Progress
Teamwork Projects' Board View feature enables visual work management, with cards representing each task. Users can follow the progress of the card as it moves through different stages. This way, members visualize the progress of their tasks and see where their work stands. The Board View allows users to set up customized columns that represent each step in the process of a task. For example, "Content Generation," "To Be Designed," "To Be Reviewed," "Ready to Publish."
Reduce Time Consumption
The most essential element of any company or organization is its team, where each member holds accountability and responsibility. One of the ways to foster accountability is by tracking and logging time spent on each task. Teamwork Projects allows users to log their time for each task and also work on a timer. These features help team members track how much time tasks require. They can then consider different ways to cut down on time and produce work more efficiently.
Another way Teamwork Projects helps reduce time-consumption is by storing all files and notes in the same place. A task list can contain everything essential to a project. New users can be swiftly brought up to speed with the next steps to take towards completion. This ensures a more seamless workflow and less backtracking.
Teamwork: A Very Important Resource
United World Telecom uses Teamwork Projects to produce quality work quickly and efficiently. Teamwork Projects has completely transformed our internal processes and made communication between team members more fluid. Our to-do lists have become more manageable with accountability across all parties. Overall, Teamwork Projects is a phenomenal resource for us and just about every aspect of our content production is managed there.
Working together in sync is important for marketing projects, and with Teamwork, everyone can be on the same page. Collaborate with your colleagues. Organize your tasks. Track your progress. And produce great results!