Are you looking for a phone system that offers affordability, flexibility, modern capabilities, and so on. Or perhaps you're planning on modernizing your current communication setup.
Either way, the solution is simple – hosted VoIP.
In this article, we'll define hosted VoIP, how it works, its benefits, key business features, and use cases.
Understanding Hosted VoIP and How it Works
Before delving into hosted VoIP, you must first understand VoIP on its own. Voice over internet protocol (VoIP) digitally transmits voice calls over an IP network. This allows you to make and receive business calls through the internet.
To accomplish this, it uses packet switching technology, which converts your voice data into digital packets. These packets are then sent to the receiver via the internet. And once they arrive at the destination, the packets reassemble into voice. This process occurs in a matter of seconds and allows callers to communicate seamlessly.
Now, this brings us to hosted VoIP. There are two general ways to deploy VoIP: hosted or on-premise.
With
hosted VoIP
, a third-party provider "hosts" and manages the
infrastructure
on their premises. They then supply cloud communication services to your business through a network connection.
This deployment model allows you to access hosted VoIP services from any IP-enabled device or location. Additionally, this setup is far more affordable than on-premise solutions. This is because you don't have to worry about routine maintenance, monitoring, and upgrades.
With an on-premise model, your business owns and manages all VoIP infrastructure. In other words, the equipment typically resides on-site. While this option offers full control, it is expensive to set up and maintain as it requires plenty of free space, energy, monitoring, and upkeep.
How Can Your Business Benefit from VoIP?
Many companies choose VoIP as their business phone solution because of its many advantages and capabilities. Here's how your business can benefit from hosted VoIP services:
• Substantial cost-savings – Save on additional equipment and routine maintenance while avoiding costly international and long-distance calling fees.
• Increased flexibility and mobility – Accessible from any location or device, providing more mobility than traditional deskphones.
• Highly scalable – Upgrade or downgrade your service when needed without changing your entire system.
• Enhanced call quality – Experience clearer sound and better call quality, since VoIP calls travel faster than over traditional phone lines.
• Easy configuration – Integrate it within your existing system, as no additional equipment is required.
• Improved functionality – Enhance your business phone system's functionality with features only accessible through the cloud.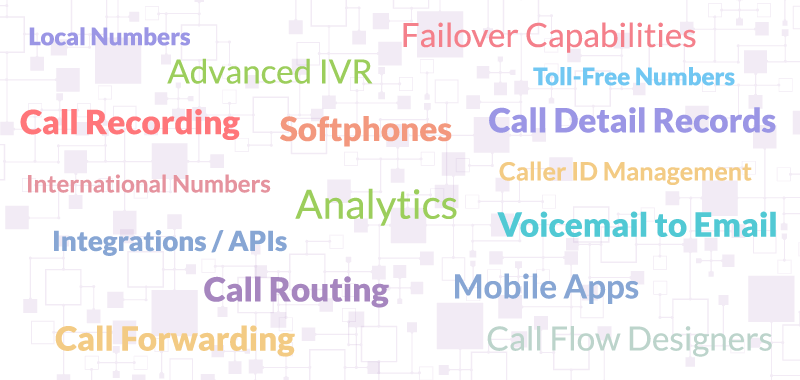 Hosted VoIP Key Features
As mentioned above, many VoIP providers offer users a number of advanced cloud features with their services. This way, you can effectively manage and improve your business' communication. Let's take a look at the top hosted VoIP features:
Phone numbers (local, international toll-free, etc.)
Call recording
Caller ID management
Advanced IVR
Call flow designers
Call routing and forwarding
Failover capabilities
Softphones or mobile apps
Voicemail to email
Call detail records and analytics
Integrations / APIs
4 VoIP Use Cases
With a clear picture of hosted VoIP and its capabilities, let's discuss how companies can use this technology to grow their business.
1. Expand Globally
IP telephony is not tied to a specific location. So, you can use it to expand globally, enter new markets, and access a broader customer base. The best part? You can do this without opening a physical location or increasing overhead costs. Simply set up cloud phone numbers in your desired countries or markets. Then, forward incoming calls to your business headquarters.
2. Improve Network Reliability
With access to hosted VoIP's failover strategies, you can build your network's redundancy by minimizing downtime and preparing for potential outages. So if your system experiences an interruption, calls are automatically rerouted to an alternate, predetermined location.
3. Offer 24/7 Global Support
Cloud communication services are typically fully customizable to your business' unique needs. This includes predetermining routing rules and features like time-based or location-based routing. You can use them to offer customers 24/7 global support, increasing customer satisfaction and accessibility.
4. Connect Distributed Teams
You can manage hosted VoIP services in one centralized location and from any location or device. This means teams can communicate via smartphones, computers, tablets, and desk phones. These capabilities make it the perfect solution for connecting local and distributed teams.

Get Started with Hosted VoIP
As you can see, hosted VoIP helps keep costs down, improve business communications, enhance call quality, and much more. All you need to get started:
a stable internet connection with adequate bandwidth,
an IP-enabled device or media gateways,
and a reliable provider.
United World Telecom provides enterprise-grade VoIP phone services for businesses around the world. After 26 years of telecom experience, we've established long-term relationships with reliable Tier-1 carriers across the globe. This enables us to deliver users with high-quality voice services.
Reach out to learn more about our reliable service and if we are the right VoIP provider for you. Speak with our dedicated telecom experts at +1 (561) 276-7156 or chat with us online today!