Quick Look at the IVR Extensions Feature:
Handle high call volumes
Improve customer service
Lower call center costs
Prioritize customers so urgent calls are handled quickly
Cater to customers even after business hours
What is IVR?
An Advanced Interactive Voice Response is a feature that allows a computer greeting system to receive incoming calls and direct them to the appropriate department or extension. The caller can interact and navigate the menu through the telephone keypad.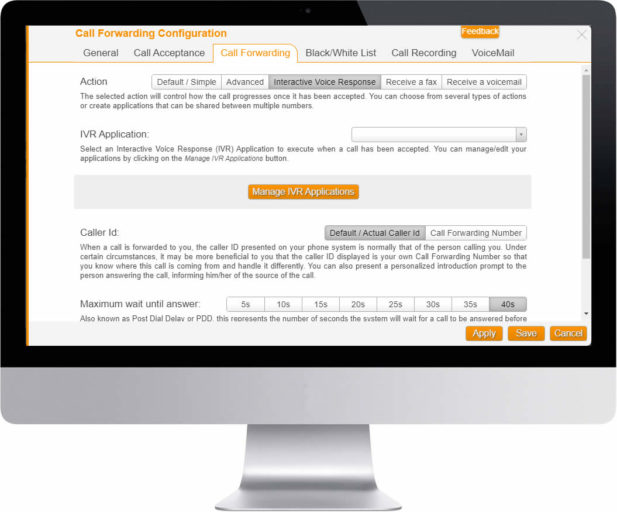 Understanding the Advanced Extensions
The IVR extension system allows customers to call your telephone number and instantly navigate a menu of options to direct the call to their desired contact. For example, a customer needing to reach a technical help specialist would call your phone number and be greeted by the computer's voice:
'Thank you for calling Max Marketing, please dial "1" to be connected to a sales representative, dial "2" to be connected to a technical help specialist'
The customer would then dial 2 and the call would be forwarded to your respective tech help extension.
By interacting with the IVR extensions, the feature takes the place of a full time receptionist. Setting up your extensions requires the pre-recorded custom greeting in audio files or dynamically generated Text to Speech (TTS) audio. Each menu prompt will provide a list of options for the caller to choose from. The caller simply responds by pressing a digit or a combination of digits.
With extensions callers have a range of options and can be efficiently directed to any department or desk you program into the system, all without the need of a receptionist.
Dial an extension number of a specific employee
Call routing (press "1" to speak to a customer service representative)
Accessing information such as account balance or status
Extensions can be enabled and disabled at any time. Meaning, while your staff or receptionist is in the office you can bypass the greeting system and forward the call straight to their phone. Furthermore, after hours when the office is closed you may forward the call to the IVR to allow the customer to find the information they need or reach the right extension to leave a message for.
An IVR allows you to control the flow of calls and effectively manage high call volumes. When your business is going through a period of high demand for example and incoming calls are overwhelming your call center, an IVR organizes each call and initiates a que for each call to be answered as receptionists become available.
In addition to this, the feature also allows you to set up a private phone system that connects incoming calls to both internal and external phone extensions.
The advanced IVR feature can be used by businesses across industries regardless of size. Even a small business with limited resources and budget can benefit from an IVR system as they will not have to hire a costly receptionist.
Benefits of Call Forwarding Advanced IVR Feature
The advanced IVR feature offers a plethora of benefits such as:
Reduce Cost of Doing Business
An Interactive Voice Response System eliminates the need to hire a full time call receptionist. This "e-receptionist" takes the place by forwarding calls to their appropriate extension. This system can also efficiently handle high call volumes, in turn helping businesses reduce costs and deliver excellent customer experience simultaneously.
Excellent Outreach
The IVR enables users to create a private phone system that connects incoming calls to external phone extensions. With this feature you will be able to answer calls on the go wherever you are. An IVR truly re-defines business outreach.
A Business That Never Sleeps
The IVR is an automated system that allows callers to reach your business at any time. For example, customers who need to check an account balance or status can do so using the IVR by following the prompts and entering their account information on the keypad.
Save Time with an IVR
An IVR saves you and your business a great deal of time. The system allows callers to quickly find the right representative they need to speak to. Customer's frequently asked questions can be answered without even needing to speak to an employee. The advanced IVR can be programmed to provide information such as office hours, phone directory, common tech support questions and directions.
Connections Made Easy
Within a few prompts through the IVR, callers can quickly connect to any extensions you input into your phone system. This not only saves time for your employees, but the time of the caller too. For example, if the caller knows the extension of the employee they need to reach, they can simply dial that extension and be immediately connected. Additionally, if the caller would like to be connected to a specific department such as sales, they can press the number that connects him to that department.