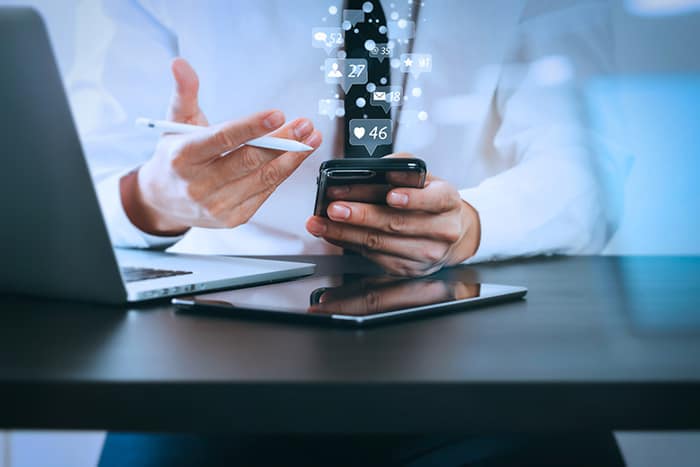 Whether running a small business on a tight budget or a large business with a fairly expansive budget, it can be challenging to prove to customers that you can meet their needs. Choosing and operating with an efficient and convenient business phone service can play a critical role in this. Voice over IP for your business phone service systems may be the right solution to handle your needs.
VoIP for Your Business
Voice over IP (also referred to as VoIP) systems are among the most effective and inexpensive ways to build and hold a professional image as a business. VoIP business phone service systems typically include a virtual receptionist, a call recording feature, call log option, video and conferencing features, call forwarding, and other extremely useful features. A business phone service system is considered VoIP when a provider converts the phone's audio signals into digital data which is then transferred through the internet and routed directly to your mobile or landline phone device of choice.
For small businesses, VoIP helps to give the impression that the company is larger than it is, while also allowing business owners the flexibility in being able to receive calls from a desktop computer, laptop, tablet, or a mobile device. Conveying this "larger business" image can help to attract new customers, while asserting the fact that you are firmly established.
VoIP Business Features
Features of VoIP business service vary from provider to provider. United World Telecom offers both local and toll free numbers in over 150 countries, as well as an extensive list of features including call recording, time of day routing, sequential forwarding, SMS forwarding, customized phone greetings, local ringback tones, simultaneous ringing, rollover minutes, and voicemail to email.
With regard to savings, whether it is a small business or a large business, budgets, bottom lines and dollars saved really do add up. Business phone service research indicates that businesses can save an estimated 50 to 75 percent on their phone charges when switching to a VoIP business phone service. These dollars saved can then be put into other areas of the business to help the business grow and profit.
VoIP also allows businesses to create and market custom phone numbers for different areas and create a local presence in cities where the business is not physically located. For example, if your company is located in Dallas and you wish to enter a new market in New York City, you can purchase a virtual phone number in New York City and market this phone number on your website to the New York City area. The simple effort in offering a local number for potential clients in this new market gives the appearance that the business is established and committed to the New York City area, and it can help to attract customers in that area.
VoIP business phone service is also being integrated into productivity applications and social media platforms, such as LinkedIn and Twitter. This enables smaller companies with smaller budgets to use features that are generally associated with larger businesses, such as click-to-call functionality from emails.
Another benefit of VoIP business service is that if phone lines are down for any reason, VoIP allows for a business to route calls to a new destination, so that calls are not missed. In an extremely competitive business environment, you could lose out on opportunities if you are not available for a period of time. This offers customers a business phone service system that is more stable and reliable. VoIP business phone service resolves this potential issue.
United World Telecom has been dedicated to offering global business phone service solutions to businesses of all sizes across the globe. Contact our team of global communication services professionals today to discuss the size and scope of your specific business, as well as your overall goals related to the type of customer service you wish to offer for your customers and growth goals. Our team is fully equipped to help you select the best phone service for your business to match your needs and attain your goals.