What is a Local Ringback Tone?
A local ringtone, also known as a local ringback tone, is the sound heard by callers while the destination phone is ringing. The tone is usually provided by the telephone exchange which serves the destination number.
For example, a caller who is making a call using a toll free number which is forwarding calls to the United States will usually hear the North American standard ringback tone. However, if you use local ringback tones, then the caller will hear the tone which is standard to their country. With Global Call Forwarding, you can use local ringback tones from more than 40 countries throughout the world.
There is no standard, global ringtone. Each country has its own characteristic ringtone. The one you're used to hearing in the U.S. is a repeating 2-second tone with a 4-second pause in between. Because each country has their own local ringtone, it can be confusing to callers if they are not expecting a different one.
Using local ringback tones can give your business a more professional appearance and more global appeal. Your customers and colleagues will assume that your company has a local presence in their country when they hear a familiar ringback tone. Local ringtones also make callers feel comfortable because they are used to hearing them. Callers will immediately assume that they will be able to communicate with your company's representatives. Local ringtones is an advanced feature offered by service providers who want to help their clients look professional and to appear inviting to overseas customers.
To avoid any confusion on the part of your callers, if your international calls are being forwarded to other countries, you should choose the ringtone of the country where the calls are placed. When you choose Global Call Forwarding as your service provider, you can easily personalize your ringback tone via your online control panel.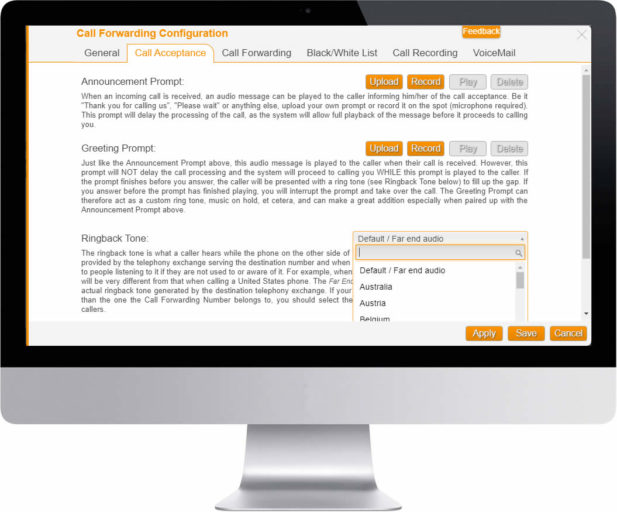 How do I customize my Local Ringbacktone?
To customize the ringtone on your Local or Toll Free Call Forwarding phone number, log in to your online control pane at www.uwtcallback.com, then click "change" next to the call forwarding service line with the ringtone you would like to modify.
Why Choose Global Call Forwarding?
There are many good reasons why you should choose Global Call Forwarding as your international toll free call forwarding service. Here are just a few of them:
Affordable plans: Even if you are running a small business, you will find Global Call Forwarding's pricing very affordable. You don't have to pay for dedicated hardware, and there is no set-up fee. Not only that, using international toll free numbers can boost your leads and bring in more revenue.
Efficient service: You can give your overseas clients a local presence so that they can feel confident, without having to relocate your business or set up satellite offices.
Seamless process: Global Call Forwarding has international toll free numbers available in more than 140 countries. You can choose as many as you like and you can increase or decrease them to suit your changing business needs. There is no contract and no obligation.
Convenient solution: You are completely in control. Your incoming calls can be routed to any number you choose at any time of day. You can even have your calls forwarded to multiple numbers at the same time until someone answers.
Professional image: International toll free forwarding gives your brand a huge boost by giving you a local presence in countries around the world.