Create and Record Your Personalized Greeting and Stand Out From The Crowd
Give a professional image to your customers
Make your business sound different and unique
Stand out from your competitors
What are Customized Greetings?
Our call forwarding service offers businesses and individuals the option to create customized greeting messages for incoming calls on local or toll free numbers. The customized greeting feature gives you the ability to record a personalized phone greeting for your business. The greeting is heard by callers, every time they call your number before the call gets connected to its final destination / ring-to number.
What do Customized Greetings Do?
The customized greetings feature enables you to record your own special business phone greeting to announce every time someone dials your local or toll free number before ringing to your phone. You can create a phone greeting that adheres to your branding and your business specifications and greet your callers the way you want with your company's unique style.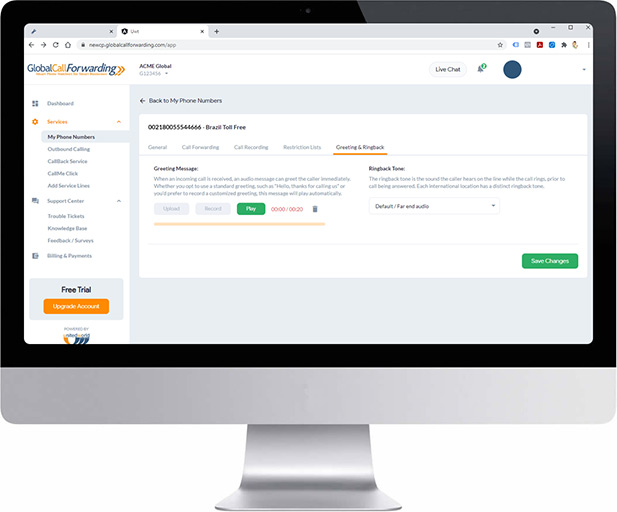 For example: You can record a greeting with your business name to make it more personalized. Such as if your business name is LogoMakers, then a personalized greeting can be ' Welcome to LogoMakers, please wait while we connect your call' this message can be played first when someone dials your local or toll free number while the call is being forwarded to your existing number.
Customized greetings ensures to the caller that the number dialed is of the service provider he/she wants to reach and it also makes a good first impression. It spares the caller from endless ring tones and shows that you take your business seriously as you are even concerned about such little details as customized phone messages which many often overlook.
Additionally, this feature also ensures that callers are not greeted with a fuzzy answering machine or a voicemail message. With United World Telecom's call forwarding service, you can benefit from this value-added customized greeting feature in many ways. With us, you can develop a customized script to welcome your callers include instructions for them to use your customized phone menu like Press 1 for Sales and Press 2 for customer service. You can select your own greeting tone and voice talent to record the script, if you want background music to play simultaneously that can be added to. You can also include dial by name and dial by extension menus.
Key Benefits of Customized Greetings
Here are the benefits of using customized greeting feature for businesses:
Sound like a Fortune 500 Company
Regardless of the size of your business, this feature can truly make your business sound more professional much like a Fortune 500 company. A personalized greeting helps portray a big business image to the callers. It sounds more professional thereby making a great impression on the callers.
Tailor-Made According to Your Business
This feature gives you full-control to create professional recorded greetings according to your business image. You can record your own script, choose a desired recording tone and select your own voice talent. You can choose a male or a female voice as per your needs. It functions more like a branded business recording that makes a long-lasting impression on your callers.
Break-free From the Traditional Automated Voice Messages
Customized greetings are ideal to position your business differently and stand out of the pack. It helps you break free from the traditional automated voice messages that are used by most businesses.
For example: You can record a greeting message with a script that highlights USPs of your business and then forward the call such as 'Welcome to LogoMakers, the leading Logo Design Company with over 10 years of industry experience serving over 10,000 clients across the globe. If you know the desired extension, please dial now or wait for the operator.'
To enjoy this value-added feature and to make your business sound different from others and look more professional, contact United World Telecom call-forwarding service now!