Running a business successfully often means providing quality products and services. And this includes offering enhanced and personalized customer service. Using customized greetings in your phone system is one such way to make callers comfortable and trusting of your business. Besides that, customized phone greetings let you:
Create and record your personalized greeting and stand out from the crowd
Give a professional image to your customers
Make your business sound different and unique
Stand out from your competitors
What are Customized Phone Greetings?
Our cloud business phone service offers businesses and individuals the option to create customized greeting messages for incoming calls on their local or toll-free numbers. You can create a phone greeting that adheres to your branding and your business specifications and greet your callers the way you want with your company's unique style. Or, you can use the greeting to include important information about your business such as location and hours, etc.
What do Customized Greetings Do?
The customized phone greeting feature gives you the ability to record and include a personalized phone greeting for your business. Then, every time a caller calls your business phone number, they will hear the greeting before the call connects to its final destination or forward-to number.
For example: Include a greeting with your business name such as LogoMakers. Then, your message could say — 'Welcome to LogoMakers, please wait while we connect your call.'
Once this message is played, the call will automatically connect to the destination number.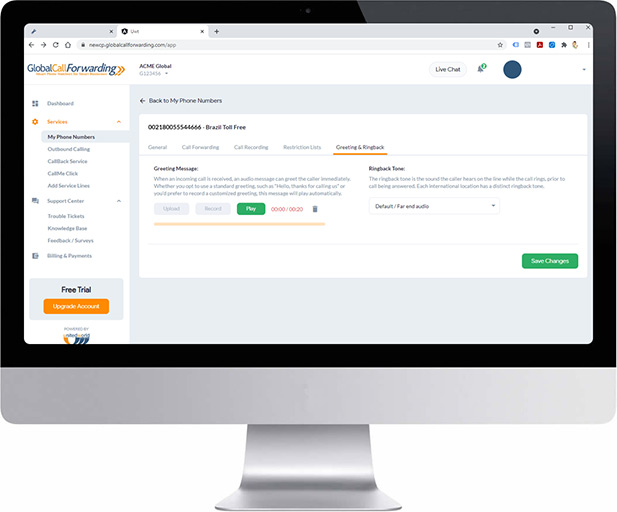 Why Use Customized Phone Greetings?
At its very basic level, these customized greetings make a good first impression when new customers call your business. Additionally, when you include a custom greeting welcoming them to your company, callers can confirm that they are calling the right place.
Additionally, if you include a human voice or bilingual greetings, you make their interaction with your phone system better than if they were greeted by a fuzzy answering machine or a voicemail message.
How to Get This Feature?
United World Telecom offers this feature for free with any of our virtual phone number plans. Simply buy a phone number and benefit from our wide range of included calling features.
And with this value-added customized greeting feature, you can benefit in many ways. Develop a customized script to welcome your callers and include instructions for them to use your phone menu. You can also provide navigation assistance as part of your IVR system, like "Press 1 for Sales and Press 2 for customer service."
Select your own (or your team's) greeting tone and voice to record the script and also add background music to play simultaneously. Customize and personalize it to meet your business' specific needs.
Benefits of Customized Greetings
Here are the benefits of using our customized greeting feature for businesses:
Establish a professional image
Regardless of the size of your business, this feature can truly make your business sound more professional much like a Fortune 500 company. A personalized greeting helps portray a big business image to the callers. It sounds more professional thereby making a great impression on the callers.
Tailor to meet your business tone
This feature gives you full control to create professionally recorded greetings to match your business image. Record your own script, choose a desired recording tone, and select your own voice talent. All of this together helps create a branded business recording that makes a long-lasting impression on your callers.
Break free from the traditional automated voice messages
Customized greetings are ideal to position your business differently and stand out of the pack. Callers are more likely to connect with a business that seems and sounds human than a robotic and often limited voice. This customization will help you break free from the traditional automated voice messages used by most businesses.
How to Set Up a Custom Phone Greeting
To set up custom phone greetings, you must first get the feature from your phone service provider. United World Telecom users can set up custom phone greetings for their business phone lines in our Control Panel. Follow these steps:
Log in to your account.
Click My Phone Numbers on the left-hand side of the page.
Click Settings Icon for the line that you would like to modify.
Click the Call Forwarding tab and select Basic.
On the right under Incoming Call Messages/Recording, you may either upload a custom greeting or record one.
Once done, click on Save Changes.
Get Advanced Calling Features with United World Telecom
Want to improve your phone system without breaking the bank? To enjoy this value-added feature, and to make your business sound different from others, speak with our experts today! Call us at 1 (877) 898 8646 or chat with us online!